Device Management
Samsung SyncThru™ Admin 6
Samsung SyncThru™ Admin 6 is a robust printer fleet management solution that helps organisations increase their efficiency and productivity.
Interactive Widgets Enable Administrators To Manage Fleets With Greater Ease
The SyncThru™ Admin 6 PC Dashboard uses visually stunning interactive widgets to help users manage multiple devices across their entire print infrastructure. Up to 5,000 devices can easily be monitored on a single screen. Each widget is displayed as an image, pie chart, table or columns, ensuring that your data is always legible and easy to analyse. In addition, every widget is directly linked to a related report or device list which can be viewed on demand.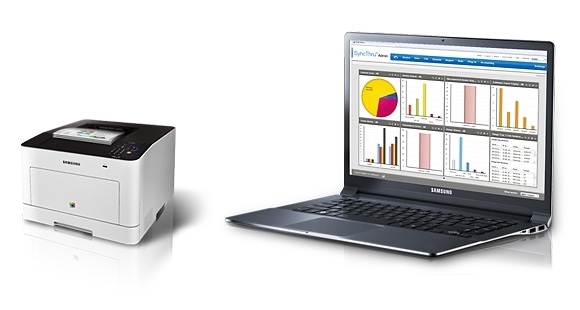 Automate Repetitive Tasks Using The Automated Task Manager
The SyncThru™ Admin 6 Automated Task Manager saves users time by streamlining the processing of recurrent tasks. When devices are added or removed from the fleet or their state changes or they issue an error message, SyncThru can react automatically by sending a Tweet or e-mail message or applying a pre-defined configuration This feature simplifies Install, Move, Add, Change and Disposal (IMACD) processes, meaning a new device can be integrated into or withdrawn from the appropriate device group automatically and seamlessly. Rules are simple to set through an automated Wizard process.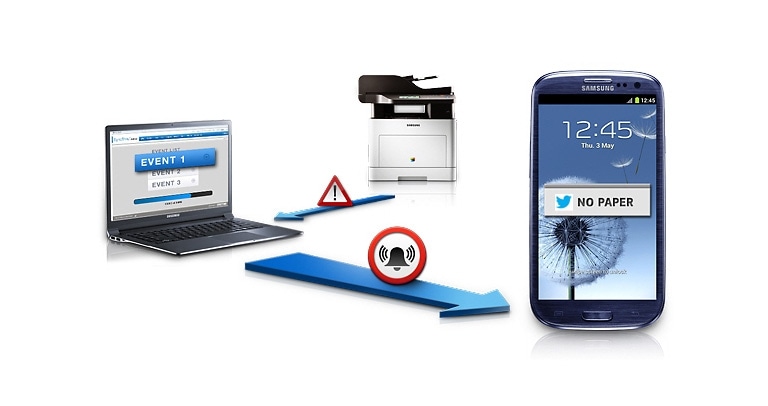 Mobile Dashboard Displays The PC Interface On Your Mobile Device
Users can monitor printers with ease even when away from the office thanks to the Mobile Dashboard. This feature helps increase efficiency and productivity by displaying select PC Dashboard widgets on a wide range of smartphone and tablet devices connected to the company's intranet. With the capability of managing print devices on the move, administrators can respond quicker than ever to events and errors. Real-time SNS notifications are sent to a PC or mobile device alerting administrators to interruptions or print-related issues.