4
Number of Sound Modes (DSP)
13.8 kg
Gross Weight (One Packing)
Your mobile music ready to play when you are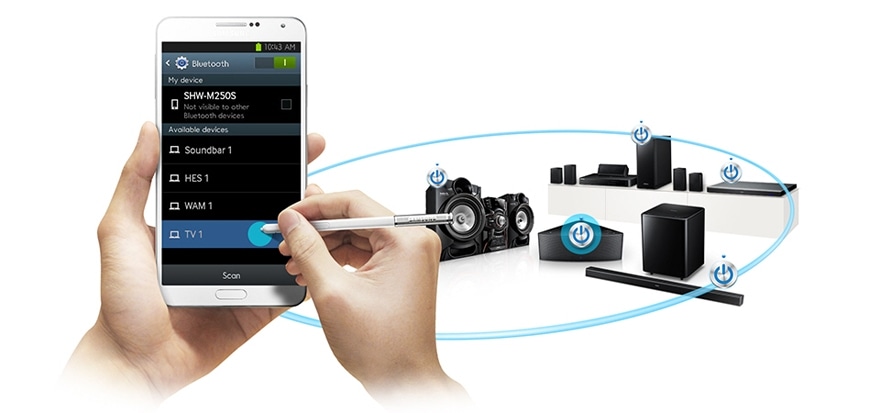 Thanks to Bluetooth compatibility, you can use your smartphone to turn your speakers on remotely. Pair the speakers and your smartphone once, and you can quickly and easily power on your speakers by selecting them on your smartphone. It's that simple. As long as the speakers are plugged into a power source, you can wake it up with just one touch and enjoy high quality audio.
The wireless way to upgrade your TV sound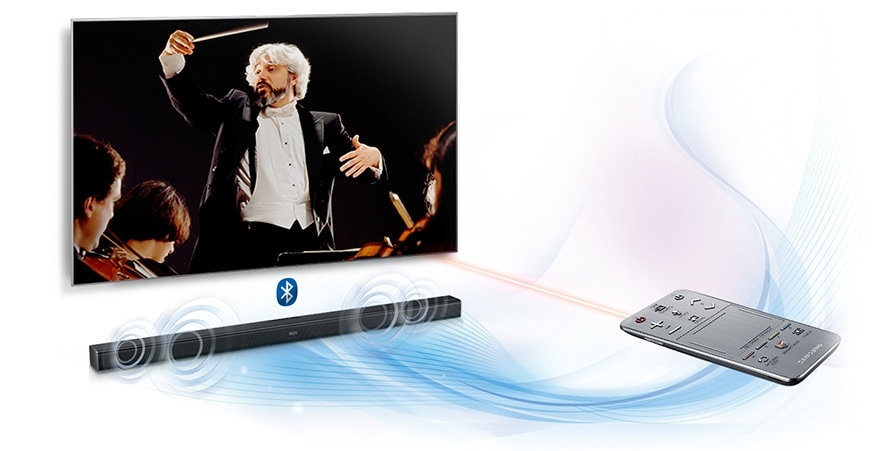 Connect your TV and Soundbar easily through Bluetooth to gain better sound with TV Sound Connect. The absence of trailing wires between the Soundbar and TV allows you to showcase the slim and sleek design of both systems, while maintaining a clean look in your living environment. Easily control the Soundbar and TV from a single TV remote. You can simultaneously turn on and manage the volume of your TV and Soundbar with Bluetooth or HDMI connectivity. * TV Sound Connect is only available on selected Samsung 3D TVs. [2014] LED Series 6200 or higher. [2013] LED Series 6400 or higher and PDP Series 5500 or higher. [2012] LED Series 6100 or higher and PDP Series 550 or higher.
Enjoy deeper bass and hide your sub out of view without worrying about wiring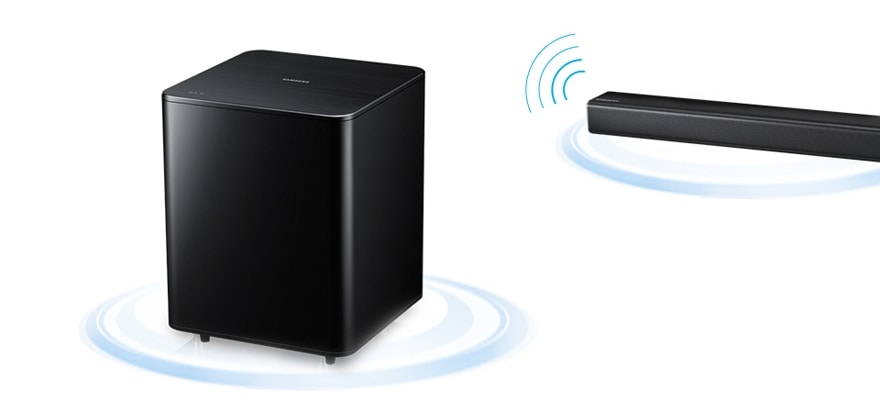 Combine the simplicity of the Soundbar with the thunderous bass sound quality to give you a truly enriching sound environment. The supersonic sub-woofer that accompanies Samsung's Soundbar adds dynamic and rich bass levels to your listening experience. Its wire-free design makes it easy to set up and to adjust around the room to give you the best bass effect. Increase the potential of your sound experience with the wireless Soundbar.
2.1 Ch

Number of Channel

320W

Total Power

4

Number of Sound Modes (DSP)

13.8 kg

Gross Weight (One Packing)

1006 x 455 x 346mm

Gross Dimension (WxHxD): One Packing

30 W

Operating Power Consumption (Main)
User manual & Downloads
Live Chat
How It Stacks Up
* Gorkana (within a set list of TV and AV media. Jan - Dec 2015).
** Which? Best Buy awarded to R1,3,5



Certain features with the Smart Hub may not be available without expressed consent regarding the collection and use of personal information. Content available through Smart Hub may vary among product categories, models and territories. Certain applications must be purchased and may not be available in all regions.