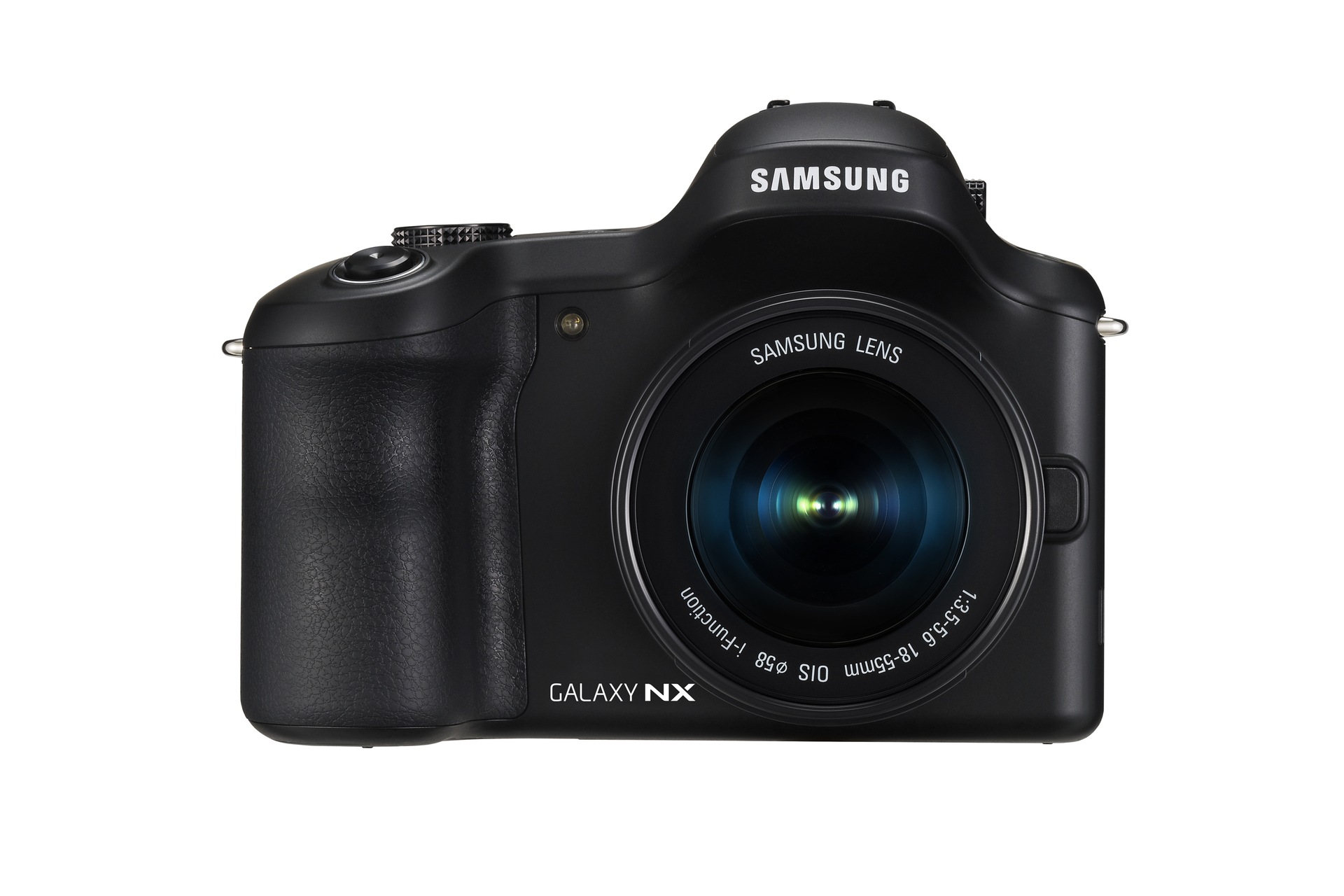 EK-GN120ZKZBTU
Galaxy NX Digital Camera (Body Only)

Galaxy NX Digital Camera (Body Only)
is rated out of
5
by
2
.
Amazing, professional-quality photos
The ultra-sensitive sensor has the highest resolution and is the largest in its class—so it collects the most light. That means high-quality images and lifelike colours, even in low lighting.
The beauty of being connected
Send photos and videos directly to a computer, printer or cloud service. Share via email or social media. Do it all while you shoot. (And never worry about running out of storage space again.
Change your lens, change your outlook
Telephoto, fisheye, 85mm, 3D—the NX camera's 20.3 sensor and precise autofocus make any lens perform at its best.
Intuitive at every turn
The NX features Android 4.2 Jelly Bean. This powerful, yet simple, operating system anticipates and adapts to your personal usage habits.
Let your pictures tell a story
Photos automatically arrange into a smart format. Choose a theme and add captions to make it your own.
All your tools in one place
Create a customized "desktop" right on your camera and put all your favourite tools within easy tap, like a most-used shooting mode or editing tool, even apps like email, Instagram or cloud storage.
Your own photo tour guide
Location-based photo suggestions instantly connect you to huge libraries of images taken by fellow photographers.
CMOS

Type

23.5x15.7 mm

Sensor Size

4.77"

Size

1280*720 (HD)

Resolution
Rated

5

out of

5
by
Gadjo
from
The Fantastic GalaxyNX
An absolute game changer in the interchangeable lens format. The Galaxy NX is awesome. Fantastic 4.8" LCD Touch Screen and a glorious 20.3MP CMOS sensor make it an absolute joy to use. Samsung's iFunction lenses, make changing settings through the EVF an absolute breeze. The Samsung Galaxy NX is a great camera, with great image quality and an almost perfect form. It feels great in the hand and is a blast to use. I take mine everywhere with me. I hope Samsung continue to release software updates for the GalaxyNX to further it's capabilities. This is one very powerful photographic tool.
Date published: 2015-08-14
Rated

5

out of

5
by
arcPhotographics
from
Love it - My Perfect travel companion
With my job I get to travel a lot, the sheer fact that I can shoot, edit, blog, tweet, facebook, tumblr, instagram, path, circle from this one device is a massive winner for me.. It takes amazing shots in both RAW and JPEG, If i need to do any real editing I can upload to dropbox with the built in wifi and share to my laptop. I also shoot local events and concerts where the built in 4G becomes really handy to get those breaking moments out to the blogs and social networks. I purchased a few lenses and (whilst not really necessary as the battery is already very good) a spare battery as this becomes my all day take anywhere do anything device...
Date published: 2013-11-16
Smart Simulator
Live Chat