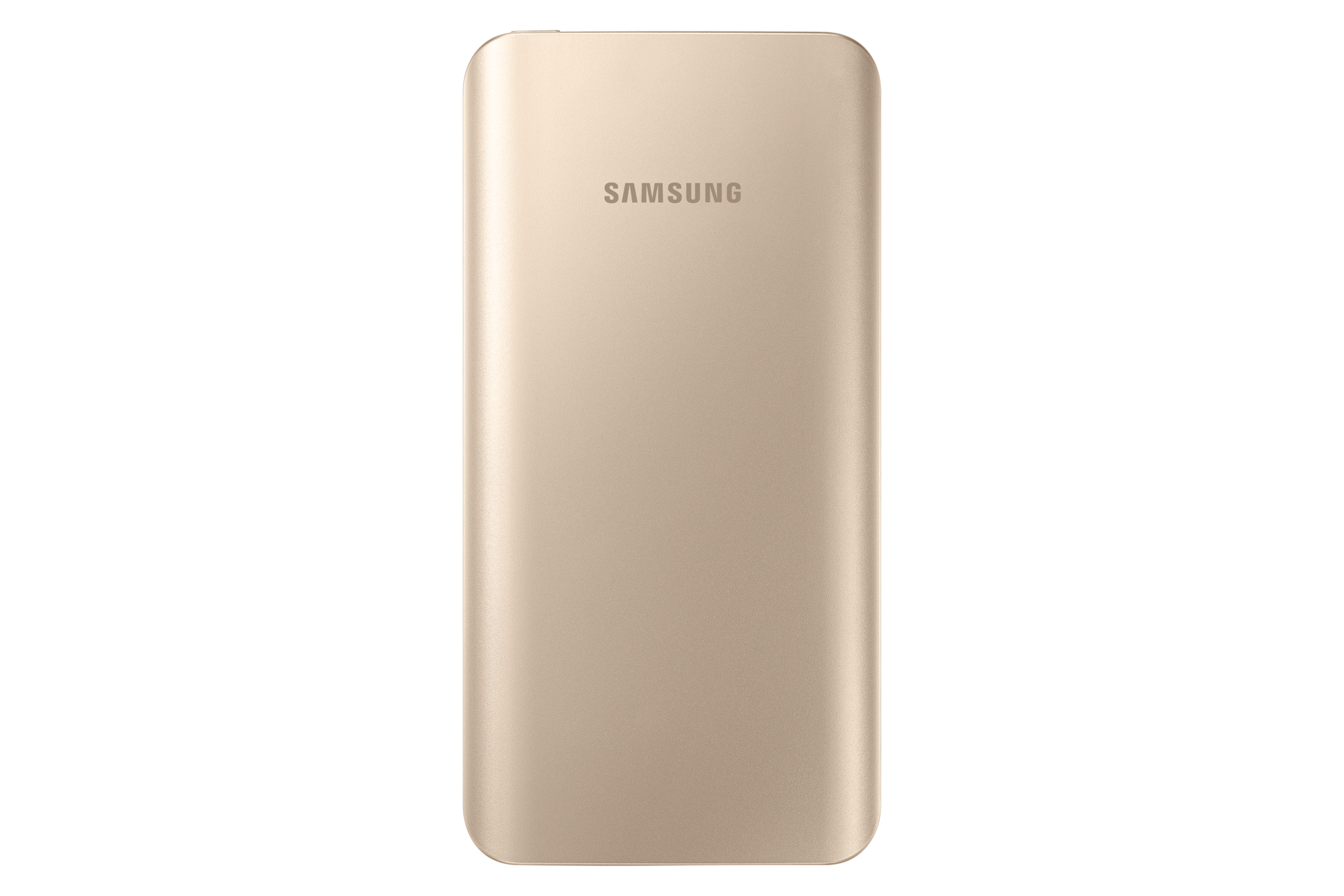 EB-PA500UFEGWW
Rechargeable Battery Pack (5200 mAh)
Rechargeable Battery Pack (5200 mAh)
is rated out of
5
by
49
.
Stylish Charging On The Go
With a sophisticated metal look, discreet rounded edges in a choice of striking silver titanium or gold platinum colours, the Samsung Battery Pack incorporates the same design ethos as the Galaxy S6 and Galaxy S6 edge ― the pack is a perfect charging partner for Samsung's premium products, as well as other devices.
Slim Design, Improved Grip
Remarkably lightweight at less than 145 g, and ultra-thin at only 9.8 mm, you can take the Samsung Battery Pack anywhere you go for an easy, fuss-free battery boost. With a better grip than ever, the Samsung Battery Pack is perfectly portable in every situation.
Safe Charging
The Samsung Battery Pack uses rigorously tested and approved battery cells ― providing you with a more reliable and safer charge.
Four-level LED Battery Indicator
Instantly check how much power you have remaining on your Samsung Battery Pack. Simply push the battery level button to get a power reading ― four lights on means you have plenty of power left, one light flashing means it is time for a recharge.
Increased Battery Capacity
Samsung Battery Pack's 5200 mAh capacity provides you with more power than ever before for its size. Get the most out of your device for longer, even when you are on the go.
Rated

1

out of

5
by
Zachster
from
Broke the first day I received it
I bought this brand new on Amazon, after I charged it, I plugged it in to charge my device, and the 4 led lights started blinking, so I unplugged it, and waited about a minute for it to turn off, and it wouldn't turn off, I held down the button and that did nothing. And I pressed it fast, that did nothing. At this very moment, after 4 hours of waiting, it's still blinking and won't charge my phone no matter how long I gold the button, or press it, or double press, or triple press, the power bank won't turn off or reset, I'm already getting a refund, I just hope that this can be further looked into, because it was a great present for the first 30 minutes of being excited to have received it. And if this matters, I plugged it into the galaxy s8 plus, if there is a different type of fast charge required for that phone
Date published: 2017-05-12
Rated

4

out of

5
by
Beatrice Kennedy
from
Too Expensive
Too expensive for a powerbank. One full charge + 30% of anorher charge.
Date published: 2016-11-21
Rated

5

out of

5
by
munmick
from
Samsung mobile charger
The product is very good.lasting a long time on battery use
Date published: 2016-10-18
Rated

5

out of

5
by
Ruby
from
Super charger
This charger is slim and easy to carry around. I bought it to go on holiday and it was so convenient. Charged my phone up in around half an hour and it has about 3 full charges in it if it's fully charged. Would recommend this to anybody needing a portable charger.
Date published: 2016-10-04
Rated

5

out of

5
by
SPIKE71
from
Excellent
Bought this for use with my old Note and new Note7. Device charges in around the same time as charging the phone but holds 4 full charges. When charging the phone it quickly charged the device to full capacity in far less time than if I'd put the phone on charge. The simple 4 small LED lights clearly show you how many charges you have left in it. Highly recommend this
Date published: 2016-09-28
Rated

4

out of

5
by
George
from
Good charger but doesn't charge fast
Date published: 2016-09-14
Rated

4

out of

5
by
starsingh
from
Great for charging phone
This is a great good quality product that does a good job of charging your phone on the go
Date published: 2016-08-31
Rated

5

out of

5
by
BB1308
from
Good Quality
This product is great and I would highly recomend it. It charges quickly and I managed to do 3 full charges on my samsung s6 edge before it needed recharging. Worth the money.
Date published: 2016-08-31