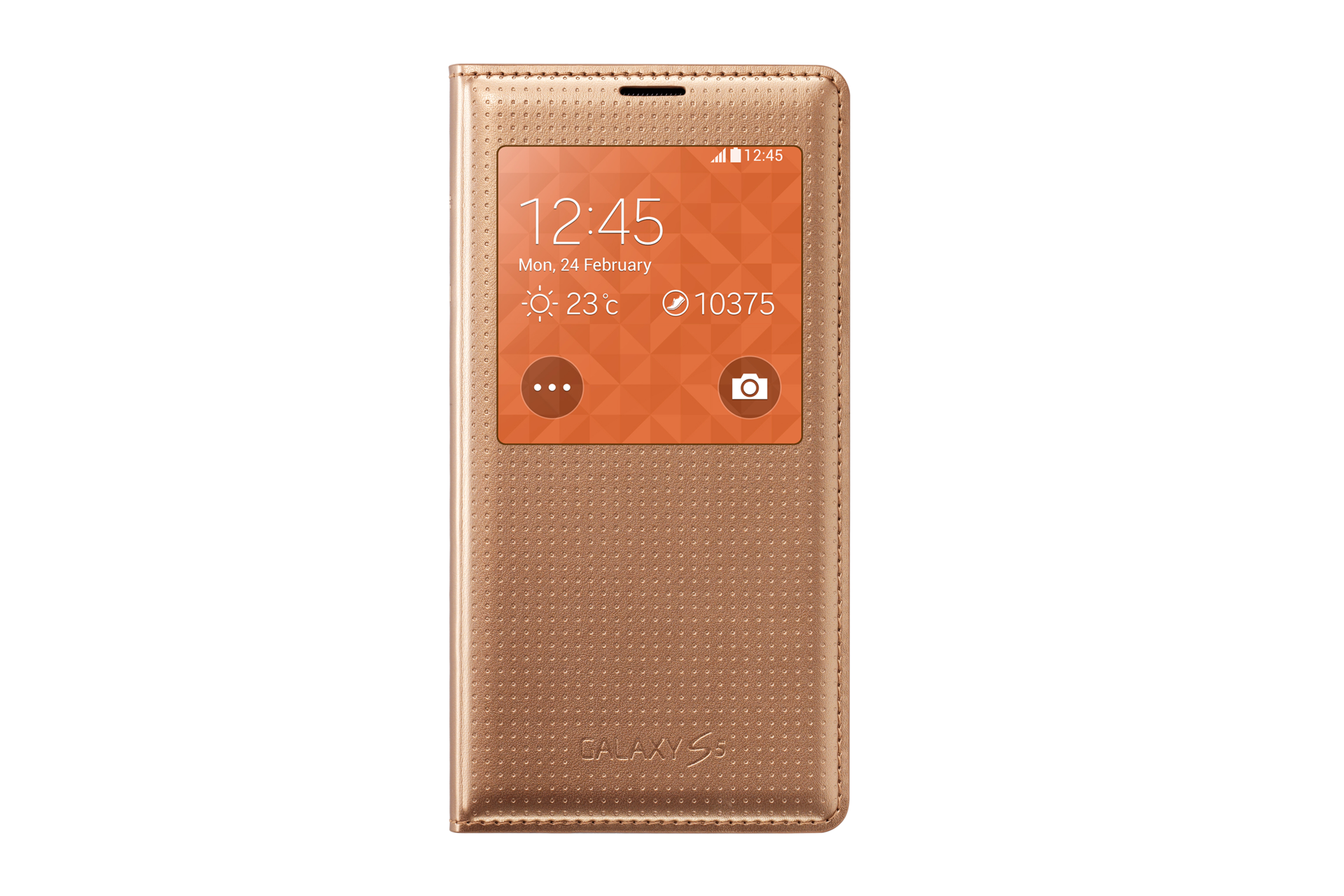 EP-VG900BFEGWW
Wireless Charging S View Cover (Galaxy S5)
Wireless Charging S View Cover (Galaxy S5)
is rated out of
5
by
7
.
Wireless Charging
Recharging your Galaxy S5 on the S Charger Pad is quick and simple thanks to wireless charging.
S View Wireless Cover
From answering calls to sending messages, you can take control of your Galaxy S5 without having to open your smartphone cover. Available only with Samsung's original S View Wireless Cover.
Quick Camera
With just one swipe, you can capture those unexpected moments easily with the S View Wireless Cover's Camera View Finder. No more fumbling.
Maintain your Galaxy S5
Protect your Galaxy S5 from spillages and raindrops with the water resistant S View Wireless Cover.
Edge Coating
Give your Galaxy S5 a premium look and feel with the added edge coating.
Side Protection
Keep your new Galaxy S5 looking good with the S View Wireless Cover's enhanced side and corner protection.
Automatic Screen On / Off
Minimise hassle with the Galaxy S5's S View Wireless Cover, which turns the screen on / off automatically when opening and closing.
Rated

5

out of

5
by
themaestro023
from
Great cover, does what it says
Dont know what others are complaining about, after a bit of use the cover stays closed as it should. It may pop open a bit at first because its new. Have had mine since May 2014 and find it keeps my S5 damage free. Only problem is the fingerprints on the inside of the clear window when the cover is folded open, a minor fault. Overall recommended.
Date published: 2014-12-20
Rated

3

out of

5
by
s555
from
Umm.....
good.........................................................
Date published: 2014-09-23
Rated

4

out of

5
by
thefearfulsilence
from
Good but with issues
Good things: I like the use of the S View window - the ability to answer or reject calls using this is particularly handy. Looks good as well (though looks are subjective I know). The wireless charging will be very useful once I've got round to buying the charging mat! Bad things: For the price of this cover, the materials used to make it feel cheap. Not impressed with the faux leather effect. The S Window is much bigger than the equivalent S view cover for the Galaxy S4, yet you still can't view whole text messages using it. You can only see previews of the first bit of the message. If Samsung could fix this and maybe add support for 3rd party message apps eg Whatsapp, this would be not just good accessory but an excellent one.
Date published: 2014-09-18
Rated

1

out of

5
by
gibbo
from
A total waste of money !!!!! Do not waste your hard earned cash
A total waste of money, the cover does not stay closed, it is unbelievable that this product was ever allowed to be released for sale. A 9 year old doing product testing would have spotted this serious design flaw. Having had the cover for a month now, I am surprised that when you place the phone down and close the cover........ it springs fully open almost instantly...hence the touch screen panel is rendered totally useless. I only bought the cover to use the wireless charging facility (another story) the cover touch screen works fine, but you have to hold the cover closed to use it. All in a totally rubbish product from Samsung
Date published: 2014-09-10
Rated

5

out of

5
by
DJ Herman
from
absolutely fabulous
What more could you want, charging without having to remove the cover and plug in a lead. The cover does everything it said it would. The rear cover is slightly thicker but this just helps protect the camera lenses.
Date published: 2014-09-07
Rated

3

out of

5
by
El1977
from
Not quite up to it...
I have a lovely new S5 and wanted to protect it. This cover looked great. A couple of the features really annoy me however: There is insufficient edge protection down the side of the phone. The case needs to be a little wider. The view screen goes blank and cant be reactivated unless you open the cover or press the power key. This means that the camera isnt quickly accessible at all. A bit frustrating!
Date published: 2014-07-29
Rated

5

out of

5
by
Uill
from
Perfect case
I've had the case for about a month now, it protects the phone well and the s view window is a really nice feature, the wireless charging works perfectly, no complaints at all.
Date published: 2014-06-11