Fast Copy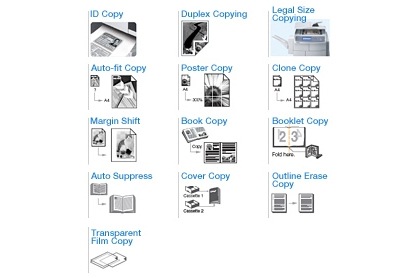 The MultiXpress SCX-6545N produces 43ppm in black and white. Moreover, the MultiXpress SCX-6545N performs nearly all the copy functions that are generally operated.
Less Space

Office space is also a big issue. MultiXpress SCX-6545N's has an economical design, which takes up to 75% less space in your office.
Fast Print

Printing black-and-white document at 43ppm (simplex) and 38ppm (duplex) your workloads can be completed efficiently. The numerous standard printing features help you to print document more easily and efficiently.
Reliable printers

We'll take the hassle away. SAMSUNG's leading edge printing technology will let you focus on your work whilst it delivers your documents time and time again. All of the printers within the MultiXpress series provide unparalleled reliability with high monthly duty cycles (see table below). This is because SAMSUNG has designed the machines to be less service dependent, providing fewer down time periods within its life-cycle along with less paper jams or mis-feeds. In fact, we are confident that the only time you will open up your printer is to change the cartridge rather than to fix a paper jam..
Wide Touch Screen / UI Design

New full colour LCD touch screen user interface.
Convenient Installation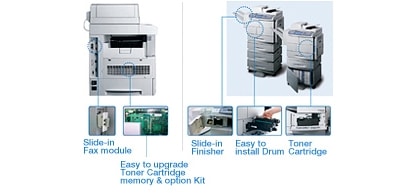 Easy Installation and Set-up.
Expanded Printing

- Capabilities with Hard Disk Solution: The standard 80GB HDD ensures smooth print traffic in a busy office and print environment.
Scan to Anywhere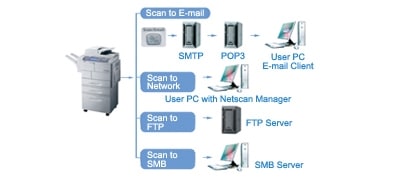 The MultiXpress 6545N helps to distribute document efficiently by scanning directly to email, FTP, SMB or client.
SyncThru Admin 5
SyncThru™ Web Admin service allows IT managers to easily manage and monitor all printers/MFPs on the network. The powerful feature permits job accounting, usage metering, authentication, storage management, remote driver installation and modification settings.
SyncThru Web Service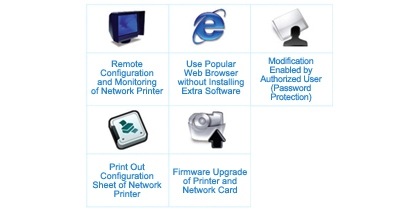 It provides administrators with the ability to change network and individual Printer settings, upgrade firmware and view network printer/MFP status.
SmarThru Workflow (Option)

SmarThru™ Workflow streamlines the document capture process route system enabling easy document management. This additional software is provided with the SAMSUNG Network Scan Kit.
Document Box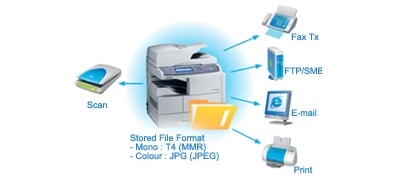 Store scanned data into HDD and manage the stored data (Printing / Sending).
Vivid Colour Scan & Network Scan
The MultiXpress SCX-6545N 's enhanced scanning resolution and colour CCD method reproduce your document at its finest quality.
SmarThru Office

It provides administrators with the ability to change network and individual Printer settings, upgrade firmware and view network printer/MFP status.
Fast Fax (Option)
The optional fax kit offers speed dial up to 200 numbers, group dial up to 100 groups (up to 200 locations per group), duplex send and receive, fax-email and many other useful features. The duplex function enable the incoming fax be printed doublesided? save your printing cost!
Paper Handling
Adding optional paper trays to store up to 3240 sheets of paper at one time, reduce the frequency to refill paper.
Modular system
The modular design make it easy to replace consumables, adding accessory and/or upgrade package. For example, finisher or memory can be easily slotted onto the main device.
Paper Jam
If and when a paper jam occurs the device indicates the problem area on the user display so you can simply, open the tray door to remove.
User manual & Downloads
Live Chat
Features and specifications are subject to change without prior notification.