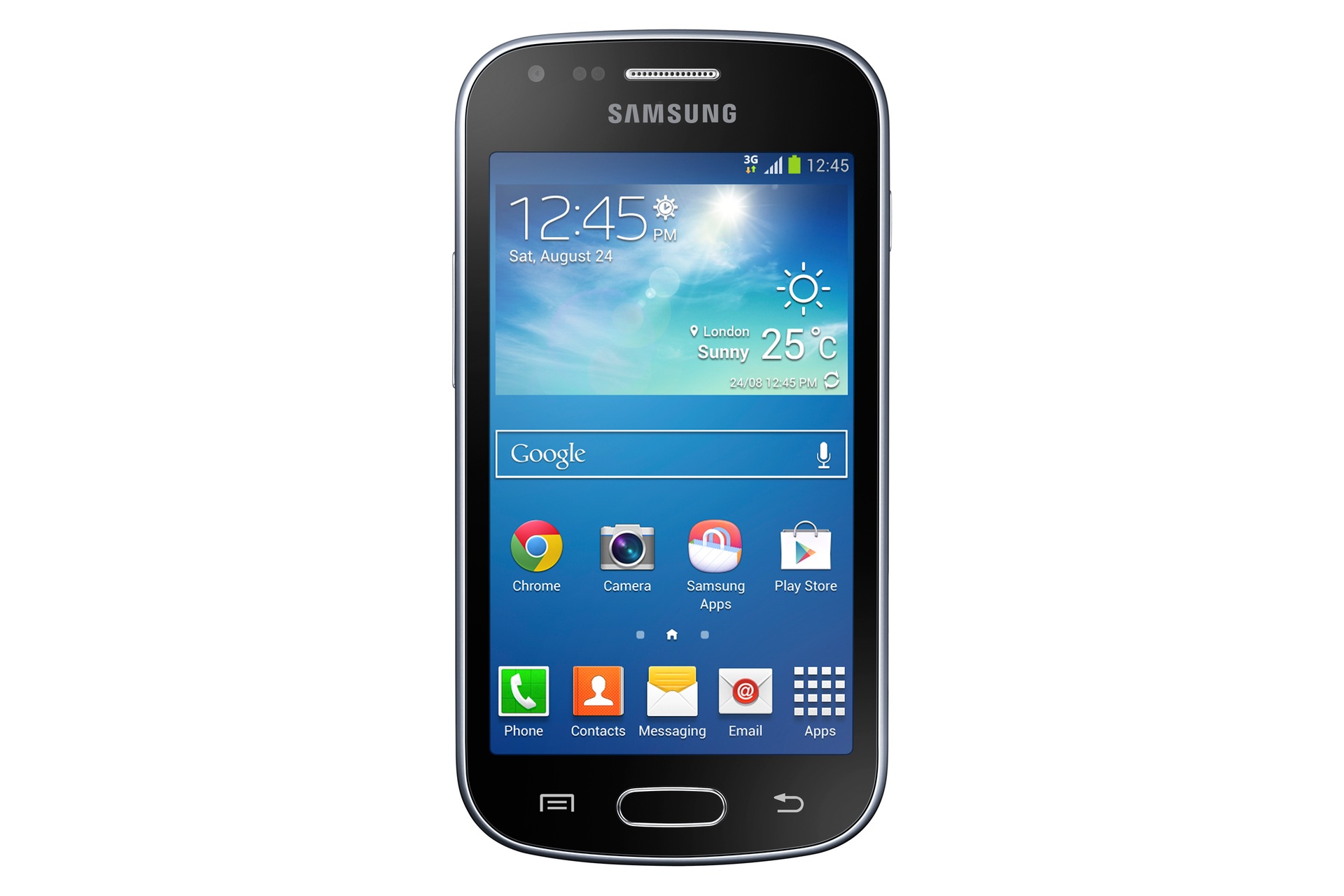 GT-S7580UWABTU
Galaxy Trend Plus
Galaxy Trend Plus
is rated out of
5
by
273
.
Fast & Powerful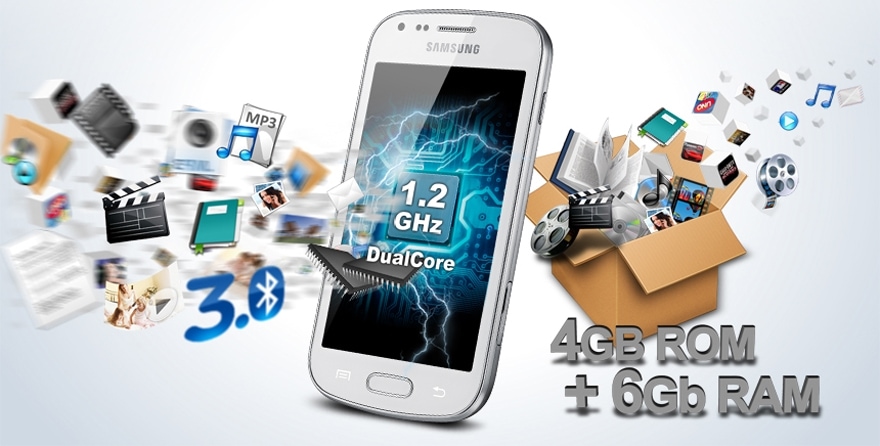 • Ultra Fast 1.2Ghz CPU speed enables effortless Multi-tasking • Enhanced Capacity 4GB ROM + 6Gb RAM • Huge capacity of 4GB provides abundant storage for multiple data needs
Android's Jelly Bean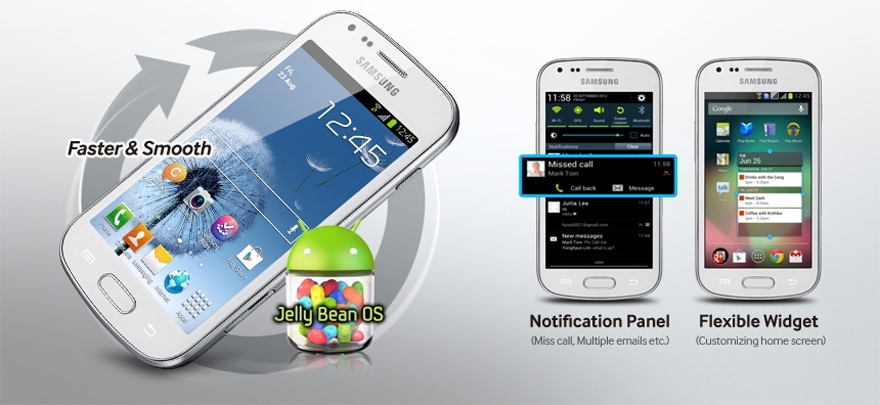 • Smoother transitions and faster web browsing make the mobile experience effortless, innovative and enjoyable • Enhanced Notification Panel gives you a convenient overview without opening applications • Flexible Widget lets you customise your home screen with convenient auto resizing
Exciting Entertainment with premium view_ Large 4" Display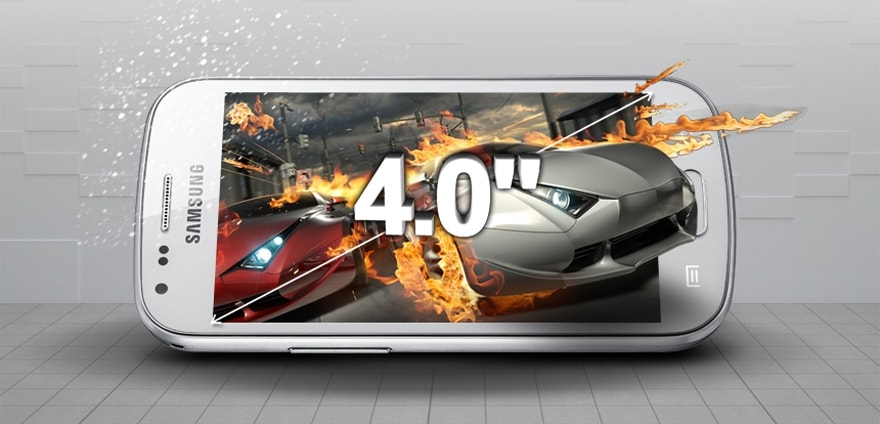 • Large 4" WVGA display offers a vivid visual experience • Optimum size for better productivity and premium viewing of videos, web pages and photos
Rated

1

out of

5
by
Samsungholic
from
This sucks
The battery for this phone always expands even after multiple replacements from samsung.. the battery bulks untill the back casing doesnot close
Date published: 2017-10-09
Rated

5

out of

5
by
HarimauMalayaHM
from
Fantastic
This is awesome (i dont whatever other negative response) but the most is that is better I grab this phone than grab nothing).
Date published: 2016-09-10
Rated

2

out of

5
by
Sessie
from
Battery and overall performance isnt very good.
For the price though it is expected, it would be ideal for a basic user. The battery wont even last a day if you are connected to the internet.
Date published: 2016-01-08
Rated

1

out of

5
by
Alex
from
Very bad
Always something not working properly. Says it has 4 gigabytes but you can only use 2 of them.
Date published: 2015-12-24
Rated

3

out of

5
by
nobody123321
from
this phone is perfect...
It does its job when its new but as soon as it gets older, it'll give you headache.
Date published: 2015-08-14
Rated

2

out of

5
by
abidin angri
from
THIS PHONE IS SO SLOW
MAKE IT MORE FAST and add more adds and try to increase the capacity of RAM
Date published: 2015-07-16
Rated

2

out of

5
by
Rose
from
Worked alright at first, after less than a year it's useless
At first I was quite happy with the phone, though it could not have too many apps, so sometimes it was impossible to have an app that I liked because I already installed a few apps. Though I mainly use the phone just for whatapp and for the occasional browsing on the internet, so I don't use the phone very intensively. Also the camera is not very great, makes all pictures looking pale, and very blurry when there is not a lot of light. But then it is a budget smartphone so I did not expect the best camera. The phone turned itself on and off several times a day, so I had to type in my pincode each time. Several of weeks ago it suddenly started turning itself off, and then I could not turn on the phone unless I put it on the charger (even though the battery had just been charged). It got worse and worse, the last couple of weeks I could not do anything on my phone except from basic texting, but if I would go on internet, try to send a picture via whatapp, or have wi-fi and 3g on at the same time the phone would turn off and could not be turned on again unless it was on the charger. Now the battery has swollen, to such a degree that it does not even fit in my phone anymore so I cannot use the phone at all. I bought the phone 11 months ago, and even though it is a 'budget' smartphone, for the amount of money I bought it for I would expect a phone to last several years. I am very disappointed with this phone.
Date published: 2015-07-15
Rated

1

out of

5
by
mimi
from
poor performance and not worth your money
the first few months of using this phone is pure heaven. 6 months down the line it has so many issues you won't believe it. it hangs, the battery life
Date published: 2015-06-18
User manual & Downloads
Live Chat
How It Stacks Up
Battery time is based on our own laboratory measurements, and may vary depending on factors such as device settings, usage patterns and operating conditions.
* User memory is less than the total memory due to storage of the operating system and software used to operate the phones features. Actual user memory will vary depending on the mobile phone operator and may change after software upgrades are performed.

** External Memory may be used to store media (photos, video, and music files) but not applications.

Notice to our customers - safe battery use

If your mobile phone battery is damaged, for example if it is dented, we recommend that you stop using it immediately and replace it with a Samsung genuine battery. If a damaged battery is used, this may affect performance of the battery and in some cases cause damage or injury through overheating, fire or explosion. Examples of situations in which a battery may become damaged are: use in an excessively hot environment, dropping the battery, external pressure on the battery, pet-biting, etc. We recommend that spare batteries are kept in a hard-shell case when not in use.

You should use only Samsung genuine or approved batteries that have been specifically designed for use in Samsung products. The use of incompatible batteries, cables and chargers may not be safe to use and could cause damage to the device or external damage. Please purchase Samsung-branded batteries from reputable and approved sellers to ensure the batteries are not counterfeit.