How do I update the software on my Samsung Smart TV?
How do I update the software on my Samsung Smart TV?
How to update the software on your Samsung Smart TV
If you are having trouble with your Samsung Smart TV, you should always check to see if there are any software updates available as these may contain a fix for your problem.
There are two ways to update the software:
1. Via the Menu settings. This is the simplest method. Your TV will need a stable Internet connection.
2. Via a USB stick
1. How to update your software (via Internet connection)
1. Press the Menu button on your remote control

2. Scroll down and select Support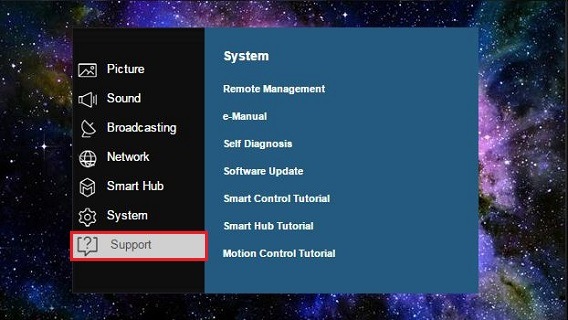 3. Select Software Update
Note: if this area is greyed out it could be because the TV has just been switched on (wait a minute, then try again) or because the TV is in Smart Hub mode. If you are accessing through Smart Hub mode, try going in again after viewing a channel from its own tuner or from an eternal source such as Sky.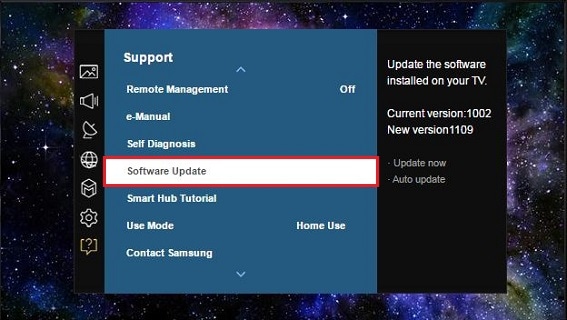 4. Select Update Now
Tip: Turn Auto update to On so that your software is always up-to-date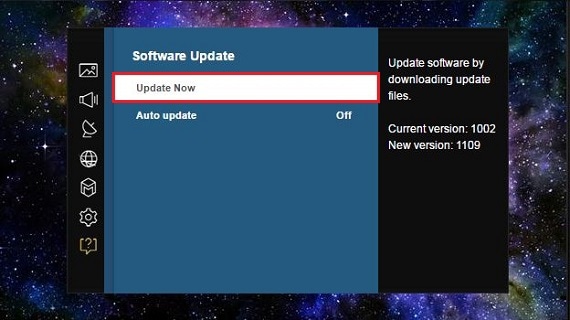 5. The TV will check to see if there is an update available. Select Yes to update the TV with the latest software version.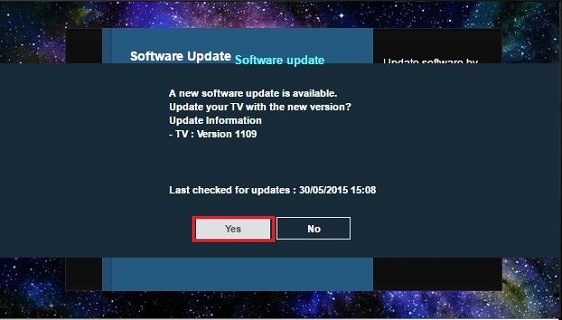 2. How to update your software (USB stick)
If your TV is not connected to the Internet or you do not have a stable connection, you can also update the software for your TV via a USB stick.
1. Find the model number of your TV.
You can either do this by checking the label on the back of your TV or by going to Menu > Support > Contact Samsung using your remote.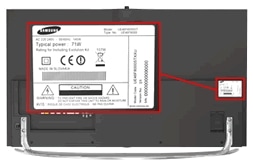 2. Each TV will have different a software update depending on its age, model and requirements. You will need to download the right software for your model.
The latest firmware and updates for your particular model can be found on your model's support site. In the below example, we will demonstrate downloading firmware for model UE40F6320AF
3. Please make sure you are on the right support page for your country, as models may differ by country.
You can usually find your local website by changing the section of the web url relating to country. For example, Samsung US can be found at http://www.samsung.com/us/ and Samsung Australia can be found at http://www.samsung.com/au/. Note that the below instructions refer to the UK website.
4. To find your TV model's support page: click Support at the top right corner of the Samsung website.

5. Type the model number into the search bar, then select the correct model from the list that appears.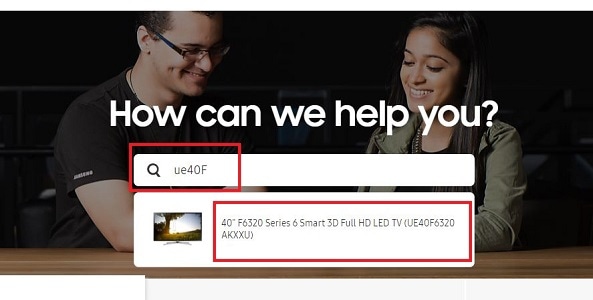 6. Click Manual Downloads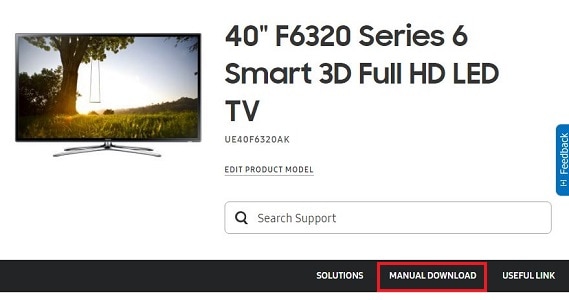 7. This will now take you to the Downloads section of the support page.
Ensure you click Show More as this will allow you to also download the guide showing you how to upload the software to your particular TV.
Click the Download arrow next to the download you require to download the software and guides to your PC.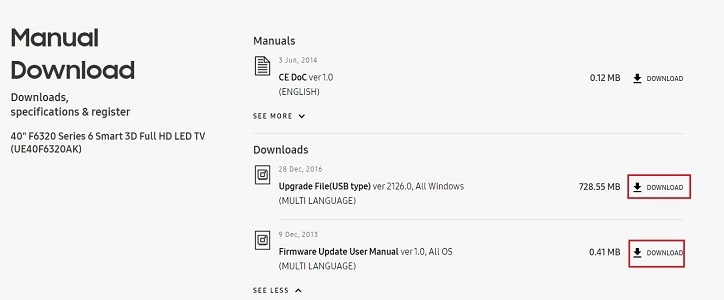 If there is no firmware update available here, then your TV has not had an update released yet or it is not a smart TV.
Other articles you may find useful:
What is Screen Mirroring and how do I use it with my Samsung TV and mobile device?
What do Samsung TV model numbers actually mean? Why are they so long?
How do I change the menu language on my Samsung TV?
How do I run a picture test (self-diagnosis) on my TV?
What is the default PIN of my television?
My TV screen has been smashed or cracked. Where can I get it repaired?
How do I check the signal quality on my TV?
Content Satisfaction Survey
Q1Is this content helpful?

Q2How satisfied were you with this content?
Not finding what you're looking for? We're here to help.
Online
Twitter
Tweet us, 9am-9pm, 7 days a week.
Monday-Friday: 8am to 8pm
Saturday: 9am to 6pm
Sunday: Closed
SmartThings Monday to Friday : 9am-5:30pm
Email
We'll respond within 24 hours of your request.
Call
0330 726 7864General Support
Monday-Friday: 8am-8pm
Saturday: 9am-6pm
B2B Support
Monday to Friday : 9am-6pm
Calls to 0330 numbers cost no more than calls to geographic numbers (01 or 02).
Calls from landlines and mobiles are included in free call packages.
Call charges are subject to change and this information is provided as a reference only.
Calls maybe recorded for training and quality purposes.
For information on how we collect and use your details, please refer to our Privacy policy.

* For any printer related enquiries please visit the HP website.
Contact Us