What is CI+ (Common Interface Plus) and how does a CI+ module work with my Samsung LED TV?
What is CI+ (Common Interface Plus) and how does a CI+ module work with my Samsung LED TV?
The instructions below assume that your TV supports CI+. 
See the bottom of this article to find out whether your model TV supports CI+
Common Interface (CI) is a technology that allows you to insert a removable card (or CAM - Conditional Access Module) that allows your TV to receive and unscramble information from a particular digital TV receiver-decoder.
It is usually used for pay-to-view TV services.
CI+ (Common Interface Plus) extends the Common Interface. A CI+ module inserted into the CI+ slot of a compatible TV set allows you to subscribe and watch a pay TV service from a pay TV service operator, without requiring a set-top-box.
Using the CI feature on your Samsung TV
NOTE: You can install the CAM (Conditional Access Module) anytime whether the TV is on or off.
Please note that your compatible Samsung TV will contain the CI+ slot, but Samsung does not provide the pay TV service. Samsung therefore cannot advise which pay services are available as these can differ substantially by region and change frequently according to specials, promotions or the particular contracts offered by a range of outside providers.

1
Purchase a Common Interface (CI) card from a local cable or pay TV service provider along with the CI CAM module from your local retailer.
2
Remove the CI card by carefully pulling it out of its packaging.
3
Insert the CI card into the CAM module in the direction of the arrow until it fits.
4
Insert the CAM with the CI card installed into the Common Interface slot on the TV's back panel. Make sure to insert the CAM in the direction of the arrow, right up to the end so that it is parallel with the slot.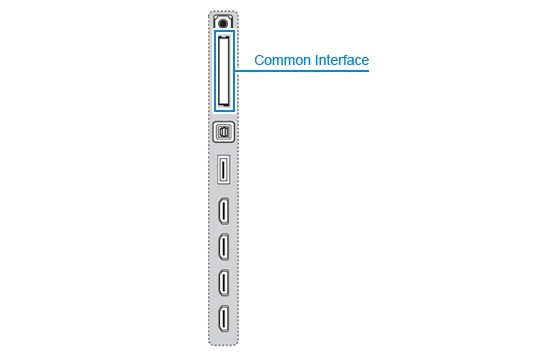 5
Check if you can see a picture on a scrambled signal channel. When the channel information configuration is finished, the message Updating Completed is displayed, indicating that the channel list is now updated.
When the CI card is not inserted, some channels will display a scrambled signal on the screen. 
The pairing information containing a telephone number, CI card ID, Host ID and other information will be displayed in about 2 - 3 minutes. If an error message is displayed, please contact your service provider.
NOTE: The position of the Common Interface slot may differ depending on the TV model. CAM is not supported in some countries and regions, check with your authorised retailer.
Does a particular model support CI+?
You can find out which models support CI+ by checking their specifications on the support webpage for that model.
You can find the support page for a particular model by:
1
Clicking Support at the top right of the Samsung website
(Note these instructions show how to find your model on Samsung UK. Websites may differ by region.)
2
Entering the model number in the search box, then selecting the model from the list that comes up.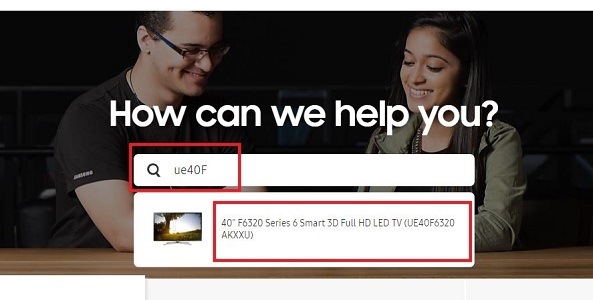 3
Scroll down until you see Specifications, then click SEE FULL SPECS

4
Depending on the model, you will find the entry for CI/CI+ under Tuner/Broadcasting or System

Content Satisfaction Survey
Q1Is this content helpful?

Q2How satisfied were you with this content?
Not finding what you're looking for? We're here to help.
Online
Twitter
Tweet us, 9am-9pm, 7 days a week.
Monday to Friday : 9am-6:30pm Saturday : 10am-5:30pm SmartThings Monday to Friday : 9am-5:30pm
Email
We'll respond within 24 hours of your request.
Call
0330 726 7864General Support
Monday to Friday : 8am-8pm Saturday : 9am-6pm
B2B Support
Monday to Friday : 9am-6pm
Calls to 0330 numbers cost no more than calls to geographic numbers (01 or 02).
Calls from landlines and mobiles are included in free call packages.
Call charges are subject to change and this information is provided as a reference only.
Calls maybe recorded for training and quality purposes.
For information on how we collect and use your details, please refer to our Privacy policy.

* For any printer related enquiries please visit the HP website.
Contact Us