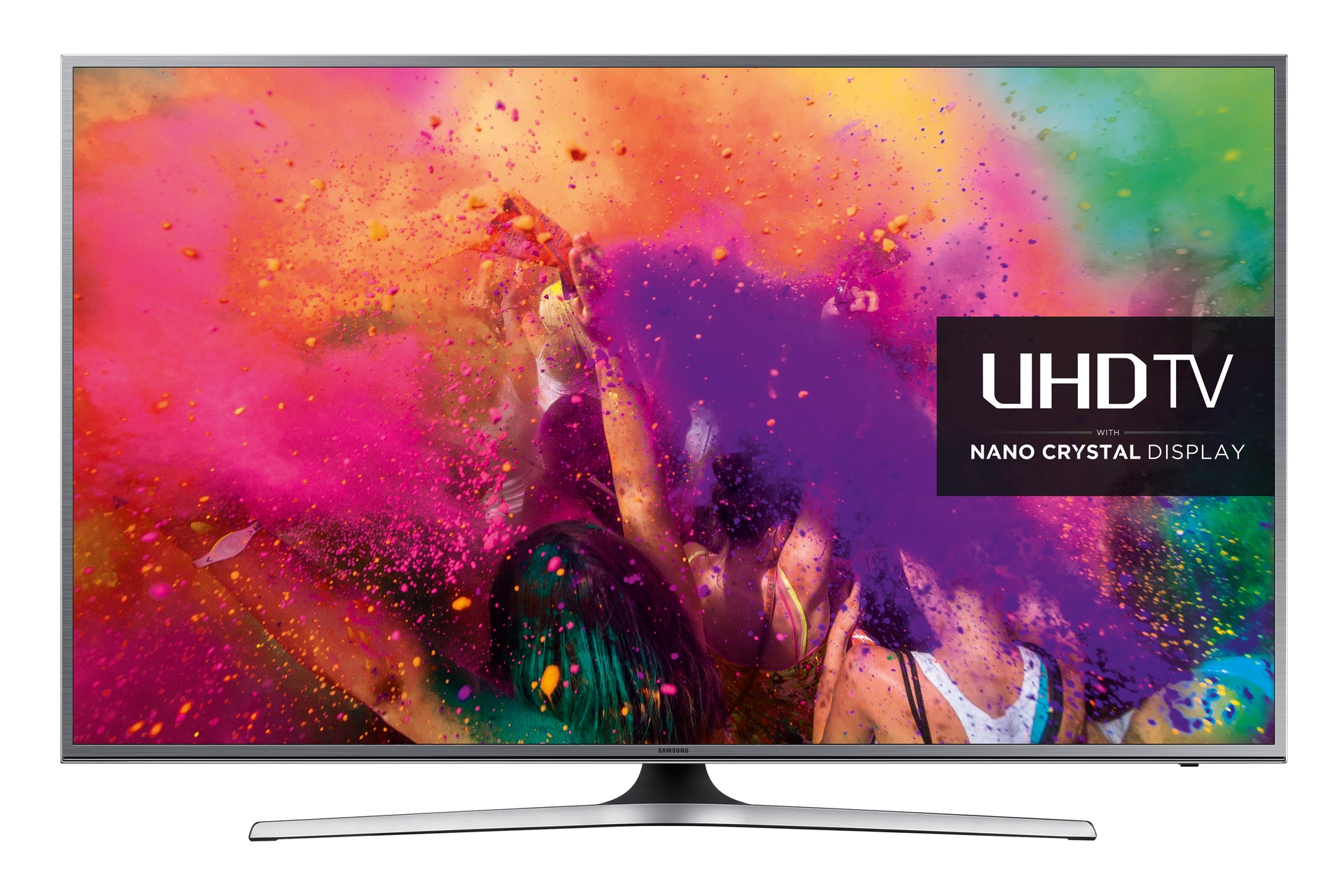 UE50JU6800KXXU
50" JU6800 6 Series Flat UHD 4K Nano Crystal Smart TV
50" JU6800 6 Series Flat UHD 4K Nano Crystal Smart TV
is rated out of
5
by
20
.
UHD 4K
Smart TV
Contrast Enhancer
UHD Dimming
Sensational Nano Crystal Colour
The latest development in screen technology, JU6800 UHD Nano Crystal TV delivers 1.2x more colour than standard UHD creating amazingly lifelike scenes with true to life tones in four times the detail of Full HD. This true UHD screen offers colour range that meets the highest of industry standards emitting the purest light source delivering increased brightness levels, colours and content as the director intended.
The most superior UHD picture quality experience
With picture quality that offers four times the detail of Full HD, the JU6800 produces stunningly bright and clearer images. Enjoy a picture that is optimised for even greater clarity and detail than you've ever seen before.
The leading Smart TV platform now faster with further UHD streaming, catch-up and games services *
Use the latest apps to access the best UHD content on Netflix and Amazon with further providers coming soon. Instantly search for content making it faster to find the programs and movies you want while you are still watching TV.
Contrast Enhancer
Flat images come to life with Samsung's Contrast Enhancer. Your TV intelligently applies varying levels of contrast enhancement to different areas and objects on the screen creating a dramatic 3D-like effect. It's the most realistic viewing experience possible on a flat screen TV.
UHD upscaling enhances the quality of all of your viewing
Thanks to the Samsung SUHD Picture Engine, you can enjoy various kinds of content with near UHD-level picture quality, even if it's not from a UHD source. Samsung's innovative processing engine enhances broadcast TV shows and movies as well as video on demand and more. That means not only does it process UHD sources at crisp 4K resolution, it even converts lower-resolution content to a level of clarity that's almost like Ultra High Definition.
Your TV and mobile devices in perfect sync
Samsung Easy Sharing makes it easy to share content between your TV and mobile. Whether it's a fun video or that must-see TV show Samsung Smart TV picks up the signal when your device is close and seamlessly plays the content perfect for the big screen. It works the other way around, too, so you can move about your house while viewing your favourite content on your device.
A more detailed picture made for UHD resolution
Samsung's advanced UHD dimming technology brings the ideal level of contrast and colour to your UHD viewing. The higher resolution of UHD also means that the picture requires more processing for a highly detailed image. That's why Samsung UHD dimming technology has been developed to process black and white as optimally as possible, and produce colours that are far more vivid.
Powerful Quad Core performance
Thanks to a powerful Quad Core processor, your Samsung Smart TV offers enhanced performance. Enjoy faster multitasking and switch between content and web browsing. Also, you'll notice smoother experience when interacting with your TV.
Experience genuine 4K UHD resolution
All Samsung UHD TV's are compatible with Digital Europe UHD Standards ensuring you will experience stunning images in true UHD detail.
3840 x 2160

Resolution

6

Series

PurColour

PurColour

4

HDMI
Rated

3

out of

5
by
stevey
from
Very Laggy
Owned this tv for nearly a year, but will likely be returning it soon. Sometimes I is unusable for upto a minute when it is first turned on, nothing responds to the remote commands. The same applies when trying to open files from my usb drives. I am really impressed with the picture overall, but sometimes feel to frustrated to watch anything!!
Date published: 2016-08-01
Rated

4

out of

5
by
Picky
from
Good picture poor sound
Unable to see how good uhd is as nothing readily available. Watched a few minutes on amazon and seemed ok. Unfortunately disappointed with sound quality
Date published: 2016-07-16
Rated

4

out of

5
by
uriah
from
Excellent TV with one major issue
This is a absolutely brilliant TV, picture is excellent with some fine tuning via settings , upscaling with pure ease to give best picture possible. Sound is also decent and even better through Av Amplifier. But and its a big But for myself and that is screen mirroring : I specifically bought this TV to screen mirror my phone to TV which was working perfectly from Dec 2015 until software update 1452 and then it didn't. That was about April / may 2016 and ive contacted Samsung many many times and its mid June now and its still not fixed. Seriously disappointed. Still a very good TV but would have been awsome without problem. We were also promised HDR, still waiting for that??
Date published: 2016-07-16
Rated

5

out of

5
by
David
from
very good TV
Great TV would recommend to every one wanting a 50' tv
Date published: 2016-07-16
Rated

5

out of

5
by
IainR
from
Great value for money
Excellent tv, great options. Produces a very good picture, although some of the preset options are not the best, in particular the picture resolutions which are bland and colourless. One minor glitchanges is the TV will go into standby mode for no reason. I have switched off the standby mode auto feature but it still happens. Apart from that, very pleased with the purchase and looking forward to Sky TV broadcasting in 4k this summer.
Date published: 2016-07-16
Rated

1

out of

5
by
RT_Samsung
from
Have sent back two of these now
Have significant backlighting issues. First one, you could basically see vertical bands of dark and light in a slightly darker viewing environment In the second, this was only around the top and bottom edges. Everything else is fantastic. Have sent them back, now debating which one to buy
Date published: 2016-07-06
Rated

4

out of

5
by
snapcase
from
Good TV just a few minor adjustments.
Bought this 50" TV for our lounge and use it for normal tv viewing, blu rays and netflix plus a few apps including YouTube and catch up. We are thoroughly enjoying this tv but we find it could do with more entertainment apps and please note that if you are recording a programme using hard drive you will have to keep the tv on that channel. This is the main flaw that I am experiencing otherwise a great tv. Another issue is that I get a better picture sitting in front of the screen. If you are viewinh from the side then picture looses some colour, this is a pity. All in all good tv.
Date published: 2016-06-29
Rated

1

out of

5
by
RT_RT
from
Uneven backlighting
Just bought a new one. Comes with backlighting bands. and the edges being much brighter than the rest. Going to return it.
Date published: 2016-06-13
User manual & Downloads
Live Chat
*Terms and conditions apply.
Certain features with the Smart Hub may not be available without expressed consent regarding the collection and use of personal information. Content available through Smart Hub may vary among product categories, models and territories. Certain applications must be purchased and may not be available in all regions.
* Apps shown are available or coming soon on all 2015 Smart TV models, Blu-Ray and Home Theatre Players. Apps shown may not be available on all Samsung Smart TV products. The Samsung Smart TV platform is used by Content Providers to make apps available. Content Providers may remove apps from the Smart TV platform or stop supporting them at any time. When new Samsung Smart TV products are launched, there may be a delay before the apps shown become available on those products.