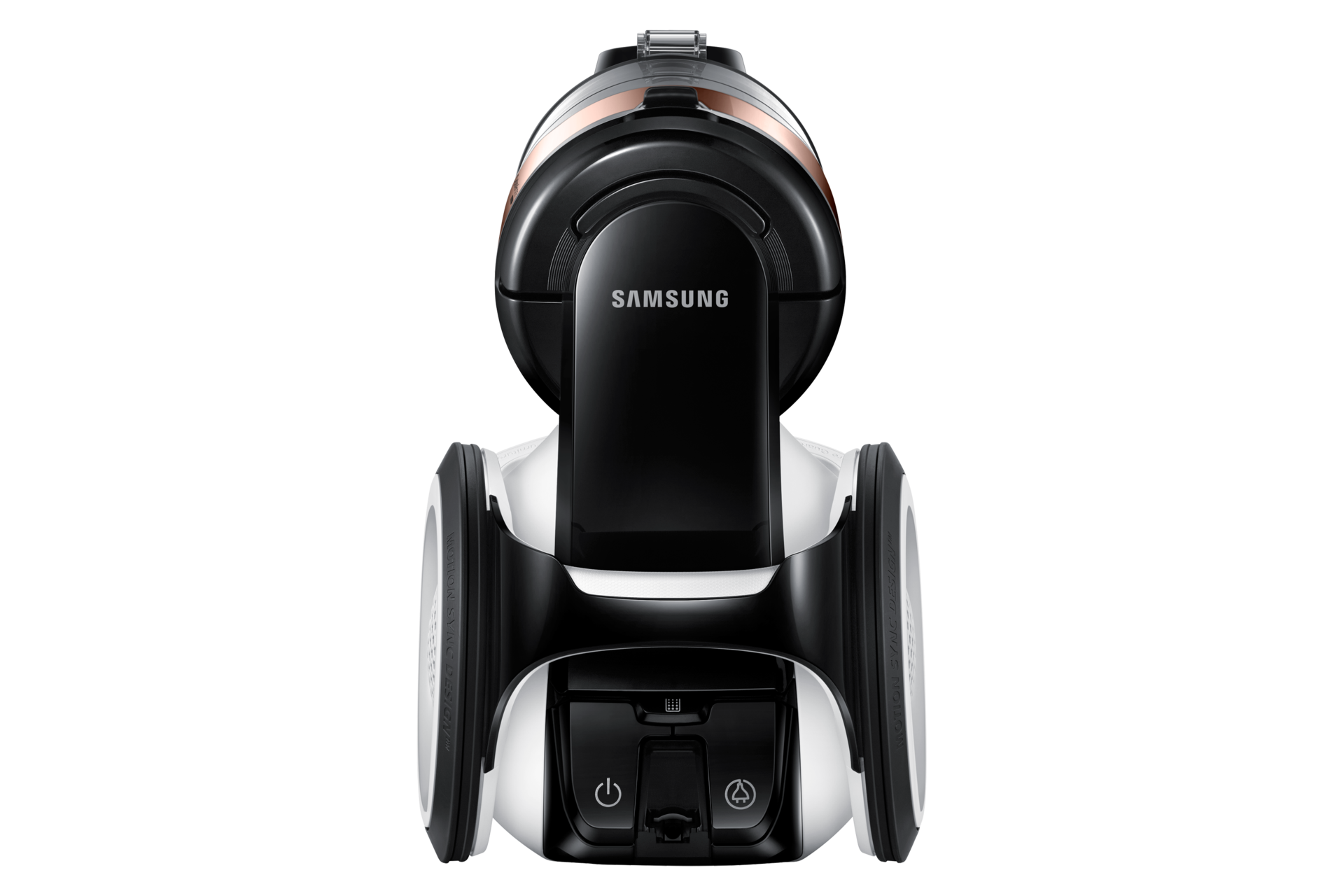 VC06H70F0HD/EU
VC7000 Canister VC with Compact & Light, 680 Watt
Move easily with a compact and light design.
Take control thanks to innovative Motion Sync Design
Enjoy suction power that lasts with CycloneForce technology
650 W
Max Consumption Power
5.2 kg
Set Weight with Stand
253 x 283 x 432 mm
Set Dimension (WxHxD)
Compact and Light
Has an extremely compact and light design that's much easier to pull and control. It's 63% of the size and 69% of the weight compared to Samsung conventional vacuums*
Motion Sync Design™
The Motion Sync Design™ has a swivel body which allows for swift movement, while the angled wheels ensure more stable movement, and are big and hollow to enable a smooth motion
CycloneForce multi
The CycloneForce multi features fourteen inner chambers. By separating dust particles, it prevents the filter from clogging to maintain powerful suction for a long time**
**Compared to VCMA18 of Samsung conventional single cyclone. Based on internal test conducted in accordance with IEC60312-1 Ed 1.1, 5.9
Dust Sensor
A Dust Sensor signals a red light when you clean a dusty spot. When the area is cleaned, the light changes to green.***
***Dust alert performance may vary depending on the floor types. Only for SC12H7050H, SC12H7070U, SC08H70FOH and SC08H70GOU
Built in Handle
The handle includes built-in Pipe, Dust and Crevice accessories. So you won't lose or waste time finding them – and can enjoy faster cleaning.
Durable & Washable Filter
The Samsung Motion Sync Vacuum Cleaner has a simple, sponge type foam filter that captures dust and can be easily washed and cleaned with water.'
† Based on internal data. Regular filter washing is required for optimal performance.
Extreme Force Brush
The suction of the Extreme Force Brush diffuses pressure evenly over the brush to enable the powerful pick-up of dust''.
†† Cleaning performance may vary depending on the floor types.
One Touch Dustbin
Quickly detach with the dustbin via the carry handle, open with the push of a button and let the contents fall into the rubbish.
Remote Control Handle
The Remote Control Handle features built-in control buttons that are within easy reach, so you can quickly turn the machine on / off and select the optimum suction power
0.9 ℓ

Dust Capacity

650 W

Max Consumption Power

5.2 kg

Set Weight with Stand

253 x 283 x 432 mm

Set Dimension (WxHxD)
User manual & Downloads
Live Chat