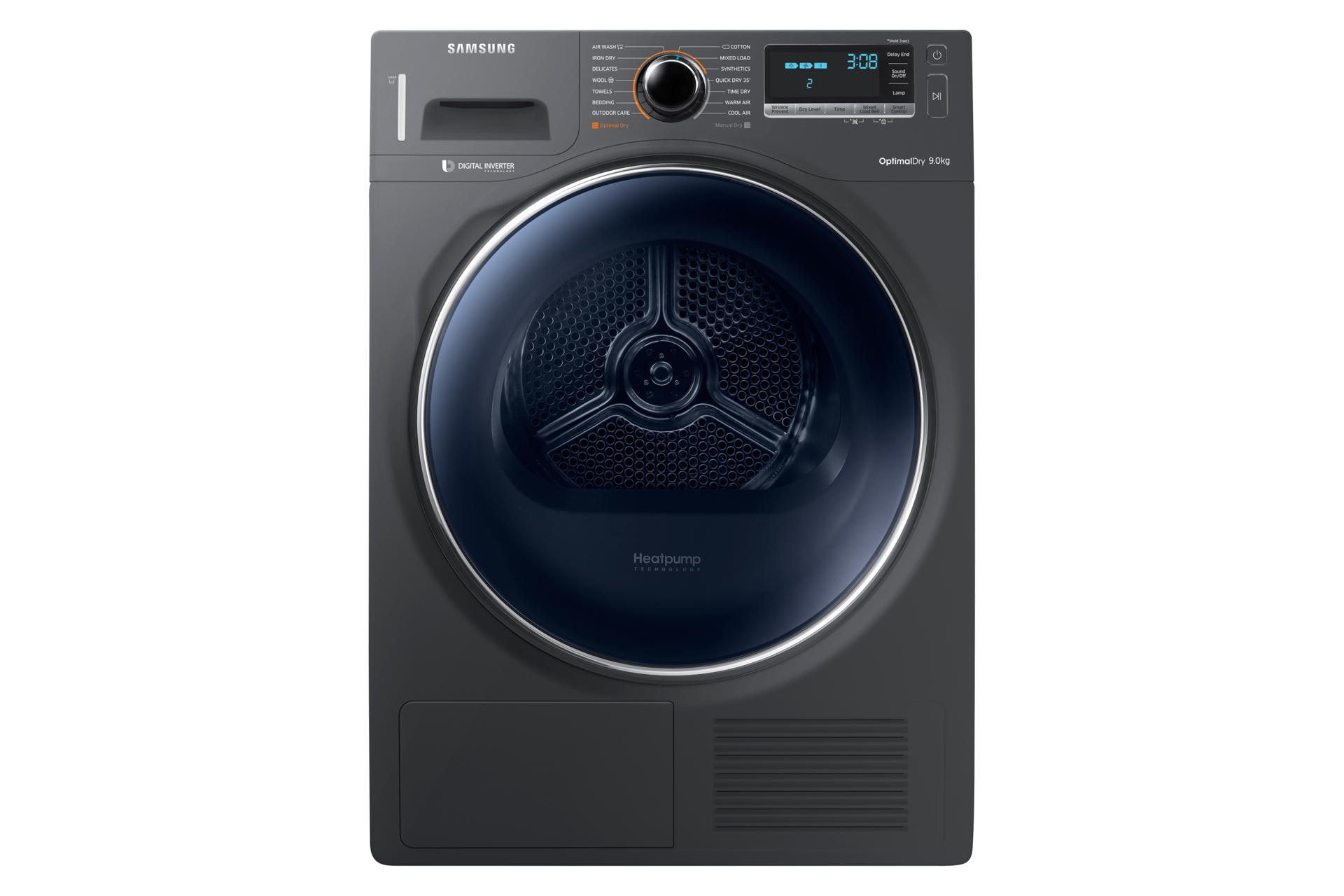 DV90M8204AX/EU
DV8000 Heat Pump Tumble Dryer A+++, 9kg
OptimalDry™
A+++ Heat Pump Technology
Smart Control
Heatpump Technology
Smart Control
9.0 kg
Drying Capacity (kg)
A+++
Energy Efficiency Class
Intelligent drying with great results
Our OptimalDry™ smart technology uses moisture and temperature sensors to adjust the drying time for the best result, which protect your clothes from damage while saving energy. Available on 10 drying programs.
Energy efficiency meets performance
Heat pump technology offers a more cost-effective and gentle way of drying clothes. With A+++ being the best possible energy rating for Tumble Dryers, you know this appliance will save you money.
* Tested in accordance with IEC 61121:2013/8kg Wash load/Cotton Cupboard with Heatpump (DV80M5013KW) vs. without Heatpump (DV80H4100CW). Individual results may vary.
Anytime, Anywhere
Smart Control lets you remotely control and monitor your clothes dryer from anywhere using a smartphone App*. You can check and adjust the drying level, select favorite cycles, get alerts, and monitor energy usage.
* Available on iPhones and Android devices. A wireless network is required.
Quickly dry your favourite outfits
Enjoy the convenience of quickly dried clothes for those times you really need them. Dry up to 1kg of clothes in 35 minutes.
Refresh your clothes
AirWash™ technology deodorises and refreshes clothes, so they smell fresh, using just hot air. Ideal for one or two items.
Enhanced filtering
The easy to clean Filter helps maintain drying performance and energy efficiency by offering an additional layer of filtering that collects all the lint in one place. The bottom Heat Exchanger now only needs to be cleaned once every 25 cycles. Two alarms remind you when the Filter and Heat Exchanger need cleaning.
Water level check
A Water Tank Indicator is a simple gauge on the front that shows how much condensed water has been extracted from your clothes. So you can quickly see if the water tank needs emptying before you start another load.
9.0 kg

Drying Capacity (kg)

A+++

Energy Efficiency Class

600x850x650 mm

Net Dimension (WxHxD)

51 kg

Net Weight
User manual & Downloads
Live Chat