Water Resistant
Bluetooth v4.2
Bluetooth Version
1.5" (38.6mm)
Size (Main Display)
Take the plunge
Go from swimming laps to jumping in the shower. Gear Fit2 Pro is water resistant up to 5 ATM*. And whether you choose the pool or open water, the Speedo** app developed for Gear Fit2 Pro tracks your stats and presents them in easy-to-read summaries.
*If the device or your hands are wet, they must be dried thoroughly prior to handling. **Availability of the Speedo app for Gear Fit2 Pro varies by country and region.
Motivation in 4 ways with in built apps
UA RECORD
See your activity, sleep, and workout stats in one dashboard and get insight into your health and fitness levels.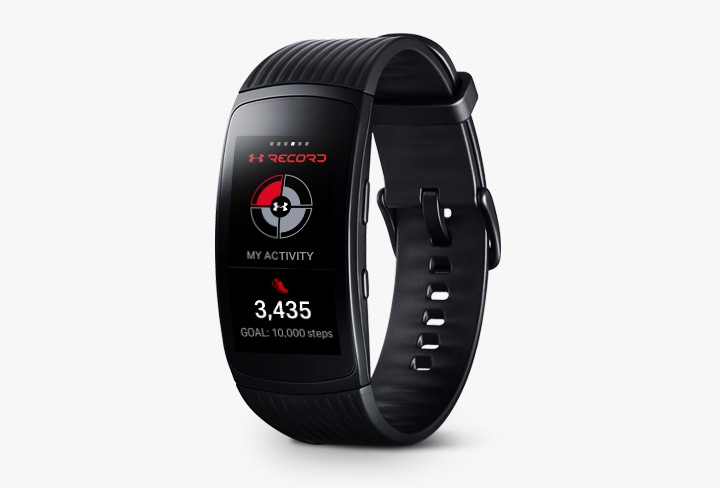 MapMyRun
Plan and track your routes with real-time maps and capture every run, ride, and walk.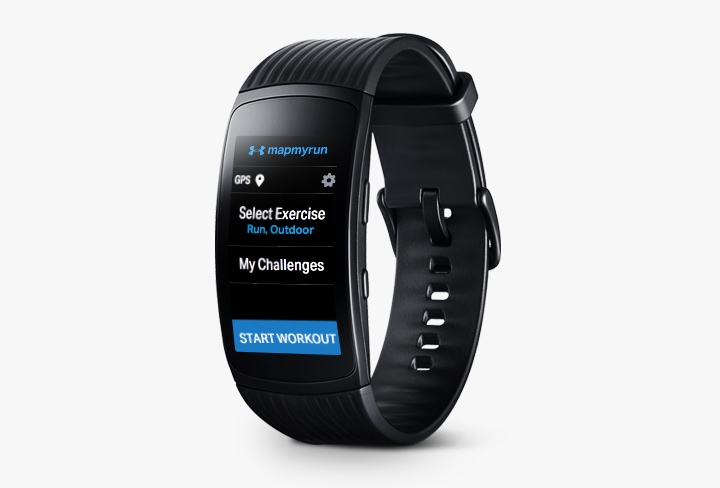 MyFitnessPal
Eat smarter and achieve your health goals by keeping track of the calories you consume and burn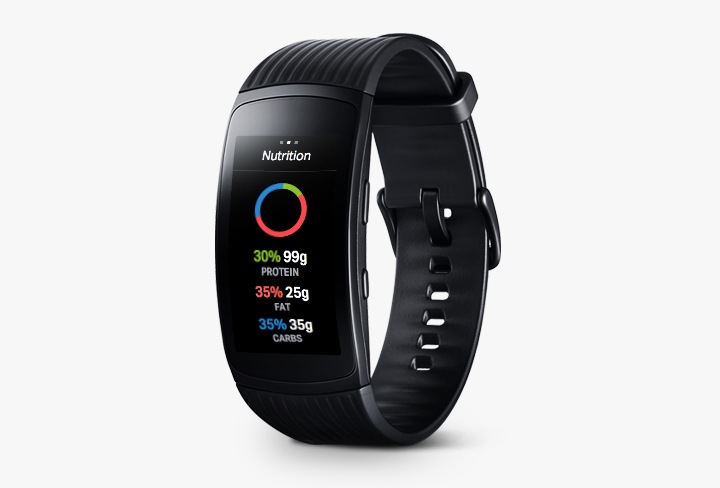 Endomondo
Join a global community of fitness enthusiasts as you reach your running goals with personal training plans.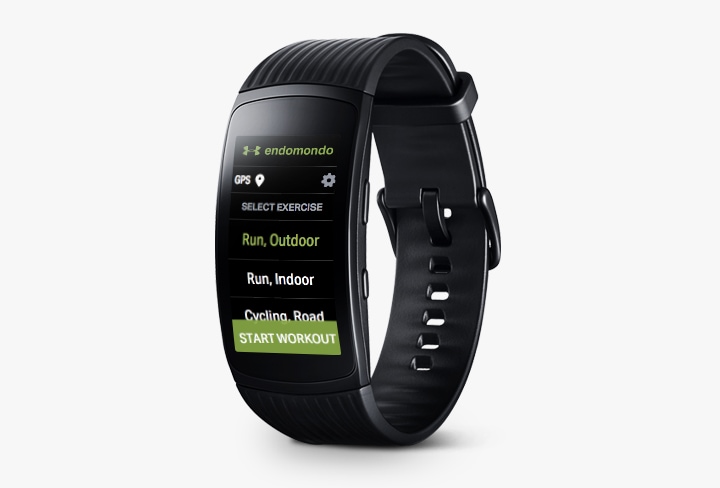 Make your moves count
Whether they're tennis, basketball, or even dance moves, Gear Fit2 Pro automatically detects and logs the activity. It also measures your heart rate continuously throughout the day, indicating heart rate zones, to help you make better fitness decisions.
Choose your style
Go all black for a sleek, understated look at the gym or at work. Or kick things up a notch with a splash of red. Whichever colour you choose, both styles are made to fit comfortably with a clasp that ensures the Gear Fit2 Pro stays securely on, whether it's swim or gym.
Get apps and watch faces
With more than 3,000 apps and watch faces to choose from, including Spotify, you can customise your Gear Fit2 Pro to make it work for you. Go to the Galaxy App store to find the one you need and more.
*Availability of apps for Gear Fit2 Pro may vary by country and region.
Bluetooth v4.2

Bluetooth Version

1.5" (38.6mm)

Size (Main Display)

4.0 GB

ROM Size (GB)

Accelerometer, Barometer, Gyro Sensor, HR Sensor

Sensors

34g

Weight

200mAh

Standard Battery Capacity
Rated

3

out of

5
by
DaveyB
from
Stylish design, good hardware. Apps need improveme
Nice looking watch. Generally the hardwear works well but heart rate monitor gives erratic results (sometimes incorrectly showing max HR for all but the first few minutes of the workout). Battery life has improved since the most recent SWare update. I mostly use the pre-installed Samsung Exercise app. It seems pretty accurate when counting swim lengths but it needs to offer more than 3 pool length settings (30m unavailable ) . It would also be better if the app started a workout without the 3 second countdown, and showed a Gps fix icon before the start of a workout. Bluetooth connection to my Samsung phone is good and notifications (texts, Whatsapp, etc) work well. The custom quick response message replies is a handy feature. I'm generally happy with my purchase and it would only take a few improvements to make this an excellent watch.
Date published: 2018-03-12
Rated

4

out of

5
by
NY23
from
Decent watch
I've been pretty pleased with my watch so far and I haven't had any major problems. I bought it mainly for swimming and it has been generally accurate with keeping count of lengths (although I haven't found any watch that is 100% accurate on this). The one thing that has been disappointing from a swim training perspective is that the Speedo On app doesn't let you see your heart rate as you are swimming. As it can take your heart rate during exercise (including swimming), it seems very odd that the display for Speedo On doesn't let you see this. I hope that this is something that can be adapted with a software upgrade in the near future?
Date published: 2018-03-08
Rated

1

out of

5
by
DaveM
from
Do Not Buy to use as a running watch
I have had numerous issues with this watch since purchase including - - Inaccurate GPS tracking (500m out on an 8km run) - GPS often fails to connect after waiting for 5 minutes - end up having to take my phone so the watch can piggy back of its GPS - During a run if you try to swipe down to read average pace details etc. it will sometimes freeze and then lose all your data up to that point. I have been in touch with Samsung support and had the 'Main' replaced within the unit but I still have an issue on pretty much every run. As an activity watch it is probably ok but not for anyone using it as a running watch. I would not buy this product again
Date published: 2018-03-08
Rated

2

out of

5
by
Mammal marcher
from
Disappointing
I bought my Gear 2 pro just over a year ago for running. Most of the time it works fine but the battery has never been able to hold charge. So when running my first half marathon with the watch the battery failed at 10 miles (an no I'm not that slow) after a full charge. And yesterday it failed after 1 hour 19 minutes (8.2 miles). So now I'm looking for a new watch.
Date published: 2018-02-12
Rated

2

out of

5
by
JohnP
from
Disappointing as an exercise watch
This is the first device ever where feel I have gone backwards: - I want a watch primarily to check my heart rate. No Gear face available seems to highlight this, when running the bpm page keeps on defaulting to a running page where bpm font is small and is greyed out anyhow - it shows 110 bpm constantly when that is clearly not correct. - Instructions say that Map My Run and Speedo On will connect from iphone once downloaded. They do not sync (I am using latest ios 11.2.2 on iphone 7). - Instructions are poor eg what does the main screen first shoe mean ? - number of calories measure that day ? or number of calories measured since watch was last on the wrist ? - Beautiful display but not much use.
Date published: 2018-01-30
Rated

1

out of

5
by
Eb1arker
from
Poor customer service
I only bought this for swimming and the Speedo On app wasn't pre installed despite all the literature I read saying it would be . Samsung were no help at all and couldn't advise how I could download the app.Beware if you Are intending to use this with an iOS device as Iam am ,as you will be the victim o f compatibility issues.
Date published: 2018-01-24
Rated

2

out of

5
by
Dominic
from
Hardware is good, lack of apps
The hardware is very nice, but surprisingly there seem to be only about 6 apps available for it. Hopefully this will be rectified in the near future.
Date published: 2018-01-22
Rated

5

out of

5
by
RobOnline
from
Nice addtion to my S3
I already have an s3 and I'm a massive fan of it. The only drawback for me was you couldn't use it for swimming, which is my main form of exercise. So on the days I exercise I where this, on the others I wear the S3.
Date published: 2018-01-18
User manual & Downloads
Live Chat
How It Stacks Up
Memory size : User memory is less than the total memory due to storage of the operating system and software used to operate the phones features.
Actual user memory will vary depending on the mobile phone operator and may change after software upgrades are performed.
Battery Usage Time : GPS Battery time is based on our own laboratory measurements, and may vary depending on factors such as device settings, usage patterns and operating conditions.