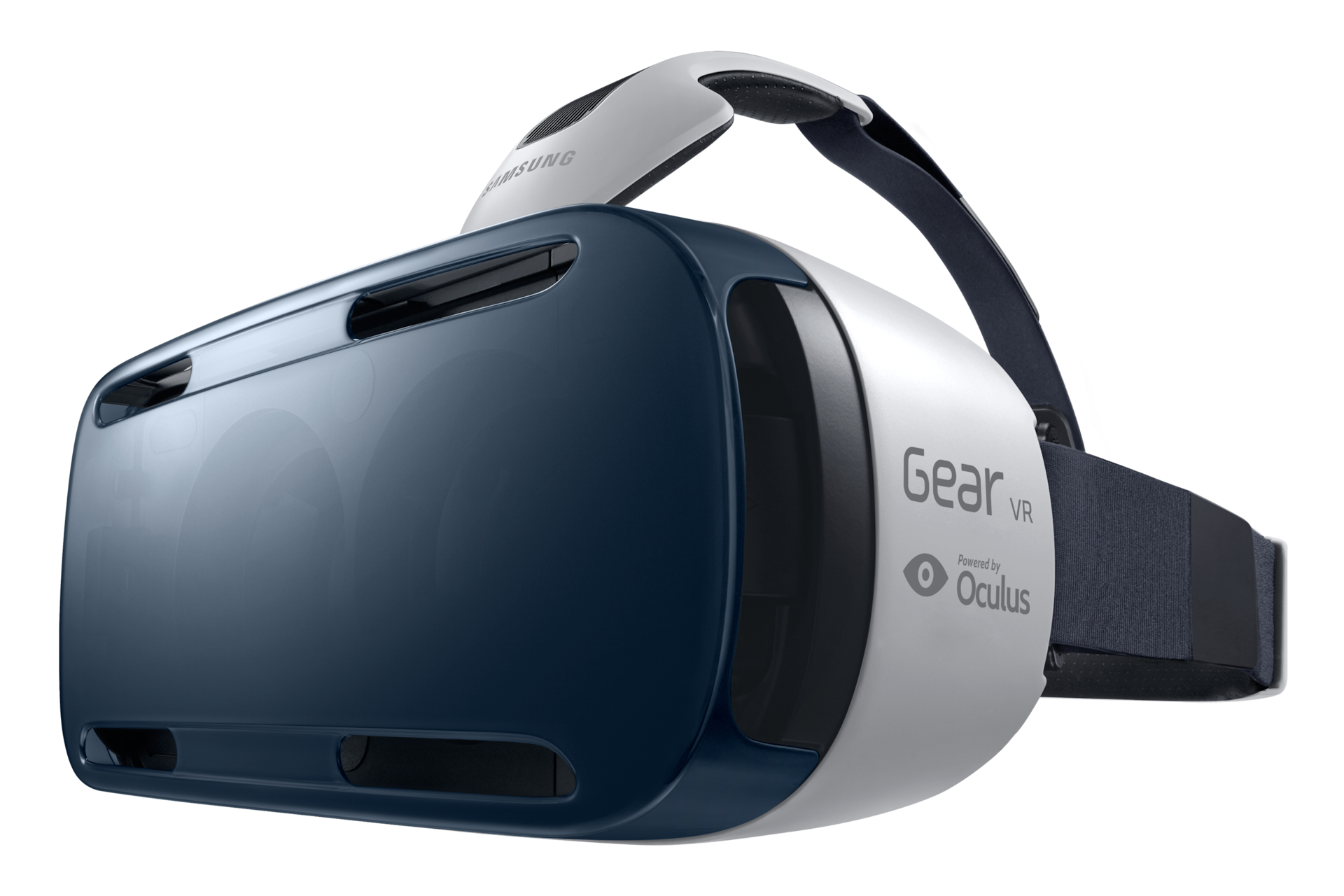 SM-R320NPWABTU
Gear VR Innovator Edition
Gear VR Innovator Edition
is rated out of
5
by
13
.
Immerse yourself in stunning virtual worlds with a 96-degree viewing angle
Simply attach your Galaxy Note 4 in to the headset
Powered by Oculus technology
Click here to read our Pre-Purchase Notification
Accelerometer, Gyro Sensor, Geomagnetic Sensor, Proximity Sensor
Sensors
90 x 198 x 116 mm
Dimension (HxWxD)
Comfortable and Stylish
Experience virtual reality in perfect comfort thanks to the Gear VR's ergonomic design, featuring soft and flexible cushioning.
Ultimate Viewing Experience
Now everyone can enjoy stunning virtual reality viewing with the Samsung Gear VR. It feels like you're looking at a huge screen with an expansive view that goes beyond your peripheral vision, immersing you in virtual worlds.
Step into Virtual Reality
Thanks to the Gear VR, you can discover a range of exclusive games and movies and explore incredible virtual worlds. Just put on the VR headset and you can be there instantly.
Made for Galaxy Note 4
The Gear VR was developed to work exclusively with Samsung's Galaxy Note 4*. Combined with the Gear VR, it becomes a huge and immersive screen right in front of your eyes. For the first time, your smartphone is your gateway to cutting-edge virtual reality.
*Gear VR works only with Galaxy Note 4 (sold separately).
96°

FOV

379

Weight (g)

Accelerometer, Gyro Sensor, Geomagnetic Sensor, Proximity Sensor

Sensors

90 x 198 x 116 mm

Dimension (HxWxD)
Rated

5

out of

5
by
jakichan
from
even better than ps4
ps4 vs gear vr gear vr will win but if if it was playstation vr then id go for that.
Date published: 2016-10-13
Rated

4

out of

5
by
Sabb
from
Qualitu
Not very clear on some apps too little apps avaliable and only a few are free
Date published: 2016-05-04
Rated

1

out of

5
by
bigpete
from
if you git 20/20 vis forget this or youll need glasses
Got my new Samsung VR headset for my s6 edge+ £90....my review of the VR.....well what can I say it's unbelievable it really is how an item like this is so bad quality of build is great sound is great but the vision of when you look into them so so bad I'm giving it 1/10 tried to use the focus but the picture is never sharp or even close colour fringing all over the place....and I have 20/20 vision but not to be bios I gave it to 3 of my friends and 1 of them was defo thinking of buying 1 for his s6 well they tried it and just laughed how you could even use it with out damaging your eyes because you cannot focus on something that's already out of focus before you even start
Date published: 2016-01-03
Rated

5

out of

5
by
Simon
from
Amazing
VR is here and it is amazing. Of course it is not perfect. It is just a beginning of new era. Also do not forget that we are using our phones and that is why you can see pixels. But overall experience for me and my wife was mind blowing. You did a good job Samsung!
Date published: 2015-12-13
Rated

2

out of

5
by
Espoespo
from
Resolution is poor .. with pixels
In was deluded... I have thinking I can look hd film on the bed with wide angel 3d feeling.. OK it is 3d but with the poor resolution it is not funny..
Date published: 2015-11-05
Rated

5

out of

5
by
Trocloc
from
Good product but need more contents
I bought my GearVR since this Feb, but after experience it for 'bout 1 month, there nothing to explore more. But I have to say the value it bring to me is best! Hope to have more contents soon.
Date published: 2015-07-14
Rated

5

out of

5
by
dreamer
from
What A Jump Into the future
If you like gadgets this is a must great fun and really good viewing quality for all eye sights,the best thing for me was my father being able to use it he has Macular Degeneration and wears the strongest lenses on the market,on the see through mode also can see better for the first time in 20 years so all round i love this product, Just sort the over heating and its a million star product.
Date published: 2015-06-03
Rated

2

out of

5
by
scratchy
from
still needs development
Worse thing about this is it gets too hot and lens get dust inside unable to remove, this has major affect on viewing. Note 4 gets too hot and unable to continue.
Date published: 2015-04-28
User manual & Downloads
Live Chat
How It Stacks Up
Before purchasing the Gear VR please note that if your Samsung Galaxy Note 4 has been upgraded to Android Lollipop, until 30 January 2015 certain of the available virtual reality applications, which you may purchase to use on your Gear VR, may not run when using the device.
Network band : The bandwidth supported by the device may vary depending on the region or service provider.