---
We've paired the best technology that's right for your summer adventure so you can live in the moment and capture it, too.
Get the most out of your technology this summer with a few helpful tips.
Upgrade Your Stargazing
Space may be the final frontier but it's closer than ever thanks to the tech gear we now have at our disposal. Just outfit your tablet and other tech products with an astronomer's toolkit and kick start your stargazing.
Name That Constellation
There are 400 billion stars in our galaxy alone, thousands of which can be seen by the naked eye on a clear night. If you can't tell Aquarius from Aries, a simple app can save the day and give you a virtual tour of the night sky.
Just install the Star Chart app on your tablet and point it towards the sky. The app overlays the starscape with the identity of every celestial object in view, including constellations, planets and even specific stars. The app works no matter where you are, automatically orienting itself through GPS positioning and doesn't even require darkness to operate.
Photograph the Stars at Night
Photographs of starscapes can make for some truly striking pictures. Using Night or HDR modes can help to bring out the details in the cosmos, no matter what device you're using. If you're using manual settings on your camera, try a long shutter, large aperture, and low ISO settings.
Above all, remember to keep your camera still during star shots to keep them from becoming blurry. Bracing your device against a table or wall can work in a pinch, but a tripod is an even better option. You can also record video of the stars, perfect for the next time the Perseid meteor shower arrives (July and August every year).
Build an Impromptu Planetarium
The vastness of the night sky can't possibly be captured in its fullness on the relatively small screen of a smartphone or tablet, so step it up by showing off your photos and videos on your television.
If you're using a tablet, just connect it to any HDTV through the HDMI port built into the tablet, then flip through your photos and videos for a big screen tour through space. Some devices can also connect wirelessly, letting you stream photos and videos to your TV.
Stay Up to Date on the Latest Space news
Your tour of the cosmos doesn't have to stop when the sun comes out. Stay up to speed on everything space-related with NASA Now. This app provides the latest news from the space agency, including updates and photos from satellites like the Hubble Space Telescope.
4 Tips for Breathtaking
Landscape Photos
Fall foliage. Mountain vistas. Rolling hills. Landscape shots can make for some of the most pleasing photos you'll ever take. Here's what you need to know to shoot gorgeous outdoor panoramas.
1. Stake Out Your Spot
A great landscape shot starts with the right landscape, so you'll want to invest some time in staking out your subject before you get down to shooting. Remember, the best landscape photos are composed of more than just an amazing background.
A shot of the forest in the distance may be lovely, but it's only half the shot. What's between you and the trees? Positioning yourself on the other side of a lake from your subject or in the middle of an old dirt road leading to it can make for a far more powerful picture. Think of the foreground of your shot as the visual introduction to the landscape in the background—and give it just as much thought as the landscape itself.
2. Lighting Is Everything
The time of day when you shoot is crucial to landscape photos. A shot taken at noon will have a different impact than one taken at sundown. Consider the time when you're staking out landscapes, and remember to keep the position of the sun in mind. The only time you'll want to shoot directly into the sun is during sunrise or sunset. The rest of the time, keep the sun behind you or to one side. As with most types of outdoor photography, you'll get the best landscape shots in the hours immediately surrounding dawn and dusk, when the light is less harsh and shadows are minimized.
3. Prepping Your Camera for Landscapes
For almost every landscape shot, you'll want to shoot with a wide angle and a large depth of field. Together, these will let you capture as much of the landscape as possible, while helping to keep the entire image in focus. If you have an interchangeable lens camera, a wide-angle lens is usually a better choice than a telephoto lens.
4. Keep the Shutter Open
Unlike portrait or action shots, most landscape photos benefit from using a long (or slow) shutter speed. A slower shutter speed will compensate for the depth of field settings by letting in more light. But artistry plays a role as well. A slow shutter will give a sense of motion to elements in a picture that aren't completely still. This is especially effective if there is water or fog in a scene. A lake photographed with a long exposure will look fluid and alive; waterfalls will be spectacular. One caveat: use a tripod when shooting with a slow shutter speed, as even a slight hand movement can ruin your shot with blur.
Get Fit &
Stay Fit This Summer
Technology won't replace sweating it out at the gym, but it can make your workouts more productive, better organized, and more fun. Here are four tips that will help you keep that promise to get in shape.
1. Start Out on the Right Foot
A well-crafted fitness plan doesn't just start with an impromptu run around the block; a solid plan is essential. Technology can help you get started. What are your specific fitness goals—to lose weight, build muscle tone, or increase strength? What are the best exercises or classes to help you reach these goals? What about diet?
A sophisticated smartphone can help you do your research and get organized, whether you're making a to-do list or downloading apps to find the perfect warm-up. Once you've taken the first step, tech can help support your new lifestyle.
2. Mix Things Up
Doing the same exercise routine and eating the same foods every day are surefire ways to get bored and drop your fitness plan. Variety is essential in any workout program, and the right technology can help keep things interesting. Some TVs feature fitness apps that offer a variety of videos for working out at home. Or, if you're headed for a run, your smartphone can make the time fly with music or a podcast, and even keep track of how far you've jogged.
3. Stay on Track
Business or vacation travel offer great excuses to ignore your workout routine. Instead of giving in, utilize technology to help stay on track no matter where you are. For starters, the built-in calendar on your smartphone can keep track of which classes you're missing and alert you when you're due for a workout. To replace the missed classes, load up your tablet with workout videos, and don't forget to load up your playlists so you'll have your favorite exercise tunes on hand.
4. Keep the Motivation Up
Working out isn't always fun, and sometimes you need a little extra push to stay motivated. Inspiration and motivation can come from anywhere, and you can embed some right into your tech gear. Try putting inspirational images and quotes on your laptop's screen saver, or printing them out and putting them on your refrigerator. Motivation-themed apps and music are available for your smartphone and allow you to connect with friends and workout buddies to help inspire one another.
Take Great Vacation Photos
Everyone loves to show off pictures of their vacation—and a photo album is the best way to relive a great one. You worked hard to get there, so make sure you're prepared to capture special moments. Here are some tips for keeping vacation memories alive.
Perfect the Group Shot
One of the most common types of vacation photo is a group shot. Once you're at the place you want to shoot, think about how the background should appear. You need a location large enough for your group that also provides visual interest. A forest may seem interesting, but if you can only see a few bare tree trunks behind your family, you might be better off relocating to a hilltop or a nearby stream.
With your group assembled, remember to shoot several photos rather than just one. This will provide alternatives to the inevitable shots of blinking companions and distracted children. Move around while you shoot to capture the scene from a variety of angles. Finally, don't forget to keep the sun to your side. People squinting into direct light never makes for a pretty picture.
Take a Better Sunset Picture
The sunset shot is a classic vacation photo, and with a little preparation, it's not difficult to pull off. Sunsets are all about timing, so make sure you're prepared. The best photos may present themselves before the sun hits the horizon, so start shooting early.
Composition is another major concern. Ocean shots can also be dull. Add foreground elements by moving away from the water's edge. Trees, houses or figures watching the setting sun can add interest, and the silhouettes can be striking. Play with the aperture setting while you shoot to create interesting color effects.
Don't Be Afraid of the Dark
Nighttime photography is tricky. No matter what you're shooting—the moon, fireworks, a campfire—the key is to keep the camera still. A tripod is almost mandatory unless you want your photos to be blurred.
If your camera has a Night mode, turn it on to auto-configure your camera's settings for shooting in the dark. If not, use a higher ISO level, but remember that your shots will tend to have more noise; that is, marred by colored speckles or snow. A little experimentation will give you a sense of how far you can push the ISO.
A flash will light up a nearby subject, but if the subject is more than 10 or 20 feet away, the flash probably won't give the best results. Even if it lights up the subject, it may cause red eye—which you can remove with software later—but it's best to avoid it in the first place.
Add a Little Splash
People or pets playing in the water can make for fun imagery. But what type of effect do you want? If you'd like to see a moment frozen in time—water droplets suspended in the air—set your shutter speed to its fastest setting. If you want to capture a sense of movement, say, when shooting a waterfall, set the shutter speed longer.
5 Tech Tips for the Great Outdoors
Camping these days doesn't mean you have to abandon all the digital conveniences you use every day. The right piece of technology can enhance your experience in the great outdoors. Here are five ways to keep the focus on nature while not going completely off the grid.
1. Navigate the Roads and the Heavens
A camping expedition starts with figuring out where you want to go and how to get there. A quick search with your smartphone can help you find a campground near you that has the amenities you're looking for, while apps that utilize GPS can be invaluable aids while exploring. Once you've set up camp, load an astronomy app that points out the constellations and lets you spot stars and planets in the clear night sky.
2. Keep Track of Your Progress
Ever wonder how close you are to the end of a hike? Strap a new wearable tech device to your wrist and you'll know at a glance how far you've traveled with a built-in pedometer as well as how long you've been away from camp. Setting up an alarm to let you know when to head back will keep you from trying to find your way in the dark.
3. Document Your Adventure
The relaxed moments and beautiful scenes that come with camping are a great time to take out a camera and capture nature photographically. Powerful cameras give you the ability to take even better shots with interchangeable lenses. Attach a macro lens to shoot close-ups of wildlife and nature's other treasures from afar, and switch to a wide-angle lens to capture those expansive and impressive landscape shots when you've made it to the top of the hill.
4. Entertain the Troops after Hours
When the sun goes down, fire up a large-screen tablet and play a family board game on its spacious display. The bright, backlit display means you don't have to worry about hanging lanterns or using flashlights to see the game board, and going digital means game pieces will never get lost or get blown away. Another way to enjoy family time in the woods is to listen to a podcast of a favorite short story or radio program. Just make sure to download what you want to listen to before you leave.
5. Prepare for the Long Haul
If you're camping for more than a day or two, don't forget the accessories you'll need to keep your gadgets running strong for your entire trip. Extra batteries, spare SD memory cards, and cleaning equipment to get dirt and dust off of lenses and screens can be essential to keep everything working until you make it back home.
*Water-resistant and dustproof based on IP67 rating, which tests submersion up to 1 meter for up to 30 minutes. Not shockproof. Covers must be tightly closed.

Fast, easy checkout with Shop Samsung App
Easy sign-in, Samsung Pay, notifications, and more!
Or continue shopping on Samsung.com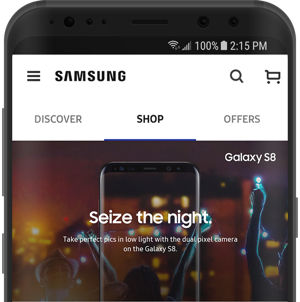 ×
You Are About To Be Redirected To Investor Relations Information for U.S.
Thank you for visiting Samsung U.S. Investor Relations. You will be redirected via a new browser window to the Samsung Global website for U.S. investor relations information.
×
Redirect Notification
As of Nov. 1, 2017, the Samsung Electronics Co., Ltd. printer business and its related affiliates were transferred to HP Inc.
For more information, please visit HP's website:
http://www.hp.com/go/samsung
Select CONTINUE to visit HP's website.