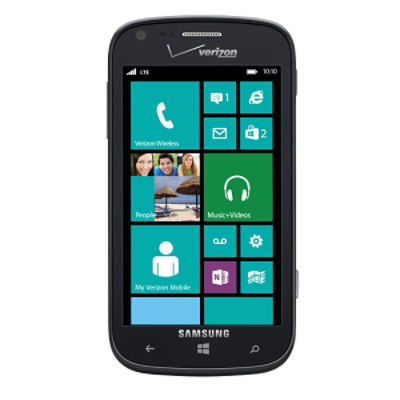 ATIV Odyssey (Verizon)
SCH-I930MSAVZW
Rated

3.9

out of

5

 by

9

reviewers.
Rated

5

out of

5
 by
SatisfiedWithProduct
Overall great phone.
It took a little while to get used to my Samsung ATIV Odyssy. Using IE is a little different, but I am getting used to it. Battery life is good. Probably 12-14 hours based on average usage. Takes excellent photos. I was reluctant at first with this phone because I have never used a cell phone unless it had a query keyboard. But I can't believe how well I am doing with this one. If you are a query kind of person, you will have no issues with this keyboard. Overall I am satisfied with this phone, but there are some issues: CONS: 1. First of all, I am upset that a manual is not included. Yes, it is online, but it is so much easier to turn to page "whatever" than scrolling, scrolling, scrolling to find information. My Verizon associate printed it out for me and I couldn't believe how many pages there were. Two sided yet! 2. The touch screen at times is frustrating. Sometimes I don't even touch the screen, I could be just holding the phone, and it senses my hand and does goofy bouncing around. Then sometimes it freezes up and I could tap all day with no results. 3. The volume button and power/lock screen buttons are directly across from each other. It is very easy, and I do this often, to turn down the volume when I am unlocking the screen. I actually HATE this. 4. The bottom buttons, "back", "home", "bing", are too touchy. Bing is constantly coming up and I don't even realize I touched the button. Very frustrating. 5. The text "send" button is too close to the "backspace" button. My texts are continuously being sent before I am ready. 6. I don't know how it is happening, but when the lock screen is down, the phone still goes to bing and does the "goofy stuff", even with the screen locked. It is like the phone unlocks itself somehow. 7. You will definitely need to get a cover for this phone as it is very, very slippery. Like I said, overall I really do like this phone, but it does get frustrating at times.
May 20, 2014
Rated

5

out of

5
 by
NanaInFlorida
i930 ATIV Odyssey Better Than Expected
Display is really clear and sharp. Animations are very smooth. Pictures are very good. Navigation is very easy after a few minutes of learning how Windows Phone 8 works. There are many good apps. WP8 is relatively new and will certainly grow mature as a mobile phone platform as it gains market share. This phone is very light ... I keep checking my pocket to make sure I put it back in there. I am able to get it in and out of the protective case fairly easily for access to the SD card. Quality construction and the flash is really good ... I downloaded a flashlight app and it works really well. The only concern I have is that I need to learn how to tweak the sound and I have not yet been able to positively identify an external sound/speaker bluetooth/NFC or docking device that is compatible. But I just got this phone and I still need to browse the manual and research online. I am very, very glad I switched to this Odyssey WP8 phone. All my Zune music magically appeared in the Music & Videos app, as did my Xbox gamer tag avatar in the Xbox Games app. I was surprised I could send a message to my brother on his Xbox from my new phone. All my SkyDrive stuff is syncing smooth and fast (I turned on the WiFi and hooked up with my home network) and downloads are fast. My OneNote notebooks look great and I can zoom in and out easily with the touch gestures. I haven't opened a Word doc yet in Office Mobile but will check that out soon. Overall, I am very happy with this new WP8 Odyssey.
May 31, 2013
Rated

5

out of

5
 by
Yodaexploda24
Samsung ATIV Odyssey™ (Verizon) Windows® Phone
Discover the perks and elegance of premium Windows phones. With native LinkedIn and Twitter and streamlined messaging—socializing is easier, more intuitive and all you.
March 25, 2013
Rated

5

out of

5
 by
ladyjai3
this is just the best!
I wanted to get away from the iphone and I read such great reviews on this one, I decided I would give it a try. I was not disappointed. I love the OS on it as I am running windows 8 also on pc. also love the apps and the people hub on it. great value for the money. another great Samsung product!
March 24, 2013