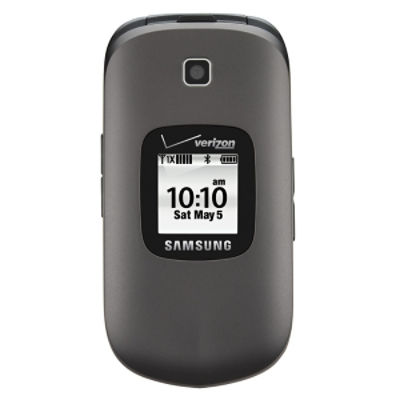 Gusto 2 64MB (Verizon)
SCH-U365HAAVZW
Rated

3.7

out of

5

 by

30

reviewers.
Rated

4

out of

5
 by
platinumblond
Just a phone poor camera
Hey, if you want just a basic flip phone this phone will do it for you. The camera is really poor, there is some photo editing software that's basic. The phone will Bluetooth which is great especially for transfer of pictures. The bells and whistles are not there but for a basic phone it gets the job done. I would recommend this for someone who wants a plain-Jane phone to talk on texting is difficult and there is very little web interface to even mention. It is dependable and has lasted a long time. The battery if you replace it needs to be a carrier specific battery or the phone rejects it. Don't turn on the voice read out unless you want to be driven nuts.
December 16, 2014
Rated

5

out of

5
 by
teddy1963
Excellent Flip Phone
Had the samsung gusto 2 for almost a year, it has been a excellent phone for me. I have great signal and had not had a dropped call, the phone is really durable yes its not a walking computer, but have a computer at home to do intense web searches, the main thing is it makes clear loud calls when you need it which to me its the most important feature of the phone.
May 12, 2014
Rated

1

out of

5
 by
GENE1941
VERY POOR PHONE
While some people claim durability as excellent, The call quality is very poor. Conversations have to be repeated several times. I replaced this phone with aUSED Motorola VU204 which is a flip phone as well and the call quality of that phone blows this Samsung away. Yes, it was more expensive, but worth the difference
March 18, 2014
Rated

5

out of

5
 by
maustin1113
Uber Durable!
I bought one of these a year ago to use on Verizon's pay as you go monthly plan. I loved it. Its cheap, reliable and extremely durable. Its only a basic flip phone, so it doesn't have a lot of features but you can still get everything done on it that you need to. It has a decent little notepad app, calendar that you can add all of your events to, you can access your emails and surf the web albeit a very limited mobile web. Its main plus is durability. I've dropped mine multiples times, stepped on it, dropped it in the mud and thrown it through a window (not on purpose; don't ask) without killing it. After a year of abuse the thing only has minor scratches. This phone has served me well and I would recommend it to anyone needing a cheap basic phone that can take one heck of a beating.
December 27, 2013