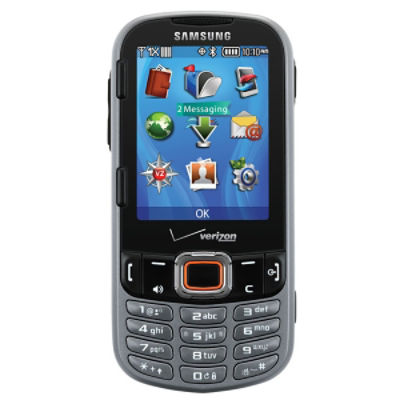 Intensity III 128MB (Verizon)
SCH-U485NSAVZW
Rated

3.4

out of

5

 by

29

reviewers.
Rated

5

out of

5
 by
Verified Reviewer
Great deal for the price
We are low volume /emergency use only cell phone users, and this is the best deal we could find!
August 25, 2015
Rated

5

out of

5
 by
YosemiteFan
An excellent phone for basic use.
I have had the Intensity III for about 2 years now. I use it mostly for making phone calls. The texting that I do has been smooth and easy. The only thing that I have done was to purchase and install the larger capacity battery and battery cover to make sure I have enough capacity when I'm out in the field. The larger back does make the phone less sleek but it still fits my pocket easily. I've had no problems with phone. If I wanted to do more with a cell phone I would switch to a smart phone.
April 20, 2015
Rated

1

out of

5
 by
Disappointeduser96786786
This product is poorly designed
This product is not a good long term phone. when used a lot the ribbon wire will be cut in a place that disables everything it makes it compleatly unusable.
January 16, 2015
Rated

1

out of

5
 by
CorneliusFudge
Horrible Software issues
I loved the intensity ii so when it was upgrade time i went with the upgraded version big mistake. While under warenty the phone desided it wouldnt turn on one day. So i thought no big deal it is a warrenty repair whatever. Then today my replacement phone from the warrenty went completely nuts. When punching any key whether on key pad or key board have no clue what the phone will register left click might be ok, call might be switch to different contact and call, m might be 0. Also when not touching the phone at all its going crazy like it keeps saying that there is no destination or that pressing the volume keys doesnt control font even though nobody is near the phone much less touching buttons and this is after a complete software restore. really angry had a horrible experience
October 29, 2014