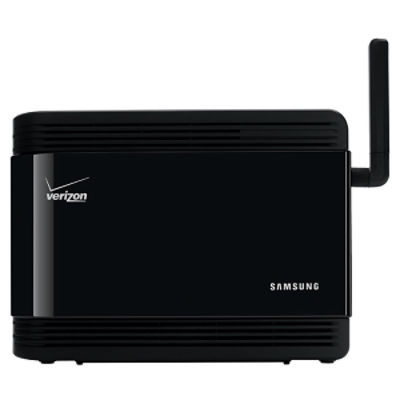 Verizon Network Extender Base Station (Verizon Wireless)
SCS-26UC4
Rated

4

out of

5

 by

34

reviewers.
Rated

5

out of

5
 by
Kat63
Love IT!!
This has helped so much with the reception we receive in our home. No more dropped calls!!! I highly recommend it
July 31, 2015
Rated

5

out of

5
 by
LindaJ
Gets the job done
Although I'm in the suburbs, where I would expect reception to be good, there was about a 6 square inch area in the house where I might be able to get 1 to 1-1/2 bars of reception. I installed the extender and am getting 4-5 bars all over the house, which is really nice. The only problem I've had is that it is somehow interfering with my iPad's ability to connect to my network. This hasn't been a problem for my PC, just the iPad. I'm trying to figure out a fix.
August 9, 2014
Rated

5

out of

5
 by
strucer
This network extender keeps me connected
I purchesed the network extender some time ago and was a buit sceptial as to the performence it would provide me. I set it up with the help of tech support ( which was a real good experiance in itself Thank you) when it was set up and the lights were on I made my first call (wow!! it works) i went all around my house making calls in each and every room , and every call went through. I went outsid and found it worked there as well ( the smile on my face was ear to ear with joy) I LOVE IT!!. Several days later a neighbor was over and started to make a call on his phone, prior to the call going through he heard a tone before the call went through and said he never heard it before. I told him about my network extender and how it boosted the signal at my house ( he was blown away that this product even existed) . Our homes have always been in a weak signal area so we just always execpted it. Now not only can I make calls at my home, but when I go to my neighbors home I'm covered there as well. You have made a nice neighborhood even better for us. Thank you Samsung . Imy neighbors and myself are Samaung fans since.
May 19, 2014
Rated

5

out of

5
 by
AJintheBoat
5 bars? 5 stars!
We recently moved into an area that is just on the edge of the network and we were getting 1-2 bars, sometimes a no service signal. We bought the refurbished cheaper version from Verizon and it was super easy to hook up. The hardest part was getting it 2 feet from the WiFi router and near a window. It's now on the window sill, and we backed the router away from it, about 2.5 feet. All blue lights, and the cell phones are getting 3-5 bars depending on the location in the house. The extender is in my home office, which I primarily work from, where I was getting 1-2 bars, now I get 5. I don't even get 5 bars in town! Woohoo!
January 22, 2014