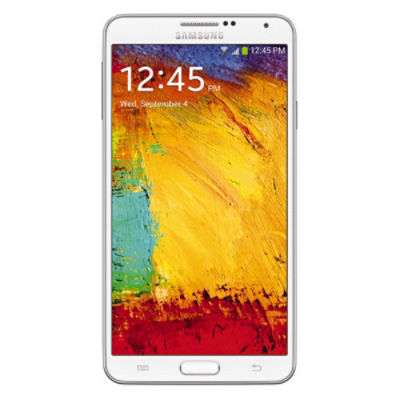 Galaxy Note 3 32GB (T-Mobile)
SM-N900TZWETMB
Rated

4.7

out of

5

 by

1320

reviewers.
Rated

4

out of

5
 by
Angel0681
I love the functionality of this product
It is a great device that is somewhere between a tablet and a phone. I love that it has a big enough screen for me to see anything including documents. The only thing I find to be a little of a downfall is that since the updates have been installed on my phone it seems to be running slightly slower. The battery does last a long time for me, but I am not on my phone 24/7 and really only use it some of the day. It usually only has to be charged once a day for me. I also find these to be extremely durable. I have dropped my phone several times and from pretty high places and not a single crack or even scratch. I do have a screen protector on my phone and a very light case, but nothing major.
July 19, 2016
Rated

4

out of

5
 by
jalvarado5
Awesome
A great phone, power and speed aplenty! Great cam!
July 23, 2016
Rated

1

out of

5
 by
Yaamii
Not happy at all.
I've had nothing but problems with this phone, Note 3. T-Mobile has replaced it 3 or 4 times. As soon as I am able, I plan to try something new. Looking at the 7Edge.
July 22, 2016
Rated

5

out of

5
 by
Noktelfa
Excellent Phablet
The Note 3 represents a good step up from the Note 2. The processing power is an improvement over previous models, especially if one purchased the Note 2 without realizing that many of them sold in the US had weaker processors than advertised. The Note 3 battery life is great, but can be easily expanded with assorted extended batteries available from vendors such as Amazon. Running the stock Android, a regular battery can last more than a day and an extended battery can last more than three days, even when the phone is used regularly. If the user opts to stay with the original battery size, wireless charging receivers are available that fit over the battery and connect to built-in wireless charger connections. This can help reduce wear on the USB port. The size of the phone might be daunting to some, but if one doesn't use an extended battery, the phone is actually quite easy to handle. The case isn't very durable, in the event the phone is dropped, but many armor options are available. The glass on the screen can handle most normal wear, but a protective screen cover is a good idea. The screen has great resolution and is quite bright. The Super AMOLED display uses less power than an LCD display producing the same level of brightness and the same picture. Still, the display will likely be the largest draw of power. The brightness can be turned up enough to overcome most sunlight, but using a matte screen protector will allow a lower brightness level to be used to overcome glare, and therefore save on battery life. The speaker is better than on previous models, and is fine for sharing short videos with friends, but a set of bluetooth headphones would be better for music listening and movie watching. Regarding movie watching, the graphics card in the Note 3 is more than sufficient for for watching HD movies that use the full resolution of the screen. Movies can be streamed from Netflix or Amazon in full resolution, and actually look pretty good on the screen. The GPU can also handle some pretty good game graphics, which, along with the quad-core processor, can make for a great gaming experience, for a portable device. The only drawback is the limited number of available games that make use of the hardware. It should also be noted that the more powerful hardware means that the phone performs well even in power saver mode. I hardly noticed a difference in most applications when in power saver mode, although the camera performance suffered noticeably. The Note 3 gets better cellular reception than older models, likely because of a larger antenna. My office is in a basement, and my Note 3 is able to get a signal in areas where my coworkers' iPhones and Motorollas aren't. WiFi and GPS also work pretty well on the Note 3. The size and brightness of the screen, combined with the quality of the GPS reception, make it a good choice for dashboard navigation. The signature feature of the Note series is the "pen". The Notes actually contain Wacom tablets built into the screen. This means that a professional quality drawing device is built in. With the correct software, one can make use of this to produce some decent artwork or take written notes. Software with handwriting recognition increases the usefulness of the pen. One complaint that I've heard from artists regarding most drawing tablets is that rotating the tablet breaks their hand-eye coordination, because the screen doesn't rotate. In the case of the Note series, this isn't the case, since the tablet is built into the screen. The processing power of the Note 3 allows the drawing functions (and handwriting conversion) to keep up with the artist. The pen is also useful for text entry or chatting, for those who are more comfortable with normal handwriting (or Graffiti) than with a mini keyboard. The Note 3 comes with a pretty good amount of internal storage, but a MicroSD card can be added to increase that storage beyond what one would reasonably need for a phone. An entire music library plus a good collection of audiobooks can fit, with plenty of room for apps and storage space for the camera. Speaking of the camera, the Note 3 camera is capable of high definition movies and still shots. The system can support taking a rapid series of photos (several a second) with no loss of quality. This can help when one is trying to get that perfect shot. The aperture size is fixed, as is generally the case with a phone or tablet, but the software can compensate for that a lot. With no physical shutter, effective shutter speeds are all based on processor power and software functionality, which adds a lot of flexibility. The Note 3 is a good choice for specialized functions such as timelapse movies, with the right software. The front camera is also more than adequate for video chatting and selfies, although at a much lower resolution than the back camera. It's still better resolution than many webcams. The Note 3 USB port is USB3. This means faster data transfers and charging. The cable it comes with is a USB3 cable. Still, part of the beauty of a USB3 port is that it can still accept a standard MiniUSB port, for data transfers via a USB2 device or charging from a USB2-based charger and cable. The charge and data transfer won't be as fast with USB2, but it still works. One important detail about the Note 3 is its operation with Android 5. If the phone is upgraded to Android 5.x, battery life will be greatly reduced. This is not the fault of the Note 3, as it affects all Android devices. The initial releases of Android 5 also have a negative impact on wireless connectiviti, such as WiFi and GPS. Again, this is a problem with the software and affects other devices. Version 5.0 is particularly bad, although 5.0.1 and 5.1 are somewhat improved. Still, if one intends to upgrade the software, an extended battery is a good idea. T-mobile users should be warned that T-mobile will not update the phone past 5.0.1, so the GPS can take from five minutes to a couple of hours to start working. If you intend to use your phone for GPS, it's best not to turn GPS off between uses, even to conserve battery power. The WiFi in the Note 3 is more reliable in Android 5 than in some other devices, though. I saw no changes in Bluetooth operations on the Note, although I saw Bluetooth problems in other devices that were updated to Android 5. Also, many who upgraded to Android 5 did so to escape the Stagefright vulnerability, but 5.0.1 is still vulnerable, so if you get a Note 3 and use T-mobile, it might be a good idea to root your phone so that you can install a newer OS. It's also useful to activate developer features (Google it) to make full use of the phone's built-in hardware capabilities, some of which are turned off or nerfed in the default Android settings. Overall, I was quite pleased with my purchase of a Note 3, and find that it outshines even many phones made years later.
July 16, 2016