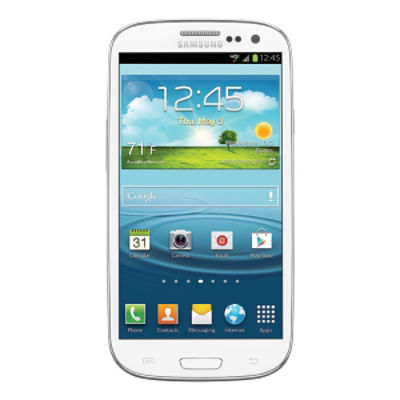 Galaxy S III 16GB (Verizon)
SCH-I535RWBVZW
Rated

4.6

out of

5

 by

1146

reviewers.
Rated

3

out of

5
 by
Corray
first smart phone
I guess I fell in love with the looks and the size. But basically the size. First, I will talk about the start up. It takes a long time. It first has to run through the logo and upload all the pertinent info. Which seems long but it might only be 20 seconds, but it always seems long. I can't believe when I see them on tv or elsewhere, it seems that they come on right away. I asked about that at the Verizon store and she told me they are all about the same. Okay now about the set up. I am not into games while watching on a small screen. I don't need to cramp my eyes any more than they are already. I keep my eyes on the apps that will help me achieve better results with posting and reading messages. I don't like the camera, because it seems that you have to hold it really steady, and the zoom isn't all that much, but I guess that's too be expected from most smart phones of this kind and type,. In excess of 75 feet is not good for quality. I finally had to have a pro get rid of all the wasted apps and that helped a little bit. I kept the music apps and the search one. The other thing I'm not sure about is the phone. I try not to have the volume all the way up, but sometimes it can't be helped. I wish that you could just swipe across and turn up the volume. The battery seems to hold up pretty good for me but then again I don't use it like most do...I don't turn mine on while at home, but once I get on the road it's right there on the dash, or on the console. I wish there was a simpler way to transfer photo's, but I guess it becomes second hand, if you do it ten or more times in a day. My life doesn't revolve around this little electronic device. The screen colors are average and so are the photo's. I have not drooped it yet, but I do have a case around it and that makes it hard to click on the volume button I'm not sure what else I can say about it. I am just not into it ruling my life.. So, all in all, I would say this is an average phone
September 26, 2016
Rated

4

out of

5
 by
lovewood
Reliable phone
This Samsung S3 phone has been in use for more than three years . It 's reliable dependable gadget that did everything it has been asked for. And it's still in a good shape - almost no scratches on the screen , battery is still okey, though it cold be faster in few applications.
September 21, 2016
Rated

3

out of

5
 by
BabyFresh40
it works.
its old its a loner phone and I'm grateful for his kindness..
September 21, 2016
Rated

4

out of

5
 by
Shophappy89
Love galexy
First galexy product and It was love at first click.
September 15, 2016