How do I add a Widget to my Samsung Exhibit™ Home screen?
A widget is a simple application extension that is often part of a larger application already installed on the device. Widgets come in all shapes and sizes, are customizable, and reside on any available Home screen for quick access. Widgets provide you with quick access to information without requiring you to open the app that manages this information. An example is the Calendar widget, which provides you a quick view of your upcoming calendar events without opening the Calendar application.
Adding a Widget
To easily add a widget to a Home screen, touch Apps and then touch the Widgets tab at the top of the screen. Touch and hold an available widget icon. Position the widget on the screen, and release it to add it to the Home screen. If the widget is too large, you will receive the following message: "No more room on this page." The device will then attempt to place the widget on a Home screen with the necessary space.
Delete a Widget
To delete a widget from a Home screen, touch and hold the widget. Drag the widget to the Remove bar at the top of your screen and release. The widget is removed from the Home screen but is still available in the Widgets tab.
Resizing a Widget
Some widgets can be resized. To resize a widget, touch and hold the widget, then release. If the widget can be resized, you will see a yellow frame around the widget. Touch Resize to adjust the size of the widget. When you are satisfied with the new size, release the widget and touch anywhere outside the widget to exit the edit mode. See the example of a resizable widget below.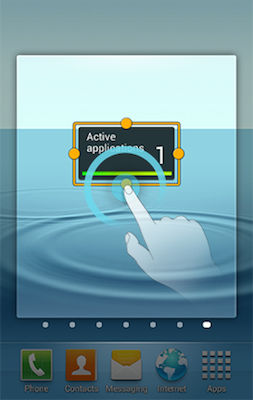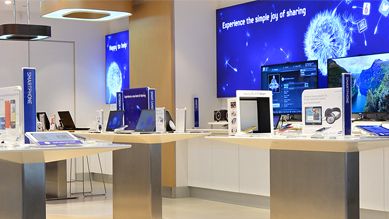 Need a repair for your Samsung Smartphone or Tablet?
Visit a Customer Service Location for hands-on service and expert advice.
How would you like to contact us?
1-800-SAMSUNG
(1-800-726-7864)
Mon - Fri : 8AM -12 AM (EST) Sat - Sun : 9AM -11 PM (EST)
24 hour support available for mobile devices
1-800-SAMSUNG Mon - Fri : 8AM -12 AM (EST) Sat - Sun : 9AM -11 PM (EST)