Which version of the Android™ platform does my Samsung Galaxy S4 use?
Your device operates on Android version 5.0.1, Lollipop (R970TYUGOH2). When an update is available, this page will contain information on how to obtain the update.
Version
Date Released
Description
R970TYUGOH2
9/9/2015

Android OS Security Enhancements (Stagefright)

R970TYUGOE2
7/13/2015

Android 5.0.1, Lollipop Upgrade

R970TYUFNK1
2/24/2015

Android 4.4.2 (Kit Kat) upgrades include:

Phone Dialer: The new phone app automatically prioritizes your contacts based on the people you talk to the most. You can also search for nearby places and businesses, your contacts, or people in your Google™ Apps domain.
Camera: Enhanced the "touch to focus" option with a new circular, on screen control that can be dragged by your finger around the viewfinder to adjust a photo's focus and exposure.
Hangouts™: With the new Hangouts app, all of your SMS and MMS messages are together in the same app, alongside your other conversations and video calls.
Emoji everywhere: Sometimes words can't express how you feel. For that, there's Emoji, the colorful Japanese characters, now available on Google Keyboard.

R970TYUFNAE
2/21/2014

A new operating system update, 4.4 KitKat, was made available for U.S. Cellular Samsung Galaxy S® 4 customers on 4/22/2014. Some customers may not recieve notification about the update until a later date. At that time, the software will be available for download on your device.

DEVICE ENHANCEMENTS

Access to Media Controls from the Lock Screen–full screen album art and media controls when listening to music.
Access to the camera from the Lock screen. The camera icon only displays in swipe mode. It does not display if there is a pin, pattern, or password lock on the device.
Upgraded Emoji icons.
Choice of Default Messaging App: You can select a default application for sending and receiving SMS text messages, either Messages or Hangout.
Integrated Location Service:
In Mode, you can select the options (GPS, Wi-Fi®, mobile networks) to estimate your location.
Wireless printing now supported
Location services are integrated and more detailed by new Location Menu.
Settings > More > Location (ON/OFF slider added)
Translucent menus: The status and navigation bar is translucent and can sit on top of apps, along with simplified status bar icons. Icons in navigation bar are now white in color.

R970VXUAMJA
11/8/2013

DEVICE ENHANCEMENTS

Jelly Bean 4.3 Galaxy Gear™ support
Samsung KNOX

UPDATED APPS

City ID 1.25.11
Mobile TV 5.1.3.65-265549
MobiTiles 5.30.0.20
Slacker® Radio 4.0.1034
TRD 2.0.32b
WiFi Now 4.5.90
YND 3.2.3.7230059
Mobile Security 6.6.16.32
Amazon™ Shopping 2.6.0

R970VXUAMDL
5/21/2013

Maintenance Release

DEVICE ENHANCEMENTS

Improved Gesture sensor by updating sensor firmware
Updated S Health™
Improved Camcorder/ Voice Recording audio quality

R970VXUAMD9
4/27/2013
Initial Release
Check the Software On Your Device
From the Home screen, touch Apps .
Touch Settings .
Touch the MORE tab.
Touch About device .
The Build number and Baseband version show the software version on your device.
The Samsung Customer Care team cannot speculate on when a future software update may be released, and the team can provide information only on available updates in the U.S.
Thank you for your feedback!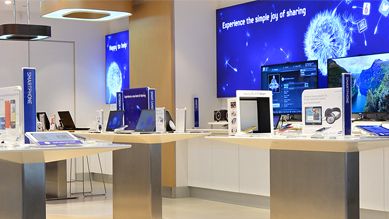 Samsung Customer Service
Need a repair for your Samsung Smartphone or Tablet?
Visit a Customer Service Location for hands-on service and expert advice.