Galaxy Light 8 GB (T-Mobile)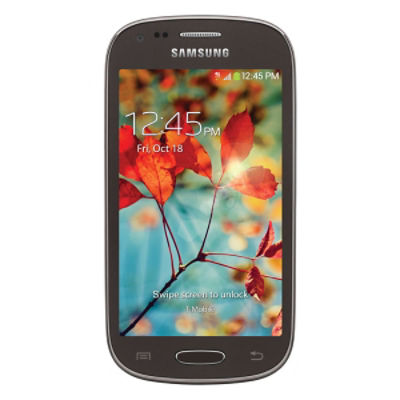 Product Info
Type ?

Provides who the cell phone carrier is for this model of phone.

T-Mobile

Color ?

Choice of colors (exterior design) that a model is currently available in.

Dark Brown

OS

Android™ KitKat

Camera resolution (Front)

0.3 MP (VGA)

Camera resolution (Rear) ?

Number of pixels across and down that are used to capture an image. More pixels, the sharper the photo.

5 MP

Internet Use Time ?

Battery power consumption depends on factors such as network configuration, signal strength, operating temperature, features selected, vibrate mode, backlight settings, browser use, frequency of calls and voice, data and other application usage patterns. Smartphone Battery Life Time Test Procedures

3G: Up to 6 hours; Wi-Fi: Up to 8 hours*

Internal Memory
(User memory is less than the total memory due to storage of the operating system and software used to operate the features. Actual user memory will vary depending on the operator and may change after software upgrades are performed.)

1 GB RAM, 8 GB ROM

Main Display Resolution

480 x 800 Pixel

Main Display Size

4.0"
Full Specifications
Carrier
Type ?

Provides who the cell phone carrier is for this model of phone.

T-Mobile

Form Factor

Form Factor

Bar, Touchscreen

Color

Color ?

Choice of colors (exterior design) that a model is currently available in.

Dark Brown

OS

OS

Android™ KitKat

Size

Weight

4.37 oz.

Product Dimensions (inches) ?

Height, width and depth of the phone, measured in inches (in.).

4.79" x 2.48" x 0.41"

Camera

Camera resolution (Front)

0.3 MP (VGA)

Camera resolution (Rear) ?

Number of pixels across and down that are used to capture an image. More pixels, the sharper the photo.

5 MP

Digital Optical Zoom

4x

Features

Auto Focus; HD Recording; LED Flash; Online Image Uploading; Photo Editing; Shot Modes: Auto, Beauty Face, Sound&Shot, Panorama, Sports, Night; Video

Battery

Battery, Standby ?

3G: Up to 301 Hours; 4G Up to 450 Hours*

Battery, Talk Time ?

Battery power consumption depends on factors such as network configuration, signal strength, operating temperature, features selected, vibrate mode, backlight settings, browser use, frequency of calls and voice, data and other application usage patterns. Smartphone Battery Life Time Test Procedures

Up to 8.0 hours*

Battery Type and Size

1800 mAh

Music Play Time ?

Battery power consumption depends on factors such as network configuration, signal strength, operating temperature, features selected, vibrate mode, backlight settings, browser use, frequency of calls and voice, data and other application usage patterns. Smartphone Battery Life Time Test Procedures

Up to 34 hours*

Video Play Time ?

Battery power consumption depends on factors such as network configuration, signal strength, operating temperature, features selected, vibrate mode, backlight settings, browser use, frequency of calls and voice, data and other application usage patterns. Smartphone Battery Life Time Test Procedures

Up to 7 hours*

Internet Use Time ?

Battery power consumption depends on factors such as network configuration, signal strength, operating temperature, features selected, vibrate mode, backlight settings, browser use, frequency of calls and voice, data and other application usage patterns. Smartphone Battery Life Time Test Procedures

3G: Up to 6 hours; Wi-Fi: Up to 8 hours*

Memory

Internal Memory
(User memory is less than the total memory due to storage of the operating system and software used to operate the features. Actual user memory will vary depending on the operator and may change after software upgrades are performed.)

1 GB RAM, 8 GB ROM

External Memory/microSD™ Capacity ?

Hardware device or memory card that connects to a phone for the purpose of receiving and storing data.

Up to 64 GB

Network

Frequencies and Data Type

GSM:850/900/1800/1900; UMTS: Band 1(2100), II (1900, IV (1700), V(850); LTE: Band 4 (1700), Nabd 17 (700)

SAR value - Head (W/kg) ?

SAR stands for Specific Absorption Rate which is the unit of measurement for the amount of RF energy absorbed by the head when using a mobile phone.

SAR Value: Head 1.18 W/kg

SAR value - Body Worn (W/kg) ?

SAR stands for Specific Absorption Rate which is the unit of measurement for the amount of RF energy absorbed by the body when using a mobile phone.

SAR Value: Body 1.43 W/kg

Connectivity

Bluetooth

V2.1 + EDR & V4.0

Processor

Processor Speed, Type

1.4 GHz Quad Core

Display

Main Display Resolution

480 x 800 Pixel

Main Display Size

4.0"

Main Display Technology

TFT

User Interface

Features

TouchWiz®; Widgets

Key Features

GPS Navigation

Yes

Business/Enterprise

Yes

Premium Camera

Yes

NFC

Yes

Enabled for 4G LTE

Yes

Audio

Features

Audio Streaming; Compatible Music Files: MP3, M4A, 3GA, AAC, OGG, OGA, WAV, WMA, AMR, AWB, FLAC, MID, MIDI, XMF, IMY, RTTTL, RTX, OTA; MP3/MP4/Music Tones; Music Player; Ringtones, Polyphonic

Video

Features

Compatible Video Files: MP4, M4V, 3GP, 3G2, WMV, ASF, AVI, FLV, MKV, WEBM (H.263, H.264 CODEC); Video Player; Video Streaming

Fun & Entertainment

Features

Downloadable Content; S Translator; S Voice™; Live Wallpapers

Business & Office

Features

Corporate E-mail/Calendar/Contacts; Microsoft® Office-compatible; Mobile Device Management

Communication Features

Features

Email; Picture Messaging; Text Messaging; Video Messaging

Calling Functions

Features

Airplane Mode; Call Block; Hearing Aid Compatible (HAC); Picture Caller ID; Speakerphone; Speech-to-Text; Text-to-Speech; TTY; Visual Voicemail; Voicemail

Disclaimer

Battery power consumption depends on factors such as network configuration, signal strength, operating temperature, features selected, vibrate mode, backlight settings, browser use, and data and other application usage patterns.

See More +

Warranty

This SAMSUNG brand product, as supplied and distributed by SAMSUNG and delivered new, in the original carton to the original consumer purchaser, is warranted by SAMSUNG against manufacturing defects in materials and workmanship for a limited warranty period of:

All Warranty Info

Manuals & Downloads

Manuals

User Manual ver. MHG_F5 (SPANISH(North America),9.53 MB)

Jun 06, 2014

User Manual ver. MHG_F5_AC (ENGLISH(North America),9.3 MB)

Jun 06, 2014

See More +

Downloads

USB (Driver) ver. 1.5.45.00 - Win XP/2003/2008/2012/Vista/Win 7/Win 8/Win 8.1/Win 10(32,64bit) (ENGLISH,15.27 MB)

?

Title 1. Title USB Driver for Samsung Mobile Devices 1.5.45.0
Applicable Model All North American Samsung Models
Carrier or Corporate Customer All Carriers
Description USB Driver for Samsung Mobile Devices2. Applicable Model All Models3. Carrier or Corporate Customer All Carriers4. Description 1. Title USB Driver for Samsung Mobile Devices 1.5.45.02. Applicable Model All North American Samsung Models3. Carrier or Corporate Customer All Carriers4. Description USB Driver for Samsung Mobile Devices

Feb 18, 2016

See More +