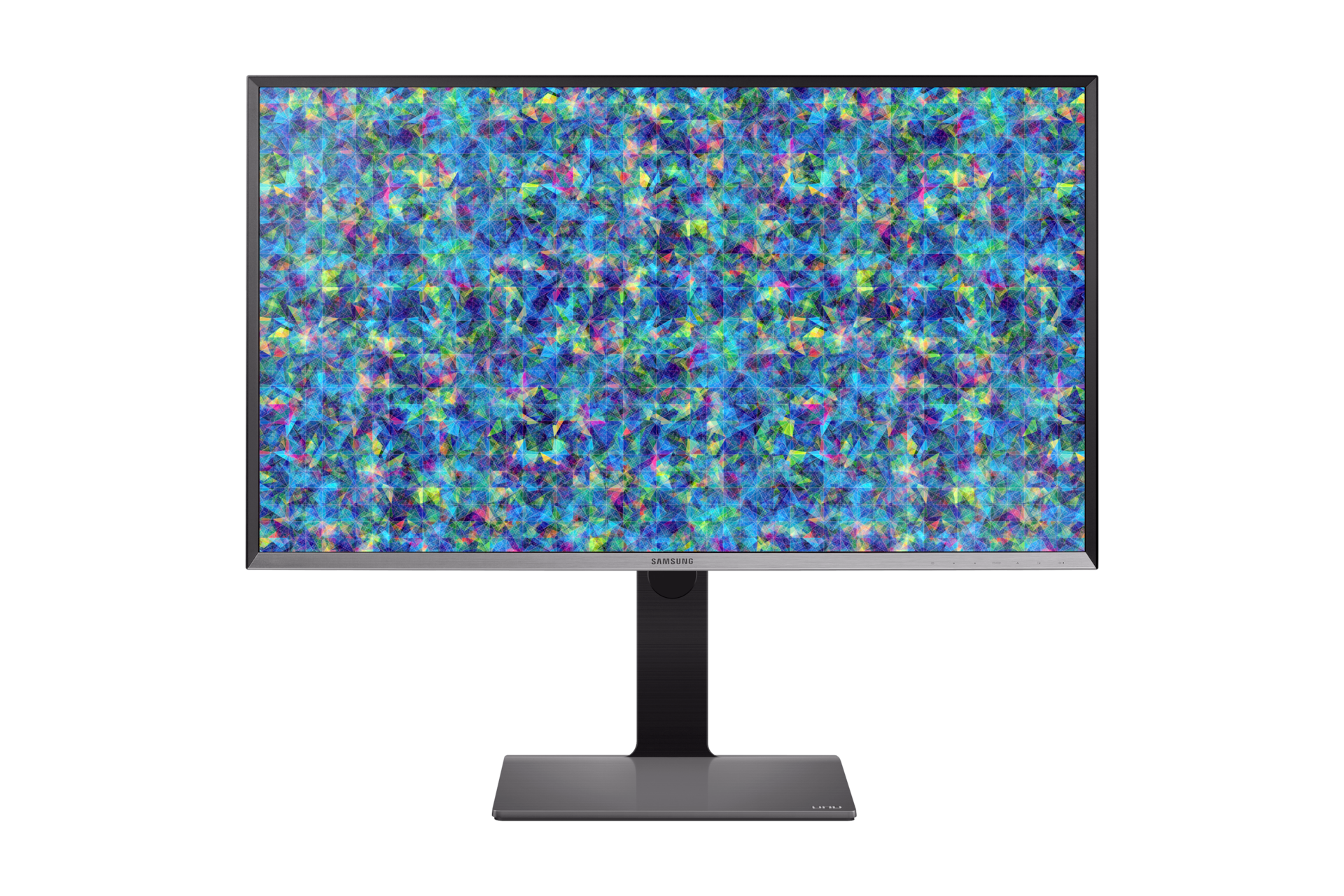 32" Professional Monitor with Accurate Color Presentation
LU32D97KQSR/XA
HDMI Input
PBP(Picture By Picture)
UHD (3840 x 2160, 4 K)
Resolution
Unparalleled colour accuracy achieved through meticulous factory calibration
Samsung's professional UD970 monitor is meticulously and individually calibrated right at the factory, ensuring uniform colour across the whole screen, and precise grayscale colour gradation that is so much smoother than monitors that only undergo a simple software calibration. And with an embedded calibration chipset developed exclusively by Samsung and a 16-bit look-up table (LUT), you get more accurate colours across the entire screen, taking colour precision above and beyond other advanced monitors.
Incredibly uniform colour presentation across the entire screen
Every UD970 is individually calibrated for uniformity correction by splitting the display into 25 sections, and then adjusting the brightness of individual sections uniformly with the calibrator. This results in centre and peripheral areas that maintain an amazing calibration accuracy of △E<3. Samsung's advanced hardware calibration chipset and precise tuning brings the uniformity up from 75% to 90%, delivering near-perfect uniformity values across the entire screen.
Colour details and clarity in every shade of grey
From the purest whites to the deepest blacks, the grayscale of the UD970 has been finely divided into 256 levels. Then, with an accuracy of △E<1, the UD970 is carefully and precisely calibrated from level to level using Gamma Curve and Grey Scale Correction. This ensures colour clarity in even the finest shade of grey, so you get lifelike pictures with just the right amount of light, shade and colour to express every detail.
White balance correction produces accurate and stunning images
Creating true-to-life images also depends on being able to fine-tune the colour temperature. Thanks to White Balance Correction and built-in calibration technology with an accuracy of △E<1, the UD970 knows the exact white balance needed and expertly corrects the temperature. It makes adjustments within a range of 4,000K to 10,000K degrees, finely tuning the colour temperature in precisely measured increments of 100K, giving you perfect white balance with the rich colours and vivid clarity your work demands
Vibrant colours with near-perfect Adobe RGB coverage and true 10-bit input
Samsung-developed BLU technology supports 99% of the Adobe RGB colour space, based on the CIE 1931 standard. With almost full coverage of the RGB spectrum, you get incredibly accurate colour with minimised colour disparity when printing, meaning the colours you see on the screen will be practically identical to the ones actually printed. And using the 10-bit supported panel, 1 0-bit input signals are transmitted and processed through a 16-bit LUT, enabling an amazing 1.07 billion colours to be represented.
Easy-to-use colour management software for your custom needs
The precise, factory-tuned colours delivered by the UD970 are just the beginning of an incredibly professional experience. You can also adjust colour modes and profiles to suit your specifications with easy-to-use, self-calibration software called Natural Colour Expert. Using the software wizard, you can easily make adjustments to bring out the precise colours that true professionals need.
Gorgeous design and stunningly efficient ergonomics for the perfectly professional choic
•From display to design, the UD970 provides the most sophisticated viewing experience available. With a matte black finish and metallic silver back, it will give your office the distinguished, luxurious, and professional look it deserves. •The UD970 boasts advanced ergonomics designed to maximise your productivity. With Samsung's unique HAS design, you can conveniently adjust the monitor height by 130mm. It also pivots, swivels, and tilts, and provides full support for Auto OSD Rotation.
Ultimate details and the widest viewing
The UD970 delivers best-in-class picture quality with a UHD resolution of 3840 x 2160; you get lifelike details and the ultimate picture quality. •Samsung's Pane-to-Line Switching (PLS) Panel delivers a 178° wide viewing angle horizontally and vertically for optimal viewing experience from any angle.
Certified to meet the highest professional standards
The UD970 features a Fogra PSD certification that verifies its colour printing quality has been industry-certified. The image quality has been substantiated by the TUV picture quality master certification, and also carries the UL listed mark confirming that it was produced by a company that limits product risks that can be reasonably foreseen.It also ships with a calibration factory report, so professionals can see the data and check colour accuracy levels.
A wide range of connectivity options
The UD970 comes with a wide range of connectivity options, including 2 DP 1.2 ports, a mini DP to DP gender, 1 HDMI port, and a total of 5 USB ports. That wide range of connectivity lets you view 4 different Full HD resolution images from up to 4 different sources on your screen simultaneously, giving your greater flexibility and better productivity.
Preset colour modes to suit various needs
8 different factory preset colour modes, along with 3 colour modes that can be self-calibrated, are supported to meet the demands of any professional. •Adobe RGB: colour mode for printing and publishing industries •sRGB: presentation of monitor and printer, for standard users •High-Brightness: Maximizes brightness, for bright room environments •EBU, BT.709, SMPTE-C : Standard colour space for European Broadcasting Union, HD TV broadcast, Analog (SD) TV broadcast •Digital Cinema Initiatives (DCI): Consistent and repeatable standards for obtaining colour image quality •Digital Image Communication in Medicine (DICOM): Medical digital imaging and communications standards
Two different single-colour modes on one screen
The generous size and ultra-high resolution means you can split the screen and still enjoy crisp, vivid images. •Dual Colour Mode: This mode lets you use two of the 8 different preset colour modes simultaneously on the same screen so you can compare the same image in different colour modes with ease. •Quad Windows PBP & Dual Windows PBP: With Picture-by-Picture, you can split the screen in half or into 4 FHD windows. Thanks to the stunning UHD resolution you don't lose out on any of the glorious picture quality.
UHD (3840 x 2160, 4 K)

Resolution

16:9

Aspect Ratio

350 cd/m² (High-Brightness mode)

Brightness (Typical)

8 (GTG) ms

Response Time

1000:1 (Typ)

Contrast Ratio

178° / 178°

Viewing Angle (H/V)
Images are for illustration purposes only and the accessories are sold separately.
Features and specifications are subject to change without prior notification and may vary per country, please check in store for more details.

* Key feature may different from Key Spec