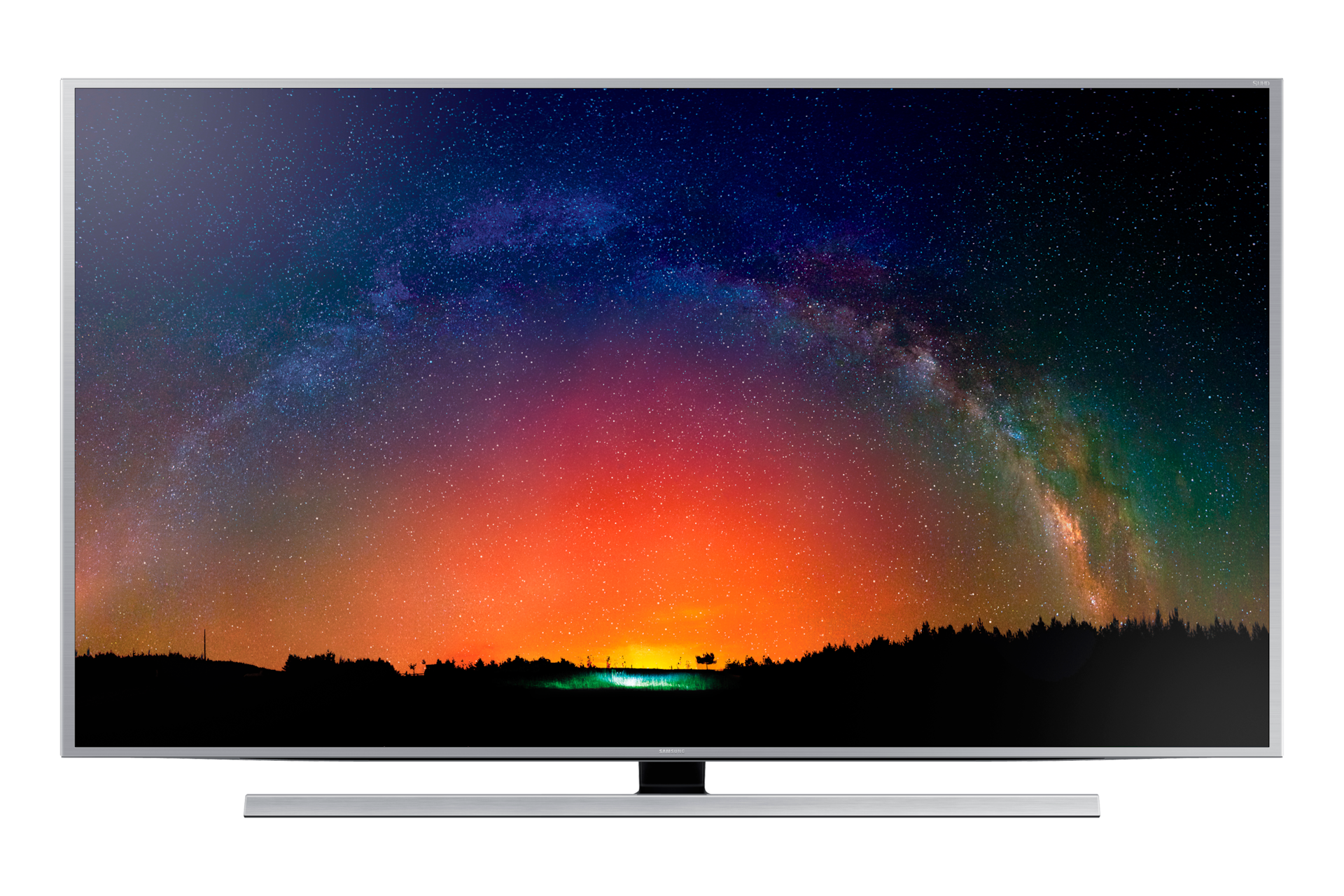 65" JS8000 Smart 4K SUHD TV

UA65JS8000KXXA
SUHD 4K
Nano Crystal Color
Nano Crystal Colour
View an even wider range of brilliant and vibrant colours enhanced to be so lifelike, they stimulate more than just your sight for a total sensory experience that makes everything you watch seem real. The groundbreaking Nano Crystal Display utilizes direct-type LED BLUs to emit radiant light onto a 10-bit panel, creating outstandingly precise and rich colours—64 times more than UHD*. Experience a spectacular range of shades, along with deeper blacks and pristine whites that come to life in the most magical way.
SUHD REMASTERING ENGINE
Through Samsung's unique re-mastering algorithm, the video source of a non-SUHD content is analysed and remastered so that the content can be displayed as close to what's intended by the content creator.
*Picturequalitymayvarydependingonoriginalsourcefeed.
Peak Illuminator Pro
Peak Illuminator Pro heightens luminosity by boosting the SUHD TV's direct-type LED BLUs in bright areas of the screen, increasing brightness by 1.5 times*. And with a PQI** 2x that of Peak Illuminator, the peak brightness level is even higher.
*Comparedto2014SamsungUHDmodels **PQI(PictureQualityIndex)
Precision Black
Precision Black technology enhances contrast by optimising light emission, making everything you see more vivid and dramatic. With a PQI 2x that of conventional Samsung models, you get deeper black and purer white shades with more definition.
*PQI(PictureQualityIndex)
Shirring Design
The Samsung JS8000 features an elegant shirring pattern that wraps around the back of the screen, enhancing the graceful minimal look of its sleek and slim metallic body. Raised by a stylish yet subtle Arc-T stand, it creates a floating effect that deepens your feeling of immersion.
Contrast Enhancer
Flat images come to life with Samsung's Contrast Enhancer. Your TV intelligently applies varying levels of contrast enhancement to different areas and objects on the screen creating a dramatic 3D-like effect. It's the most realistic viewing experience possible on a flat screen TV.
4 times the Full HD resolution
Ultra HD viewing means you can see every intricate detail on the screen clearer than ever. Your Samsung UHD TV offers a resolution four times higher than Full HD, with accurate true-to-life colour. Enjoy a picture that's optimised for even greater clarity and detail than you've ever seen before.
A smarter TV that gets you right to your content instantly
Your gateway to the all-new, smarter TV experience is right at the bottom of the screen, so you never lose sight of your current entertainment. The fun-to-use Smart TV menu bar gives you faster, smoother and truly intuitive access to all the content you love. There's no need to fumble around searching for the content you want—it remembers your history, placing your most frequently used content right before your eyes on the menu bar so it's easier than ever to find your favourite content. You can even explore exciting new kinds of content, because Samsung Smart TV continuously recommends new featured content that you may enjoy. Discover the most seamless Smart TV experience yet.
*RequiresInternetaccess.Servicesandlanguagemayvarydependingonregion. **Screenimageseenhereisarepresentationonly.Actualuserinterfacemaydiffer. ***Content,TVservicesandcapabilitiespicturedmaynotbeavailableinallregionsandterritories.
Now you can truly enjoy all your Smart TV content and features with ease
Say goodbye to those boring user manuals and say hello to an easier, more intuitive Smart TV that lets you dive straight into the content. It's fast, powerful, full of fun, and most of all, easy to use. It puts all your favourite content right at your fingertips on an incredibly simplified Smart Hub that's blazingly fast, thanks to Samsung's Quad Core processor. It turns on in an instant, lets you zip between content and also remembers what you were watching for super quick playback. With all that power, you can multitask with ease, searching for content or information without leaving the show you're watching. Your Smart TV experience just got a whole lot better.
Your TV and mobile devices in perfect sync
Samsung Easy Sharing makes it easy to share content between your TV and mobile effortlessly. Whether it's a fun video on your smartphone you want to share with family, or that must-see TV show you were watching on the way home that just has to get on the big screen so you can free your hands. Samsung Smart TV picks up the signal when your device is close and seamlessly plays the content in the optimal resolution for the big screen. It works the other way around, too, letting you go mobile right away so you can freely move about your house while viewing your favourite content on your device. Perfectly seamless and perfectly in sync.
*Functioncompatibilitylimitedtocertaintelevisionmodelsandmobiledevices.Pleasespeaktoasalesrepresentativefordetails.
Get your TV to brief you every morning
Do you reach for your smartphone every morning to check the time and your schedule, and then turn your TV on to check the weather and news? Now, you can start the day with a personalised daily brief on your Samsung TV that takes care of all of them, on a big screen. Working in sync with the alarm set on your smartphone, your Samsung TV will automatically turn on and give you all the information you need to get your day started fresh. Meeting? Umbrella? Anniversary? Check, check and check.
*Screenimageseenhereisarepresentationonly.Actualuserinterfacemaydiffer. **Content,TVservicesandcapabilitiespicturedmaynotbeavailableinallregionsandterritories. ***YourTVwilldisplaythelastchannelviewed ****Functioncompatibilitylimitedtocertaintelevisionmodelsandmobiledevices.
Content that suits your lifestyle
Samsung Smart TVs are designed to give you what you really want and match your lifestyle, with smart apps that make life at home more fun and full of great experiences. Chefs will love the food app, while sports fans will cheer the dynamic new sport app. It also has a fitness app for those who want to stay in shape, an art education app that's great for kids, and a next-level gaming app that gamers will rave about, with a wide range of titles to choose from and easy pairing with your mobile or wearable as a controller. This is just the beginning of the amazing customised contents and services you can expect.
Upscale your experience
Samsung's innovative 4-step Super Resolution Scaling technology enhances broadcast TV shows and movies as well as video on demand and more. That means not only does it process UHD sources at crisp 4K resolution, it even converts lower-resolution content to a level of clarity that's almost like Ultra High Definition.
*Upscalingwillvarybysourceresolution.
*Upscalingwillvarybysourceresolution.
Enhanced colour and detail with UHD Dimming
Samsung's UHD Dimming separates the screen into sections and then calculates all the precise contrast, colour, and detail levels needed for each part to perfect the image overall. Samsung UHD dimming technology has been developed to process black and white as optimally as possible and produce colours that are far more vivid.
Simple, seamless interaction
Browse great content options from the Smart Hub while watching the action on the main screen. Choose between apps, live TV, recently accessed or recommended content, and select with a single click on your remote.3
*Screenimagepicturedisarepresentationandmaynotreflectactualuserinterface.*Content,TVservicesandcapabilitiespicturedmaynotbeavailableinallregionsandterritories.
*Screenimagepicturedisarepresentationandmaynotreflectactualuserinterface.*Content,TVservicesandcapabilitiespicturedmaynotbeavailableinallregionsandterritories.
Take gaming to the next level
Samsung Smart TV takes gaming to the next level with a wider selection of games and support for all your devices. You can also explore spotlighted game content right from the games service menu. Game on.
More vibrant colours for better images
Using an advanced picture quality improvement algorithm, Samsung's Wide Colour Enhancer drastically improves the quality of any image and uncovers hidden details. Now see colours as they were meant to be seen with Wide Colour Enhancer.
Clear Motion Rate minimises motion blur
Thanks to Samsung's advanced Clear Motion Rate (CMR) technology, even fast moving scenes are delivered with clarity. A higher CMR means clearer viewing and less motion blur, so you can enjoy action films, sports and other entertainment at their very best. This technology is possible due to an enhanced panel refresh rate, image processor speed and backlight technology. That means viewing that's clearly better.
Immersive realism with Samsung Full HD 3D technology
Prepare to see entertainment in a whole new way. Samsung's sophisticated Full HD 3D technology means you can even enjoy 3D movies and TV shows at stunning Full HD resolution. It also enhances your 3D picture quality and cuts out ghost images to give you clearer and more immersive viewing. With such a high level of realism, you've never experience 3D like this before.
*3Dglassesrequired
Bringing a full multimedia experience into your living room
With High Definition Multimedia Interface (HDMI) inputs, the Samsung TV will transform your living room into a multimedia entertainment centre. HDMI provides high-speed transmission of high definition digital data from multiple devices straight into your TV.
Watch movies from your USB
With ConnectShare Movie, simply plug your USB memory drive or HDD into the TV and instantaneously enjoy movies, photos or music. Now, you can experience a wide variety of content in the comfort of your living room on your TV.
*SupportedformatsincludeAVI,ASF,MP3,JPEGandothers.Seemanualforfulllistofformatssupported
*SupportedformatsincludeAVI,ASF,MP3,JPEGandothers.Seemanualforfulllistofformatssupported
Access the Internet without wires
With Wireless LAN Built-in, streamline your TV's connectivity capabilities without adding more external devices and maintain its attractive design.
3840 x 2160

Resolution

8

Series

Wide Color Enhancer (Plus)

Wide Color Enhancer (Plus)

PurColor

PurColor

4

HDMI

3

USB
Images are for illustration purposes only and the accessories are sold separately.
Features and specifications are subject to change without prior notification and may vary per country, please check in store for more details.

1. Certain features require express consent for the collection and use of personal information. Some features may require additional accessories (sold separately). Certain features, apps and services may not be available on all models and in all regions and are subject to change without notice. Internet connection required. Data, subscription or other charges may apply. Certain features are available only on free to air channels and/or require a Samsung Apps account.
2. Each speaker must be connected to a mains power supply. Wireless access to content requires a Wi-Fi network, compatible smart phone and Samsung Hub, sold separately. App must be downloaded. Data charges may apply. Usage may be subject to third party agreements. Samsung takes copyright seriously. Only share content that you own or have the right to share.
3. An NFC-enabled compatible device is required. NFC App may need to be downloaded.
4. To view in 3D, a 3D TV and 3D glasses are required.
5. Evolution Kit sold separately. It will enhance your smart features to the levels of the corresponding year of launch of your Evolution Kit. Only the software and processing hardware will be upgraded; other hardware will not be upgraded. Evolution Kit may not support certain apps and functions previously installed or available on your TV. Please check www.samsung.com for more details before purchasing the Evolution Kit. Based on currently determinable UHD connectivity, broadcasting and Blu-Ray standardization initiatives. TV panel cannot be upgraded and may differ from future standards.
6. UHD Upscaling - Performance may vary depending on source content.

* Key feature may different from Key Spec