Strategy
Our Approach to Sustainability
As a global corporate citizen, we fulfill our social responsibility, deliver innovative products and services, and create economic, social, and environmental values.
At Samsung, our sustainability management aims to create integrated values. Not only do we create economic values by maximising profits and shareholder values, but also we take on a stronger responsibility as a global citizen to create social values. As we deliver innovative products and services along the value chain which is based on the core values we pursue at Samsung, we generate values in the fields of economy, society, and environment. We monitor the financial and non-financial impacts that we exert on society throughout such process so that we maximise our positive impacts while minimising any negative ones.
Samsung Sustainability Management System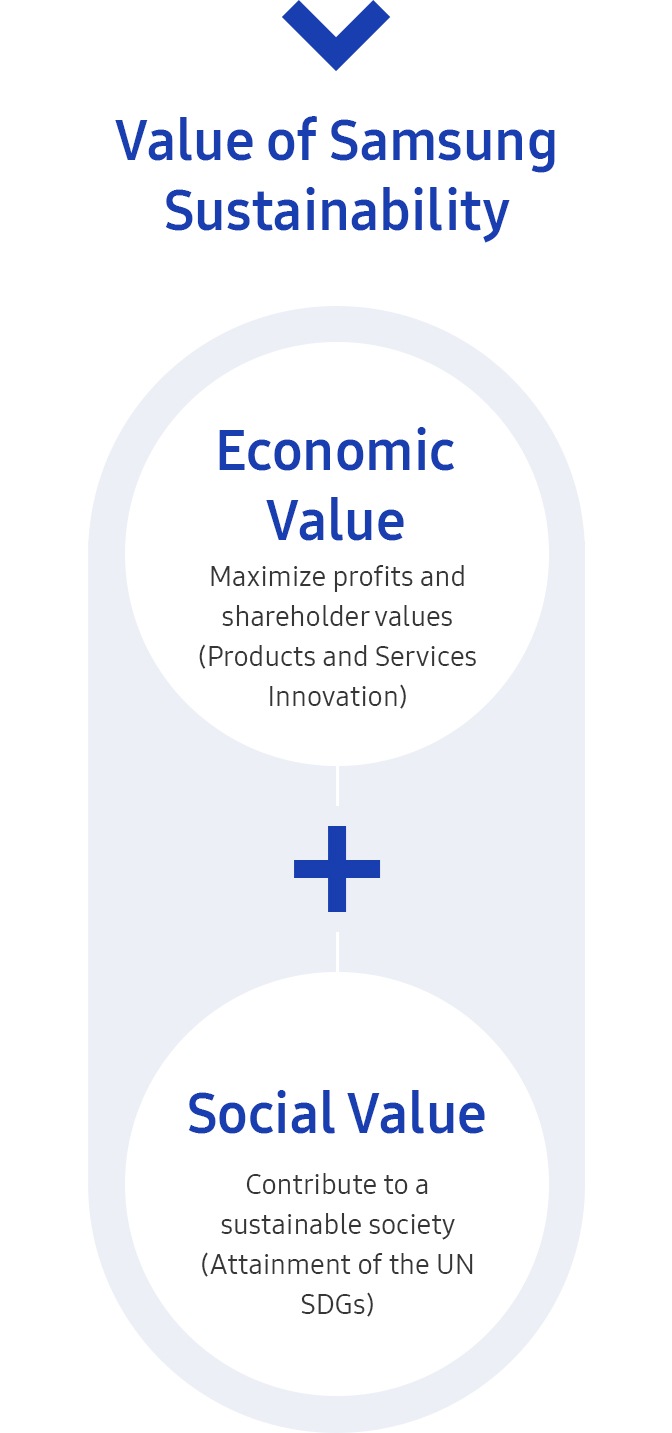 This image describe value of sustainability management.
This image describe economic value and social value.
The mean is Maximize profits and shareholder values (Products and Services Innovation) of Economic value.
The mean is contribute to social sustainability (Attainment of the UN SDGs) of social value.
Economic Value Creation
Our endeavors to bring innovative technology and products pave the way to generate profits and secure new growth drivers. We strive to embed innovation into the fabric of our corporate culture while creating synergies through the use of external resources to pursue open innovation. In so doing, we take a step closer to building an ecosystem to develop innovative products that cater to the needs of today's rapidly-shifting market.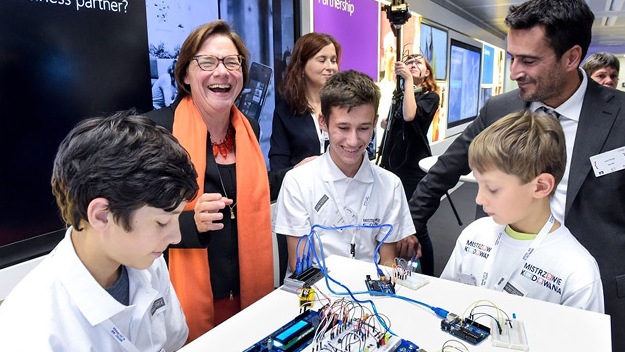 Social Value Creation
As a global corporate citizen, we at Samsung create social values in a way that is aligned with the UN Sustainable Development Goals (SDGs): Especially, we pinpointed goals that are highly relevant to our business conduct and are analysing our negative/positive impact in attaining these goals. Furthermore, we will discover and fully explore business opportunities that contribute to reaching the UN SDGs.
End poverty in all its forms everywhere

End hunger, Improve food security, and promote sustainable agriculture

Ensure healthy lives and promote well-being for all at all ages

Ensure quality education and promote life-long learning opportunities for all

Achieve gender equality and empower all women and girls

Ensure availability and sustainable management of water and sanitation for all

Ensure access to sustainable energy for all

Promote sustainable economic growth, full employment and decent work for all

Build resilient infrastructure, promote sustainable industrialization

Reduce inequality within and among countries

Make cities and human settlements inclusive, safe, reilient, and sustainable

Ensure sustainable consumption and production patterns

Take urgent action to combat climate change and its impacts

Protect and sustainably use the oceans, seas, and marine resources

Protect the ecosystem and preserve blodiversity (forests, deserts, land, etc.)

Establish and fair justice system for all

Strengthen the means of implementation and revitailze the global partnership for sustainable development
* UN Sustainable Development Goals (UN SDGs) : In September 2015, the UN General Assembly adopted sustainable development goals in order to achieve social sustainability across the globe. Building on the Millennium Development Goals (MDGs) that were focused on less-development countries, the UN SDGs set universal goals that should be met by all countries including advanced ones, and thus demand full engagement of civil society and businesses in the private sector as well as governments and experts in attaining these goals.
Creating Value through Sustainable Management
At Samsung, we strive to create social and environmental values as well as economic values through our sustainability management so as to contribute to the betterment of the global society. Since such social and environmental values are difficult to quantify, we took a 'quality over quantity' approach in setting and managing our sustainability management goals. Since 2016, however, we have adopted the 'True Value' method of KPMG that quantifies social and environmental indicators so that we can visualize the values that we create.
The positive (+) and negative (-) numbers of respective indicators represent the total social values that we either created or reduced over the past year by December 31st of 2019. This approach enables us to go beyond mere financial values generated through business conduct and include socio-economic and social values to ultimately paint the whole picture of the True Value that we create at Samsung.


2019 SUSTAINABILITY MANAGEMENT VALUE

Unit (KRW trillion)