Experience vivid detail and get immersed in the true to life Curved TV picture quality.
Beyond the improved design and reduced screen reflection, the ergonomic and natural design of Curved TVs offer a truly immersive image, drawing you inside a lifelike picture of the program you are watching.
Whether you've just moved into a new place, or wish to upgrade your current TV, now is the perfect time to get your own SUHD TV. When you get one of the selected Samsung Curved TV*, you will get a complimentary Curved Soundbar, free subscription to exclusive VOD content for 6 months on Starzplay and 3 months on Shahid, and a 10 year warranty for the Curved TV screen.
Here are 7 unique Curved TV features you must know about:
1. Richer contrast performance
Contrast is enhanced on Curved TV as the light focus is more directly oriented towards your seating position, instead of spreading it around a wider areas like a flat screen TV would do. The edge of a Curved TV adjusts the light direction, making sure that the contrast and colour retain perfect accuracy. The equal viewing angle on the entire screen gives a better contrast compared to a flat screen.
2. Get drawn in your program
You feel and see the world around you the way it is thanks to the rounded nature of your eyes. What you experience in real life through peripheral vision makes you conscious of what's around and next to you. The Curved TV screen is replicating this effect by curving the edge of the screen towards you. The Curved TV enables you to watch the entire screen at the same distance from your vantage point, minimising image distortions on each side of the screen areas. Let your program wrap around you and feel what it's like to be truly immersed in your show, game or movie.
3. Experience more sharpness
For bigger screens (70′ and more), you will notice a considerable difference in sharpness. The bigger the screen, the more likely your eyes are to see a less clear image on a flat screen's edges. The curved screen will deliver a more comfortable and focused image.
4. Enjoy a truly unique sound system
To complement your Curved TV, what's best than a Curved Soundbar? The elegance of its aluminium metal finish matching the curve of your TV coupled with an outstanding sound quality will provide you an even more powerful TV experience seemingly coming straight out of your TV.
5. Fill a wider field of view
Provided you're sitting in the right position, the curved edges or your TV will fill more of your view field compared to a standard flat TV. You will see a wider image thanks to the edges of the Curved TV bended towards you, as the curve tracks the natural shape of your eye better than a flat screen. The expanded perceived screen will widen your field of view, providing you with a truly immersive viewing experience.
6. Feel the depth of 3D-like picture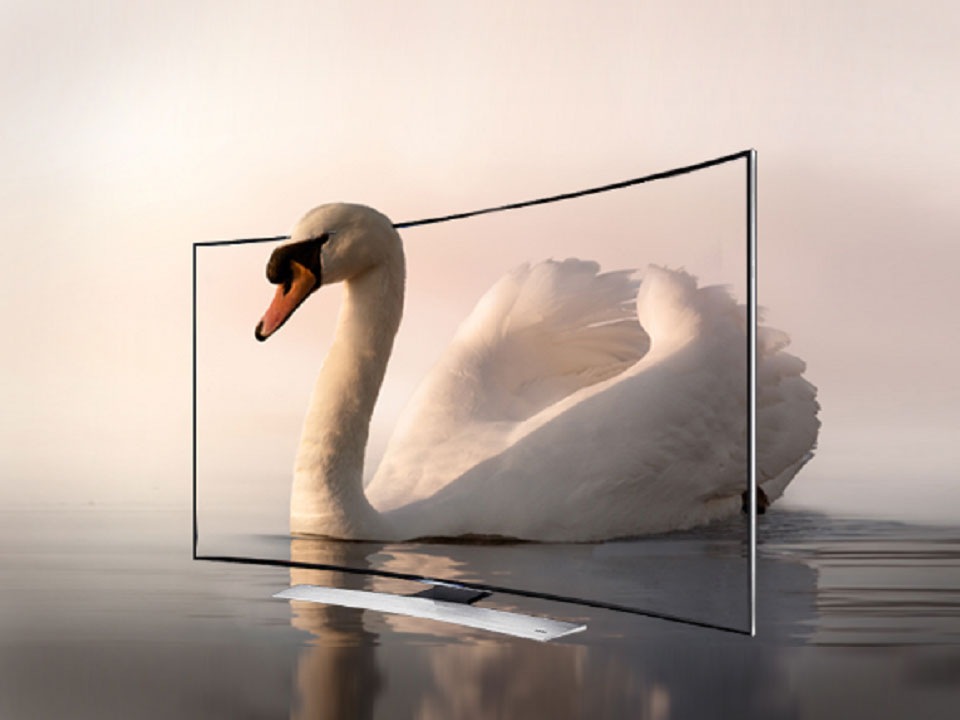 On a Curved TV, the screen will make you feel like you are watching a 3D program: the curve makes the image exist in different depth and dimensions, with a foreground and a background, making it more lifelike and realistic compared to the world around us. Curving the edges of the images towards the person watching ameliorates the perception of depth and enhances the feeling of real life picture quality. On top on this, most of Samsung Curved TVs feature an Auto Depth Enhancer function which adjusts contrasts to different areas on the screen for an even more realistic and immersive image.
According to a study**, the curved display proves visual comforting in clinical tests. It has been proven that when watching a Curved TV, eyeballs need less movement to focus and as a consequence, experience lower levels of fatigue. Plus, lower increase in the eye stiffness category were noticed, compared to watching a program on a flat monitor.

** Source : 2013 Home Visit Study in US & Germany