Humidity is falling, the weather is cooling down, and now is the perfect time to start new healthy habits!
With the numerous races and runs coming up in the region during the next few months, it's time to start getting ready to run your first 10K run. There's a huge difference between running a couple times a week and running a whole 10K run. Being able to run such a distance doesn't happen overnight. Here are our 7 tips to get ready for your first 10K run:
Start early
Plan some time ahead of the race to get ready for it: if you're a beginner running less than 8 kilometres a week, make sure to plan about 2 months to run a 10K run without a problem. If you're running more than this, you might be able to skip one or two weeks of training and achieve your goals faster.
Take your time
Don't rush into intense training if you're only starting. Start slow and build up your workouts, and make sure to track them so you can follow your progresses and improve gradually. Wear the Gear Fit2 Sports Band during a training session to record your distance, heart rate and time so you don't have to do it manually. Give your body time to heal between each training sessions and don't run long distances every day. The best way to do it is to train three times a week to help boost your aerobic power without overdoing it.
Eat right
The rule of thumb is to not change your habits and eat what works for you. What you eat and drink should give you a boost without upsetting your stomach. Try and eat whole grains, fruits and vegetables the days leading to the 10K run, and a smoothie containing fruit and yogurt is usually a good choice before the race, as it contains a right amount of carbs and protein. Make sure to not eat anything two hours before the race begins to avoid discomfort.
Stretch properly
Usual static stretches, such as toes touches or hamstring stretches, can relax your muscles and weaken them, making you more likely to getting injured during the run. Instead, it would be safer to warm up your body before the 10K run and get your blood moving by doing dynamic stretches, such as lunges or leg kicks.
Get into HIIT
HIIT, or high intensity interval training, is a type of training proven to be more effective and less time consuming than regular training. It consists of increasing your speed for a set period of time, and recover for a set interval before ramping it up again.
As a general rule, you should work at about 80% of your target heart rate during your bursts of high intensity intervals. To measure your heart rate and not go overboard, even when running outside and without your smartphone, you can use the cordless earbuds IconX.
The built-in voice guide of the Samsung IconX will guide you throughout your training by giving you real-time updates on your speed and heart rate to optimise your HIIT training.
Stay hydrated
Instead of drinking a lot of water less than 30 minutes before the race, which will make you feel bloated and uncomfortable, make sure to be hydrated throughout the day. Drink before, during and after the 10K run, by taking small sips of water, and don't overdo it. The Gear Fit2 also helps you keep track of how many glasses of water you've had in a day.
Don't rush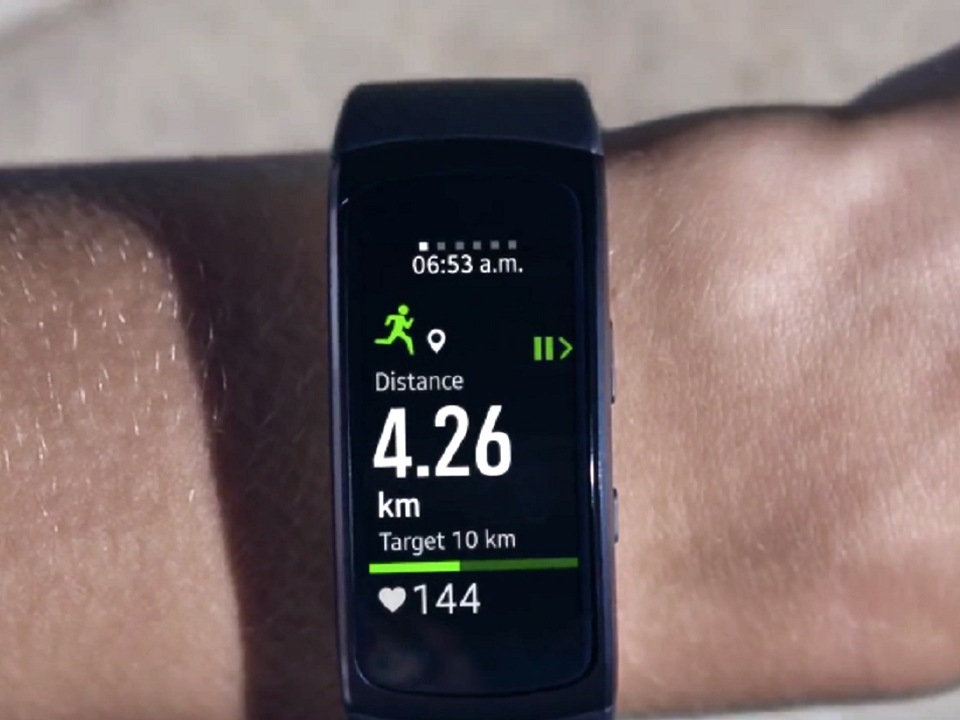 It's better to pace yourself than overestimating your capacities. If you try to start too fast, you might exhaust your energy before the end of the run. To find your rhythm, use your Gear Fit2 to note down the time you need to reach specific milestones during your training. The built-in GPS tracks your running route, distance and speed in real time. This way, you can adapt your pace and speed during the actual 10K run and not burn out.