Learn how to keep one of the most-visited appliances in your home spotless and smelling good.
At the very least, we visit our refrigerator three times a day, excluding the times that we just walk into the kitchen, open the fridge and stare at our options before closing it again. From spills to food spoilage and more, our refrigerators endure a lot; hence, clearing them out weekly can help keep everything fresh, neat and pleasant.
Try the following tips to keep your fridge clean.
Refrigerator cleaning schedule
Schedule a specific day for refrigerator cleaning and set a reminder for yourself. If you make this a regular task, it will be easier to clean each time and you are less likely to encounter tough stains that get more difficult to remove over time.
Quick clean
Normally, cleaning your fridge daily is futile, but it is important to be on the lookout for spills that happen inside the refrigerator and clear those up immediately. This helps in avoiding stains, and reduces the amount of cleaning you will have to do in the future.
Get rid of old food
There is no need or space for rotting food inside your refrigerator. Clear out food that has been sitting in there for weeks; items turning brown and harbouring mould can cause harm to other food inside.
Cleaning the doors
Your refrigerator doors should be cleaned at least once a week, especially as they're the primary part of the fridge that you make contact with every time you use it. To clean your refrigerator doors, use a cloth and dishwashing liquid, but water also works. For those of you with a stainless steel refrigerator, use a stainless steel spray and wipe against the grain.
Empty your refrigerator
Whether you choose to empty out your refrigerator monthly, yearly or seasonally, it needs to get done one way or another. In emptying your fridge, take out all of the shelves and drawers and wash them thoroughly.
For maximum cleansing, it is recommended that shelves and drawers be soaked in a solution containing baking soda and warm water. Once the soaking is complete, dry your bins and shelves completely before putting them back into the refrigerator. While the refrigerator is empty, clean its walls using two tablespoons of baking soda along with warm water and a cloth to remove any stains or odours.
Consider an upgrade
Over the years, families grow and we begin to realise that our refrigerator is not large enough to support every family member or that it is just too old. It is suggested that individuals should look into a refrigerator upgrade about every five to seven years. This way you can ensure your food is edible for as long as possible and you save on energy.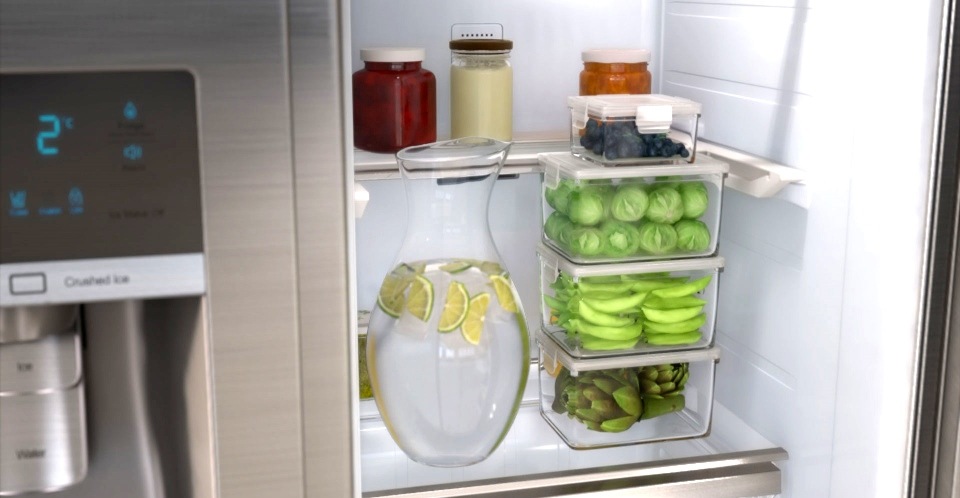 One option for an upgrade is the SamsungRH9000H Food Showcase Refrigerator, which is designed to make food storage and organisation easier. It is also larger and can accommodate a lot more food with many compartments for every member of your family, so you can store food in an organised manner, while preventing any spills that can result from over-stuffing shelves.
Staying organised
Keep your refrigerator neat by utilising food containers. Putting all of your cooked meals into containers will reduce the chances of spills and keep food smells inside. Also be sure to wipe off condiments and other liquids before putting them back in to the refrigerator to keep it spill and stain-free.
Interesting "smell good" remedies
To keep your refrigerator smelling good, try these interesting tricks. If you notice that even after you clean your fridge, you can't get rid of the smell, insert a tray of ground coffee beans. The coffee beans help in absorbing the bad odours. You can also try activated charcoal or a sliced lemon as they have the same effect as coffee beans.
Get behind the refrigerator
No one ever wants to take the risk of moving their refrigerator and finding out what may be living behind it. But in an effort to ensure the cleanliness of your fridge, take that necessary risk and get behind it about every six months. It is as easy as taking a broom or vacuum to clean up any dirt piling up. All of these tips will go a long way in preserving the life of one of your main appliances.