Whether for business or pleasure, here are some apps that can simplify your tasks.
How many times have you heard the phrase: "There's an app for that"? Nowadays, it seems that there are apps for almost everything – paying your bills, ordering food, learning languages, managing contacts, etc.
Apps are designed to make our lives easier, more entertaining and, at times, more organised. They can assist us in both our personal and professional lives. They are particularly useful while multitasking or on the go, when you need to get things done faster and conveniently.
Whether you are looking to track your health and activities or be able to work seamlessly, there are a number of apps that can help when you're on the move. Find out how they can assist you:
S Health
Are you finding it difficult to measure the effectiveness of your diet or assess if you are maintaining a healthy level of activity in your routine? Try using your Galaxy smartphone, such as Note5 and S6 edge+, or your Gear S2 smart device, to keep track. The pre-installed S Health app features a range of options to monitor your health and can be used as your personal fitness coach.
You can track the number of steps you've taken in the day through its pedometre and measure your pulse with built-in heart rate sensors. With February being Heart Month, it's a good time to start monitoring your heart rate to work towards a healthier lifestyle.
You can also manage your diet by tracking your food, water and caffeine intake, and measuring the number of calories you've consumed.
Your exercise regimen can also be supported with the S Health app. Whether you are cycling, running or brisk walking, you can use the app to track your activity and calories burned. If you want to add some motivation into the mix, the app allows you to set health and fitness goals that you can work towards achieving. Charts and graphs also help illustrate your health and overall fitness levels.
S Voice
How convenient would it be if you got some of your tasks done and questions answered without moving a limb? With the help of S Voice on your smartphone, you can experience that convenience on a daily basis. If you're looking for quick answers, you can ask S Voice the question through a voice command, instead of having to search for the answer yourself. You can ask what the capital of the UAE is or what the current weather in Kuwait is, and it will run the search for you and give you an answer.
It is also a helpful tool in maintaining road safety by allowing you to keep your hands on the wheel while performing important tasks through your smartphone. Whether you want to make a quick call or send an SMS, you can do it hands-free with a voice command, without taking your hands off the wheel.
OneDrive
Cloud storage can be a very handy tool, whether it is for individuals or organisations. As your storage needs grow, it can be a much-needed solution to unclog your device's storage. If you're an avid gamer, for example, you may have downloaded a lot of games on your smartphone, which may also require temporary files to be stored. Add that to the photos, videos, messages, notes, work documents and several other forms of data that you have already saved on the device. Over time, this will occupy a considerable amount of space.
But why operate on full storage when you can leave some breathing space by storing certain data on the cloud? With Samsung Galaxy devices such as Note5 and S6 edge+, you can enjoy 100GB of free cloud storage on OneDrive for up to two years. The app also offers you the convenience of remotely accessing your data from anywhere and on other devices, such as your tablet or computer.
Samsung SideSync
Do you work on multiple devices? Is it always easy to transfer data from one device to another? Samsung SideSync can help simplify this process for you. From sharing the screen and synchronising content to using one device to control the other, you can perform a wide range of tasks with ease wherever you go.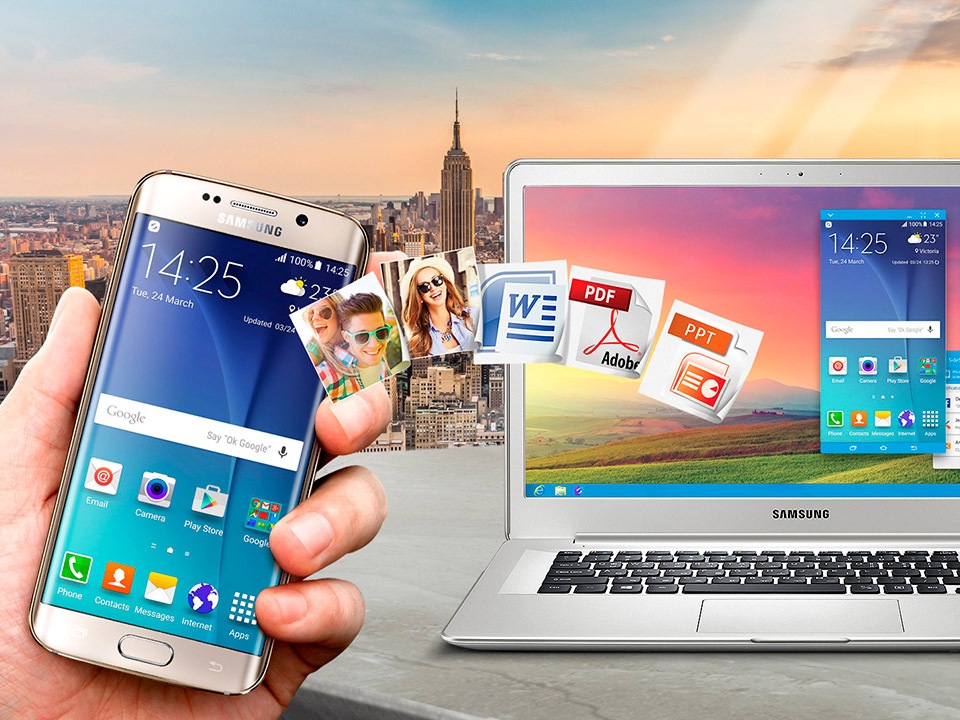 For example, if you have used your smartphone to take on-site photos at a company event, instead of emailing them to yourself or transferring them to your laptop through a cable, you can simply use SideSync to share the screen with your laptop and transfer the images. Is a vendor incessantly calling you on your phone during a seminar? No need to appear impolite by answering it during an ongoing presentation; use SideSync to share the screen with your laptop and send a text message to the vendor directly from the laptop screen.
Multiroom App
Life is not all about work. We all need a hint of entertainment to keep us going. If you're planning a barbecue or picnic with friends to unwind after a long day, take your portable Wireless Audio 360 speakers along to enjoy your music. By using the Multiroom App 2.0, you can conveniently operate the speakers from your smartphone and play songs.
With the help of the app, there won't be a dull moment. If you get bored of the music stored in your phone, you can access and play songs from many different sources – such as playlists on your friends' phones, online players and streaming services – to uplift everyone's mood. You can also enjoy instant access to your music through a widget on the home screen that directly launches the app's music player.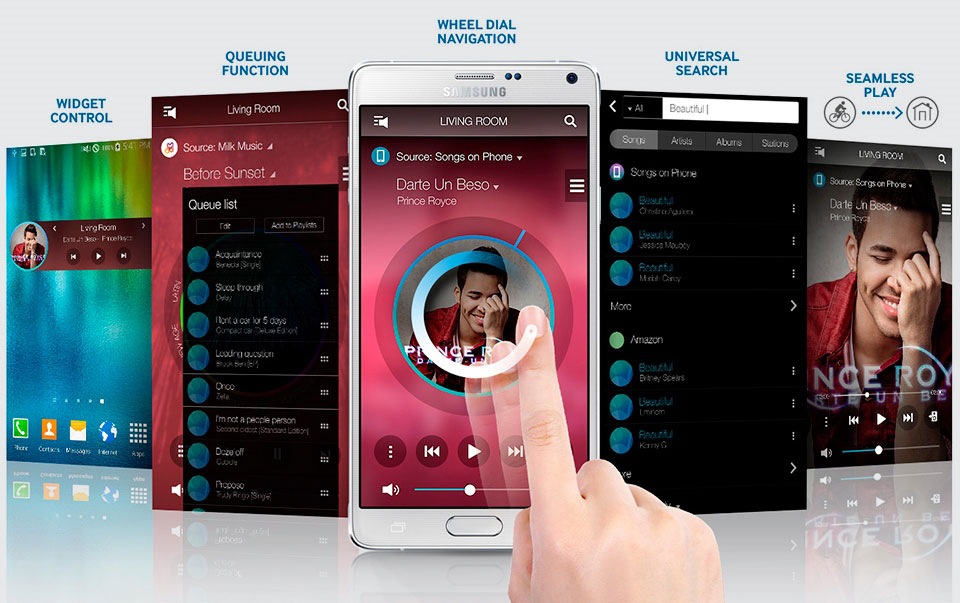 The app's intuitive user interface ensures that you spend less time navigating and more time enjoying the music.
The convenient wheel dial navigation, for instance, makes browsing tracks and song selection smooth and exciting. So you can find and play your favourite songs with ease at the turn of your finger.