Snuggle Up with
New Apple Originals
Get cozy on the couch with fresh original content from Apple TV+*
Now's the perfect time to sit back, grab some popcorn and treat yourself with some much-needed couch time. Check out the latest lineup of bingeworthy Apple original series and films to help you relax and stay well.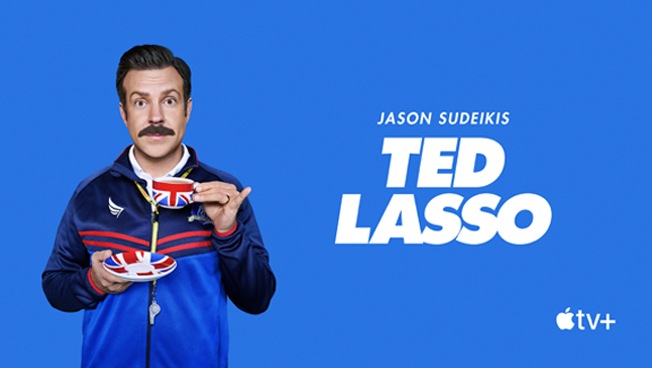 Jason Sudeikis is Ted Lasso, an American football coach who moves to England when he's hired to manage a soccer team—despite having no experience. With cynical players and a doubtful town, will he get them to see the Ted Lasso Way?
Ewan McGregor and Charley Boorman journey to glorious landscapes across South and Central America on the backs of prototype electric Harley-Davidsons in the third series of the epic motorcycle adventure saga.
Meet Bess King, a uniquely talented performer struggling to fulfill her dreams while handling rejection, dating drama, and family issues. Featuring original music by Sara Bareilles, this is a story about finding your authentic voice—and the courage to use it.

In a thrilling WWII story inspired by actual events, Captain Ernest Krause (Tom Hanks) leads an international convoy of 37 ships on a treacherous mission across the Atlantic to deliver thousands of soldiers and much-needed supplies to Allied forces.
All Nikki and Jason want is a baby—the one thing they can't have. So they decide to adopt. With their dysfunctional friends, screwball families, and chaotic lives, will the adoption panel agree that they're ready to be parents?
Live out the full drama on the big screen
Watch the action unfold on your TV. When big scenes call for a big display, use Airplay 2 and screen mirroring to shift your viewing from a mobile device to your Samsung Smart TV. Vamp up the immersive sights and sounds of your favorite movie with Samsung 2020 QLED 8K and Q Soundbar for a theatre experience in your own home. Now grab some snacks and begin your viewing adventure.
* Subscription required for Apple TV+.
* Images are simulated and for illustration purposes only.
The appearance and design specifications which is not affecting to product performance are subject to change without notice.
* Actual product may vary from the image shown
* Please refer to the product detail page for each model.
* Available functions may vary by region, service provider, network environment, or mobile device.
*TV must be connected to a network.
Enhance your viewing pleasure
Stream your favorite shows on the big screen in clear and vivid picture quality -
the way they were meant to be seen.