Tips From #TeamGalaxy
Member Myth To Level Up
Your Gaming
Keep your sights sharp and your skills sharper with advice from the epic gamer.

Even rookie gamers know Myth: streamer on Twitch, Fortnite master and Team Galaxy dynamo. When he's not stacking up Victory Royales on his Galaxy device, he's streaming to his extensive audience on Twitch. If there's anyone to take mobile gaming advice and Fortnite strategies from, it's him. Read on to get his pointers for leveling up your game.
Meet Myth
Myth's grind to greatness started small. Hitting the scene just four years ago streaming games like Paragon and Miscreated, he had a mere 800 followers on his YouTube channel before Fortnite came out. With the 2018 release of Epic's golden child, Myth catapulted himself to the forefront of gaming.

He hit his first million followers that March. His next million? A month later. He's clearly been destined for epic status since the beginning. Today, with an audience of over 6 million, his legacy isn't just cemented—it's mythic.

But enough with the backstory. Let's hear from the legend himself.
No better way to learn than the hard way
Like any other game, Fortnite is fast-paced and comes with a deeply dedicated community, some of whom have been playing for years. It can be intimidating to jump straight into the action, so how's a new player supposed to get started?

Any game's learning curve can be steep, but Myth says to embrace the chaos and drop in with both feet in the best places to land in Fortnite. "Land at crowded points of interest," he advises new players, "so you can learn the mechanics of the game at a faster pace."

It's always about fundamentals. You might end up getting got pretty quickly at first, but after a few reps, the basics of any game can be picked up fairly easily. Then, it's all about building on that foundation.

Head to head against the best
Once you've wrapped your head around the game mechanics, the next step is to get your reps in. "For experienced players," Myth says. "I recommend participating in weekly tournaments, so that you can test your skill against better players and also learn from them."

Iron sharpens iron, they say, and the same could be said about gamers bettering other gamers. As with traditional sports, competition makes all the difference in e-sports, and it's just as important to use the right equipment. You wouldn't step onto a football field if your helmet didn't fit right, or enter a hockey rink with dull skates.

And for mobile gamers, a dynamic phone is key. "The battery life and 120Hz for gaming display on the Galaxy Note20 are probably the two things that will help me out," Myth says. "That silky smooth gameplay is where it's at!"
Squeeze in practice whenever and wherever you can
OK, you've gotten the lay of the land and you're sharpening your skills by pitting yourself against the best of the best. What's next?

Practice, practice, practice—then find more opportunities to practice some more. Myth only stops when he sleeps. "Ain't nothing like chilling in bed before sleep and smashing out a few more matches on my phone," he says.

Fortnite already runs like a champ on most Galaxy devices—and with recent developments between Epic Games and various app stores, Galaxy devices are some of the only Fortnite compatible phones still getting game updates.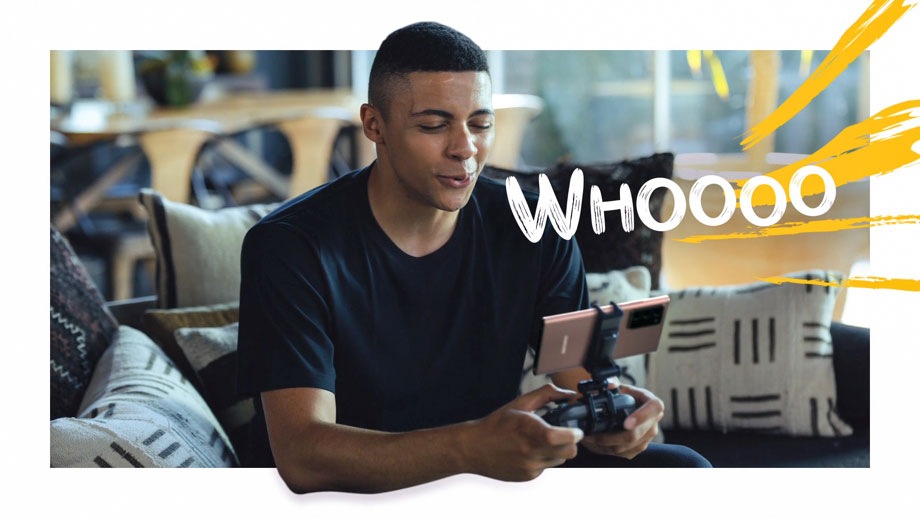 Putting the "friendly" in friendly competition
Gaming distinguishes itself from other hobbies with its dynamic and passionate fanbase. Even if you're not quite 360 noscoping people yet, in-game events, online groups and voice chat are an integral part of the community.

For Myth, navigating the community with positivity and patience is the last piece to the puzzle: "Try your best to promote healthy and productive behaviors! You are an influence to someone out there, and the more good we put out into the world, the better the world can be."
With the introduction of 5G* and new services, like cloud gaming, to take advantage of it, the future of gaming is looking brighter than ever.
*5G depends on network availability and region.
Drop in, turn up and go all out
The latest generation of Galaxy devices come ready to conquer the competition.
Get yours below.
Galaxy Note20 | 20 Ultra 5G