Samsung Highlights Arab Literacy Day by Launching Educational Lock-Screen App
2016-02-10
'KalimaLock' encourages use of Arabic among younger audiences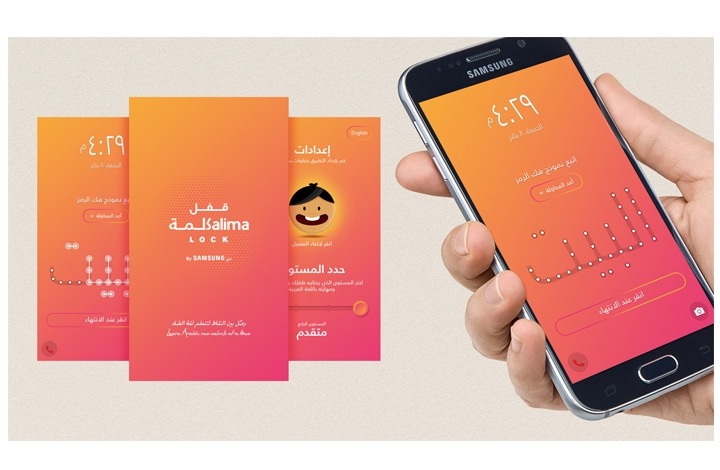 DUBAI, United Arab Emirates—January 7, 2015 – Samsung Electronics Co. Ltd is marking Arab Literacy Day by introducing KalimaLock – a smart application ready to revive the use of the Arabic language, especially among younger audiences.

The app works like a smart lock feature on a phone. In order to unlock the screen, the user must connect dots that correctly form the Arabic word on the touchscreen. When the dots are connected correctly and a word is spelled out, the meaning of the word in Arabic and English will appear on screen along with its pronunciation, before the device can be used. The app is available exclusively on the Samsung Galaxy store and is compatible with Galaxy smartphones and tablets. The Samsung-developed KalimaLock application teaches users to write words in Arabic, as well as providing their meanings and connotations in both Arabic and English.


Speaking on the importance of the app, Tarek Al Sabbagh, Head of Imaging and Mobility at Samsung Gulf Electronics, commented, "At Samsung, we are inspired to innovate by our consumers and what makes them tick. By developing this app, we want to contribute to programs such as the "Bel Arabi initiative" in the revival of the Arabic language and ensure that it remains integral to society as the region progresses.


"In the GCC, English has become the language of choice in schools, homes and every day communication. This has affected the abilities of children in Arabic speaking countries to fluently read, speak and write in Arabic. Through innovations such as KalimaLock, we are able to reach both children and adults on smartphones and tablets, both of which are platforms that continue to gain popularity over traditional books. We are keen to deliver a positive impact and enrich people's lives, ultimately contributing to the region's socio-economic prosperity," he continued.


The average literacy rate in the Arab World is around 78 per cent*, the number of illiterates is approximately at nearly 97** million. The use of classical Arabic has also witnessed a decline according to recent studies among school children***.


Arab Literacy Day**** is celebrated across the region on January 8th every year, commemorating the creation of the Arab Network for Literacy and Adult Education in 1970 by the Arab League.

About Samsung Electronics Co., Ltd.

Samsung Electronics Co., Ltd. inspires the world and shapes the future with transformative ideas and technologies that redefine the worlds of TVs, smartphones, wearable devices, tablets, cameras, digital appliances, printers, medical equipment, network systems, and semiconductor and LED solutions. We are also leading in the Internet of Things space with the open platform SmartThings, our broad range of smart devices, and through proactive cross-industry collaboration. We employ 319,000 people across 84 countries with annual sales of US $196 billion. To discover more, and for the latest news, feature articles and press material, please visit the Samsung Newsroom at news.samsung.com.

List
No Prev Page
No Next Page