The Samsung Galaxy Tab Active is Up for the Job
2015-02-28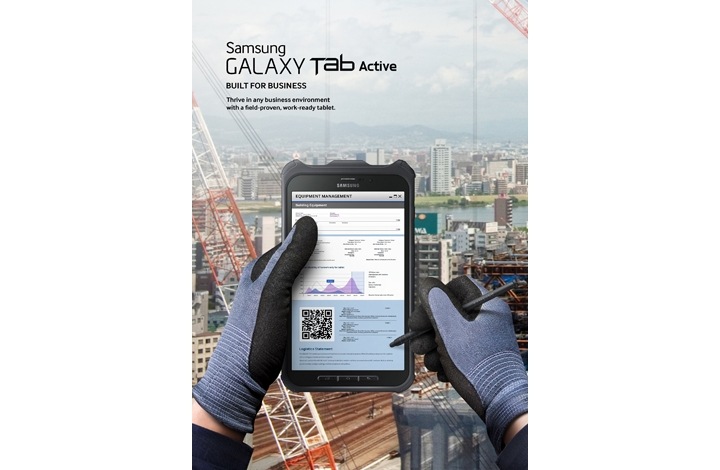 Until now, the growth of tablets has been driven by consumers who want to fill the gap in size and functionality that laptops and smartphones present. More recently, however, tablet devices like the Samsung Galaxy Tab Active have made steady inroads into industrial businesses, enterprises and even governmental environments. Reports show that a steady increase in the enterprise share of the tablet market now accounts for 11% of the global tablet market, based on a survey conducted by IDC in 2013. In fact IDC predicts that the enterprise share will grow to 18% by 2018.
Enterprises have warmed to tablets, thanks to their ability to offer much of the power and functionality that laptop PCs and ultrabooks do, with nearly the same portability and ease-of-use as smartphones. While many tablets can be as robust and powerful for work-related tasks as they are for a consumer's typical level of use, their design specifications and functionality won't hold up to jobs that involve environmental stresses and unique operational requirements.
In industries such as energy, transportation and construction, tablets offer new and improved ways to speed up communication and processes, arrange logistics, conduct inspections, and deal with everyday challenges at non-office settings in a timely and effective manner.
On a regular basis, industrial and other commercial users work in fast-paced and harsh environments, with dirty and wet conditions. Their workload may also include in-vehicle deployments and fieldwork, which make big demands on tablets. Beyond their need for more rugged and more powerful tablets, enterprises and their employees also need stronger security protections, longer device warranties and more comprehensive service plans.
Among other demands, some organisations and industrial-grade users require the following key tablet pain points and specific features:
Resistance to environmental risks – The tablet must survive drops and other shocks; water penetration; and extreme temperature fluctuations. Samsung's Galaxy Tab Active, is the first tablet crafted to withstand rugged business demands; is equipped with anti-shock covering to guard against a 1.2-meter drop with the protective cover on; and features IP67 certification for water and dust resistance.
Battery life –Tablets in the field should function for 10 hours or more on a single charge, and users should be able to replace the battery quickly and easily. The Galaxy Tab Active caters to this need with a detachable battery that keeps users on the move. The built-in POGO charging pin also prevents damage to the micro-USB connector while supporting multi-device charging.
Security – As with any mobile device used in the enterprise, ruggedized tablets need to support a range of data protection and resource-access technologies, including encryption, VPN communications and compatibility with mobile device management solutions. The Galaxy Tab Active is supported by Samsung KNOX, a comprehensive, defense-grade mobile solution that keeps applications and data safe without the need for a third-party platform or extra cost.
Connectivity – Tablets typically need to support communications over 3G/4G cellular and Wi-Fi networks, and may also need to offer Near Field Communications (NFC). The Galaxy Tab Active delivers this base level of connectivity but also carries NFC capabilities and RFICD technology to support more convenient and streamlined processes in today's transportation environment.
Service and support– Given the stresses they face, even ruggedized tablets can sometimes fail, and organisations need strong service plans, extended warranties and rapid-replacement programs to ensure a rapid and cost-effective return to full employee productivity. Samsung Mobile Care delivers through an extended basic warranty period of up to three years, and covers device failure caused by accidents from handling the tablet during unexpected and unintentional events; while remote Smart Tutor Service provides users with support services anywhere, anytime.
About Samsung Electronics Co., Ltd.
Samsung Electronics Co., Ltd. inspires the world and shapes the future with transformative ideas and technologies, redefining the worlds of TVs, smartphones, wearable devices, tablets, cameras, digital appliances, printers, medical equipment, network systems, and semiconductor and LED solutions. We are also leading in the Internet of Things space through, among others, our Smart Home and Digital Health initiatives. We employ 307,000 people across 84 countries with annual sales of US $196 billion. To discover more, please visit our official website at www.samsung.com and our official blog at global.samsungtomorrow.com
List
No Prev Page
No Next Page