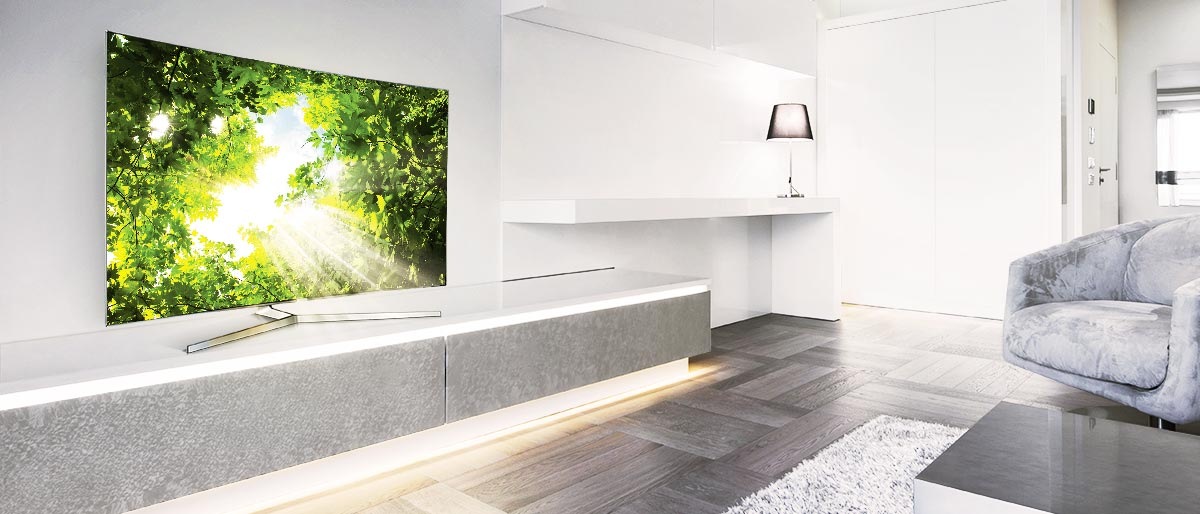 When you're in the market for a new TV, you want something that has a wow factor. And with all the latest advancements in TV technology and design, finding the best one can be overwhelming and, at times, challenging. With Quantum dot display, the latest SUHD TVs offer a truly immersive viewing experience. They serve as a one-stop entertainment centre that look amazing, delivering everything, from picture quality to design.
Quantum dot, Quantum what?
Picture quality is perhaps the most significant factor in choosing a TV, however, keeping up with the rapidly changing display technology can be tricky. So to make life simpler, we're bringing you the one that matters most in terms of picture quality. And that is Quantum dot display.
"Thoroughly perfect picture quality with more colours: redder reds,
greener greens and blacker blacks"
Quantum dot display handles colour at the most fundamental level. But what is Quantum dot display, apart from being a really cool Bond-like name for a type of technology that affects picture quality?
Simply put, Quantum dots, which are incredibly small nano-sized particles, produce different colours depending on their size - smaller dots are blue and larger ones are red. SUHD TVs use these small dots as a pure white light source to produce more accurate and vivid colours. And these small Quantum dots have been combined with 10-bit panels so you can get 64 times more colour variations than you can with conventional TVs, which create as much as one billion shades of colour. This means Quantum dot display technology offers thoroughly perfect picture quality with more colours: redder reds, greener greens and blacker blacks.
But enough about colour, let's talk about contrast. Technically speaking,
HDR technology is what gives us higher level of contrast which is why TVs nowadays are equipped with HDR technology. But you would be making a huge mistake if you rush to conclude that all HDR TVs are identical. Higher level of peak brightness is an indication of how bright a TV can express, and SUHD TV's Quantum dot display employs an HDR technology that goes all the way up to 1,000 nits. In other words, you have even greater contrast further brightening the bright and darkening the dark part of an image, allowing you to see incredible details you surely would have missed. And SUHD TV's Ultra Black technology well preserves this contrast by absorbing external light to avoid causing any reflection on your screen. This means you can enjoy whatever you're watching regardless of the lighting condition in your room.
In other words, SUHD TV's Quantum dot display simply makes even the smallest details come to life.
Beyond picture quality
When deciding on a new TV, assessing how smart a TV is also important among many other factors. From that perspective, SUHD TV's level of smartness actually lives up to its claim. SUHD TV offers super easy connectivity to other devices and services allowing you to instantly connect and access content from different sources, all from a single Smart Hub.
"Easy connectivity to other devices"
Previously, you had to connect to a streaming app, wait for it to launch and figure out what to view. But with SUHD TV's Smart Hub, you can simply highlight, say, Amazon, and fresh content from Amazon will appear instantly in your UI. See something you like? There's no extra navigation, you can play it immediately from there. Navigating all your devices and the content on a TV cannot be easier with SUHD TV.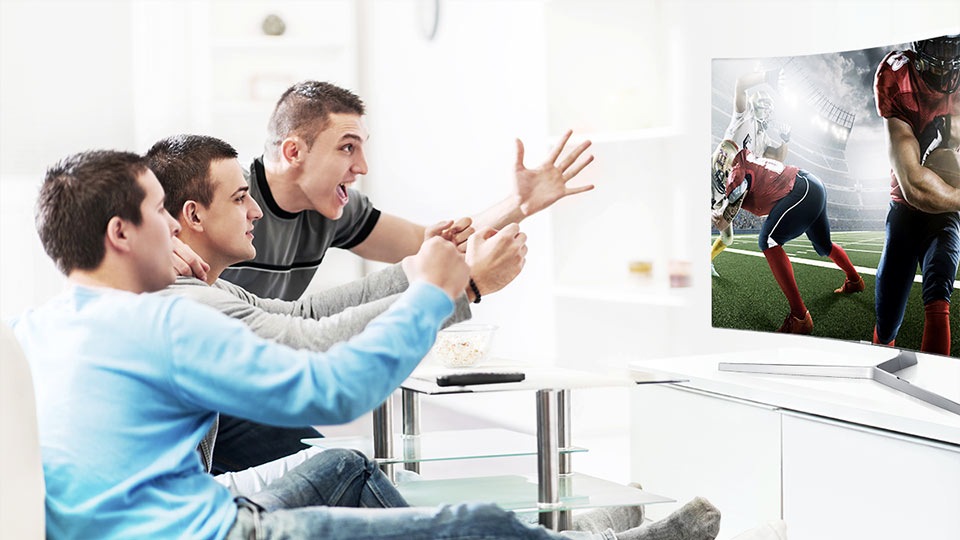 Replay your favourite moments from the big game with your friends. Easily switch from action films to rom-coms for movie nights. Play the latest game releases without even owning a console, all from Smart Hub.
SUHD TV design
The range of entertainment options means you will easily find something to love on the screen, but what about loving the screen itself? The TV is often the focal point of the room, so when investing in a new TV, the SUHD TV's streamlined design is an appealing factor because it's clear it will fit into any environment, just beautifully.
"That's 360˚ of sleek, ultra-modern design"
The latest SUHD TV designs are beautiful and functional – incredibly thin, with a streamlined, clean-back design and a boundless screen. That's 360˚ of sleek, ultra-modern design. A beautiful TV can upgrade the look of your home and compliment your existing pieces of furniture.
Consider these three factors when you're thinking of a new TV: am I getting the best picture quality? Will this give me access to the content that I want through a connected device? And how will this new TV look in my home? You'll want to make sure that you're investing in something that will give you wow factor in picture quality, design and connectivity.
More Stories about Samsung SUHD TV Picture Quality
HDR 1000
Thoroughly lifelike picture quality day and night.
This is TV.