Galaxy Note8: How do I use Samsung DeX feature?
Last Update date :
2020-11-20
To use Samsung DeX feature, DeX Station(sold separately), Charger(TA), HDMI cable and Monitor, Mouse(Wired or BT) are must-have peripherals. With the DeX Station, you can connect smartphone to a TV or monitor to use its features on a wider screen.
You can also connect with nearby devices, such as a keyboard or mouse. To activate DeX Station,charger is required.
• For more information about using the DeX Station, refer to the DeX Station's user manual.      
• All accessories, including the DeX Station, are sold separately.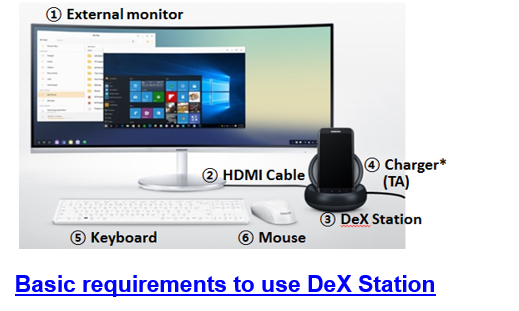 1
Connect the charger to the DeX Station's charger port (USB Type-C). Use only the Samsung approved charger supplied with your smartphone.
2
Connect one end of the HDMI cable to the DeX Station's HDMI port, and plug the other end of the cable into a TV or monitor's HDMI port.
3
Use a wired network by connecting the wired LAN to wired LAN port, if you do not want to use a Wi-Fi network or your smartphone's wireless data
4
Press on the front of the DeX Station cover to use the cover as a smartphone support. You can now see the smartphone connector.
● Be careful not to hurt your fingers when changing the angle of the smartphone support.
5
Connect your smartphone's multipurpose jack to the smartphone connector on the DeX Station.
● You may not use the DeX Station if you have attached a certain type of case, such as a flip cover or a hard case cover to your smartphone.
※ You can use the DeX Station more conveniently by connecting a wired keyboard and mouse to the DeX Station's USB ports. You can also use a wireless keyboard/mouse or Bluetooth keyboard/mouse by connecting them to your smartphone via Bluetooth.
6
The Samsung DeX app will launch on your smartphone. On your smartphone's screen, select the screen mode you want to use. You can choose from Samsung DeX mode or screen mirroring mode.
• START SAMSUNG DeX (Samsung DeX mode): Display your smartphone screen with 
a computer interface on the connected TV or monitor.
• SWITCH TO SCREEN MIRRORING (screen mirroring mode): Display the same screen 
as your smartphone on the TV or monitor.
On the mode selection screen, tap START SAMSUNG DeX. Your smartphone's screen will turn off 
and a virtual smartphone screen will appear on the connected TV or monitor.

7
Tap the All apps button to view your smartphone's apps.
※ Some apps may not appear on the Samsung DeX screen.
8
Select the apps you want to use. (※ To use MS Office, users must have a subscription in advance)
To end the connection, disconnect your smartphone from the DeX Station 
Please click the submit button below to share your feedback with us. Thank you for your participation.
Please answer all questions.