How do I transfer music between my Samsung Galaxy Note3 and my Mac?
Last Update date :
2022-04-12
Your mobile device can transfer music using Samsung Kies software for your Mac, via Kies Air on your device, or using Android File Transfer.
Your mobile device supports the following file formats: AAC, AAC+, eAAC+, AMR-NB, AMR-WB, EVRC, FLAC, MIDI, MP3, OGG, QCELP, WAV, and WMA.
Kies for Mac
View complete instructions on how to download and install Kies software by visiting the Kies Support Website
1. Open the Samsung Kies software.
2. Connect your device to your Mac using the supplied USB cable.
3. Your device should connect automatically and show in the left panel of Kies. You may need to change the USB settings if you cannot connect; swipe your finger from the top of the screen to the bottom to open the Notification Panel, and touch Connected as a camera.
Touch Media device (MTP) to change the USB settings. The Notification Panel should show Connected as a media device as shown below.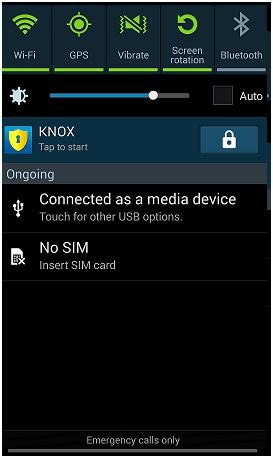 4. Click Music below Library in the left panel.
5. If necessary, click

to switch to list view.
6. Mark the music files you want to transfer to your device.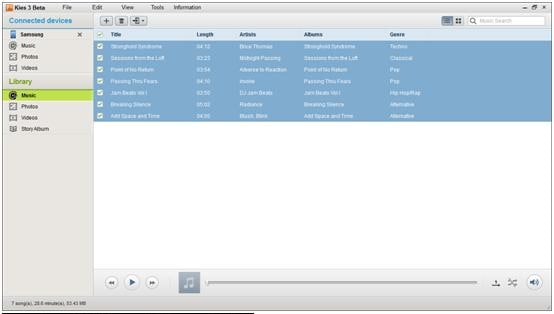 7. Click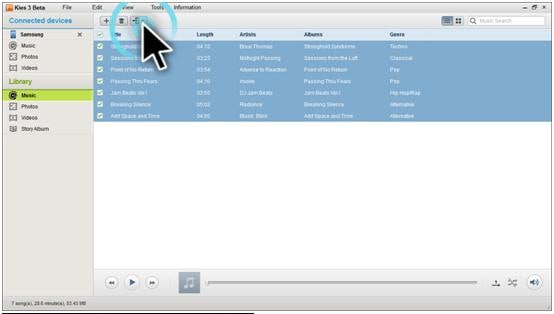 8. If a memory card is present Kies will ask you to select Internal memory or External memory.

9. The selected music files will now be on your device. Open Music Player

on your device to begin playback.
The Kies Air application is a device management suite that lets you manage the content and personal information stored on your mobile device. The application creates a wireless connection between your device and any computer that has a web browser, making management easier and more accessible.
If Kies Air is not preloaded on your device, you can install it from the Google Play Store. Open Google Play Store from your mobile device and search for Kies Air.
Note: options may vary depending on the version of Kies Air on your device. Please check Google Play Store for any available updates.
1. From the Home screen, touch Apps

> Kies Air

.
2. Touch Start to initiate the connection.
3. Kies Air will now display a URL that can be used to browse your device. On another device, open the browser. Then type the URL in the browser's address bar.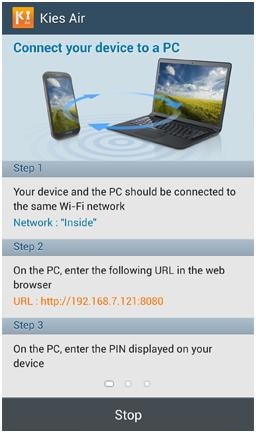 4. A random PIN is generated on the device.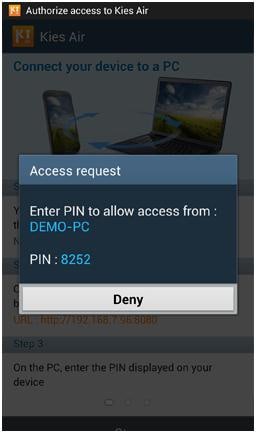 5. Enter the requested PIN into the browser window and click OK.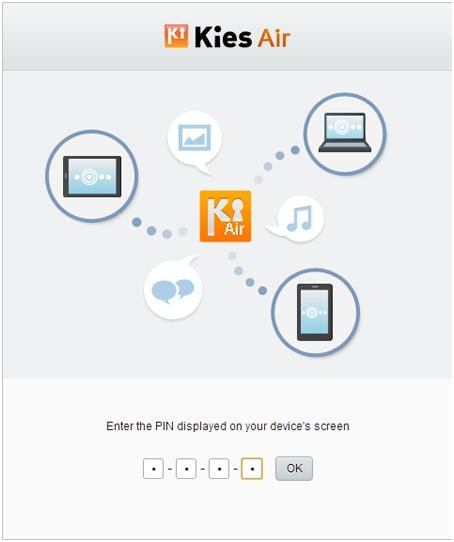 6. The two devices should now be connected. You will see your device listed on the left panel of Kies Air.
7. Click Music under your device name.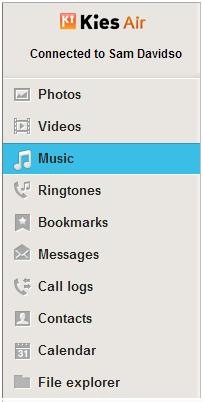 8. Click Upload > Upload in the upper-left corner of the window to select the music file you wish to add to your device.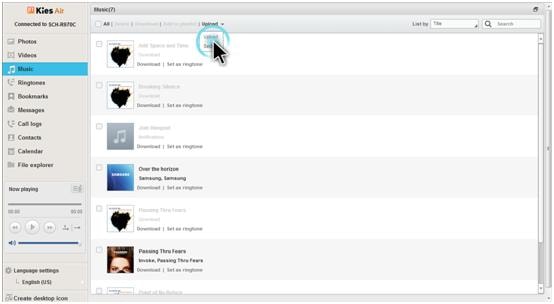 9. Locate the file you wish tp upload then click OK.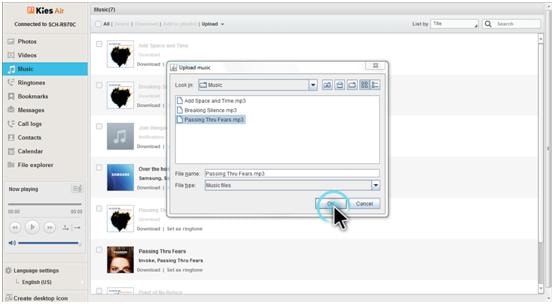 10. Click Upload and the file will begin uploading to your device.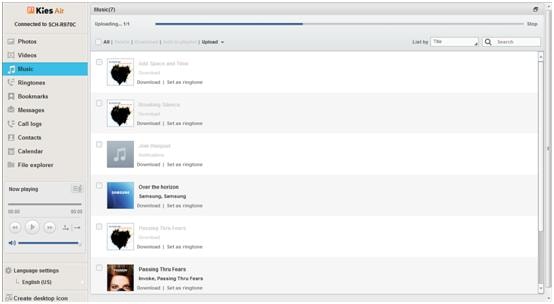 Note: Java is needed to run certain components of Kies Air.
Please answer all questions.