Go slim and digital with a Samsung LED TV
Aug 25. 2014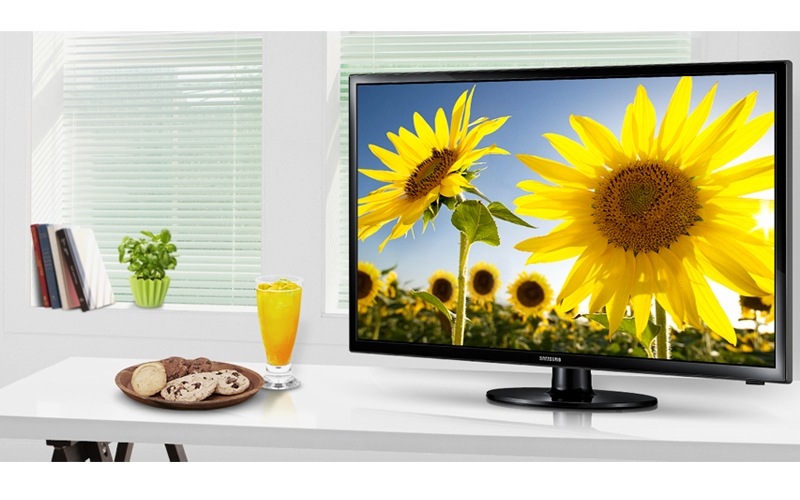 Make the jump from that bulky, space-consuming CRT TV and enter the amazing world of flat screen digital marvels. Samsung LED TVs are slim on design, slim on your electricity bill, and even carry a slim price tag. And beneath the surface you get support for all the latest connectivity standards, from multiple USB and HDMI ports to seamless connections with your mobile devices. That means Samsung LED TVs can easily hook up with a wide range of devices, right out of the box. To top it all off, they feature an ultra slim 7 mm bezel and a modest elegant design that caters to the highest standards of modern aesthetics.
All your content on the big screen
Get instant access to all your content on your TV. Simply plug your USB memory drive or HDD into the TV and enjoy movies, photos or music on the big screen. thanks to HDMI inputs on Samsung LED TVs, you also have the option to take advantage of high-speed transmission of high definition digital data from multiple devices straight to your TV. Experience a wide variety of content in the comfort of your room, right on your personal Samsung TV.

You can even take content from your mobile devices and view them on a bigger screen quickly and easily with Screen Mirroring. Samsung's advanced screen mirroring technology makes the process astonishingly easy, and you don't even have to change the TV source. Simply open the notification panel on your mobile device, select the Screen Mirroring icon, then select the TV. Just like that, you're all set to enjoy all your favourite apps, games, and more on a full-size TV.

* Screen Mirroring not available in Syria
Slim and sleek, and ideal for the digital era
What's holding you back? It's time to let go of that bulky CRT TV and go slim and digital with an affordable Samsung LED TV. On top of the fact that it's thin, you can also join the world of high definition television, and enjoy truly brilliant pictures on a bright LED screen. You can also connect it to a digital set-top-box and expand your universe of channels.

The slim design allows you to make more room in your home, so you can stretch your legs out to watch your TV in pure comfort. And the energy efficient LED backlight helps you to consume less power than CRT TVs. Of course, LED also means you get amazing picture quality, with brighter images and more vibrant colours that make your favourite shows and movies look more lifelike and spectacular. Also, since it's a digital TV, you also get the advantages of high definition digital broadcasts, so everything you watch will be far sharper and clearer compared to analogue broadcasts. If you want to step up your home entertainment, you can even connect a digital set-top-box to expand your TV viewing experience.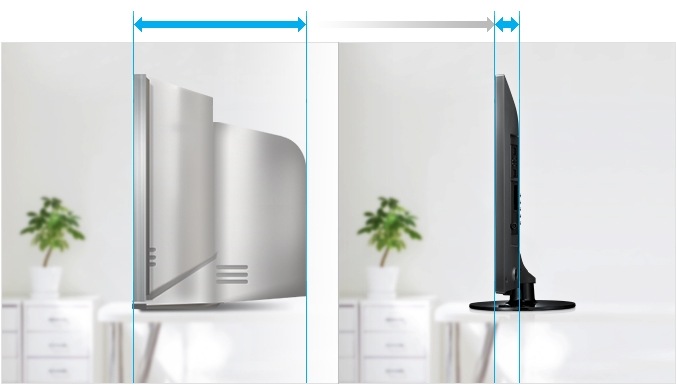 The right look, in the right size
Feast your eyes on a chic TV finished with a polished and refined metallic look and ultra slim 7 mm bezel. Samsung LED TVs feature a modest elegant design that fits perfectly in your room. Not too big, yet not too small, it's just the right size, with just the right look.
Use alternative energy sources to power your TV
Multi-power TV is the perfect solution for when you have an unstable power supply in your area. Simply connect your TV to a DC power source like a car battery or solar panel, and you'll be set. If the main power happens to fail for whatever reason, your TV automatically switches to DC power. Then all you have to do is sit back and enjoy seamless viewing with a TV that promises to stay on, even during a power outage.

* When both DC and AC power are connected at the same time, your TV can switch to DC power if the DC power supply meets a certain level of voltage.