Smarter Ways to Share Photos With Loved Ones
May 09. 2013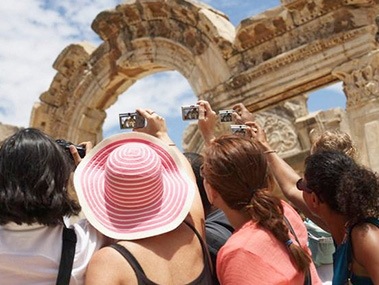 With the proliferation of digital cameras and smartphones, as well as photo-sharing and social networking websites, it's become easier than ever to take and share photos with distant friends and family. Luckily, with the new generation of Smart Cameras, staying connected is as easy as the click of a shutter and a few buttons.
Your friends and family may be geographically distant from you, but these days it's easy to keep them close through technologies like email, video chatting, social networking, and—especially—digital photography. Take, share, and print photos to stay connected with your loved ones, no matter how far away they are.
Top Three Tips for Sharing Photos
Take many, share selectively. One of the biggest advantages of digital photography is that you're no longer limited to the 36 exposures that fit on a roll of film, but instead the multiple gigabytes of photos that fit on a memory card. But don't get carried away with the freedom. Even though you took 50 shots of your kids at the park today, a curated selection of five compelling snaps will be more appreciated by your friends and family.
Choose your channel. With so many different ways to share digital photos, you'll need to weigh your audience's needs to find the best online platform. Attaching photos to an email may work for some people, while others may prefer to share on a broader scale with a social networking site like Facebook. For added privacy (and to make it easier for friends and family to order printed copies) choose an online photo service such as Shutterfly, which allows you to create your own "family share" site where family members can securely upload, view, and order prints of each other's photographs.
Go retro with prints. Do you remember paper photos that you could hold in your hand? They still exist! As much as far-flung relatives appreciate your digital updates, there's just something special about receiving an envelope of printed photos in the mail. Older relatives, especially, will be thrilled to receive occasional printouts that they can show off to friends, frame, or post on the refrigerator.
Camera Features for Easier Sharing
Sharing digital photos is easy, but a camera with features specially designed for sharing can make the process even easier. The Samsung WB250F Smart Camera includes several features to make it easier to get your photos from your camera into the hands of friends and family:
AutoShare: With the AutoShare app, your Smart Camera will automatically save a version of every photo you take to your smartphone. Not only does this give you an auto-saved backup of each and every photo, it makes it easy to email or upload pics via your phone's data connection when you're not in a Wi-Fi hotspot.
MobileLink: Samsung MobileLink lets you select and transfer an image or album directly to an Android smartphone, iPhone, or tablet without attaching it to a text message or email. Changes you make to an album on your phone will be saved to your camera.
DirectLink: Customise your camera to fit your needs by assigning your most-used function to the DirectLink Wi-Fi hot key. DirectLink gives you one-click access to AutoShare, MobileLink, Social Sharing, Remote Viewfinder, Auto Backup, Cloud, Email, and more.
Social Sharing & Email: Instantly email or post your latest images and videos to your favourite social sites, directly from your Smart Camera. Connect via Wi-Fi to upload content, and then add tags and comments. In addition to social networks like Facebook, you can also post directly to places like Blogger, Picasa, YouTube, and many other sites.
Auto Backup: With Auto Backup, you can wirelessly transfer photos and videos to your PC—even if the computer is turned off. Once you go through the simple one-time setup, your camera will be able to use its Wake-on-LAN functionality to power on your computer. When the backup is complete, the camera can then shut down the computer to save energy.
When friends and family can't be there for a big event or even for life's mundane day-to-day happenings, a shared photo can be the next best thing. And the right camera with features designed for easier sharing can make it simpler than ever to stay connected.