The best way to watch Soccer on your TV
Aug 25. 2014
They say there's no substitute for actually being there in the stadium, with the sights and the sounds of the action all around you. But Samsung TVs come with a special feature called Football Mode, which allows you to recreate that experience in the comfort of your own living room. On top of providing the best football game viewing experience on a TV, Samsung TVs equipped with Football Mode even allow you to enhance your viewing experience with advanced features that let you control the action. Imagine being able to zoom in on a penalty that you're sure the referee missed, or going back to watch highlights whenever you like. The greens of the grass have never been more real, and the sounds of the stadium have never been more alive. And it's possible without ever having to leave your couch with your Samsung TV.
Basic Soccer Mode & Advanced Mode
The ultimate soccer experience at home starts the moment you press the soccer button on your Samsung TV's remote control. Soccer Mode delivers an amazing stadium-like experience and puts you in control.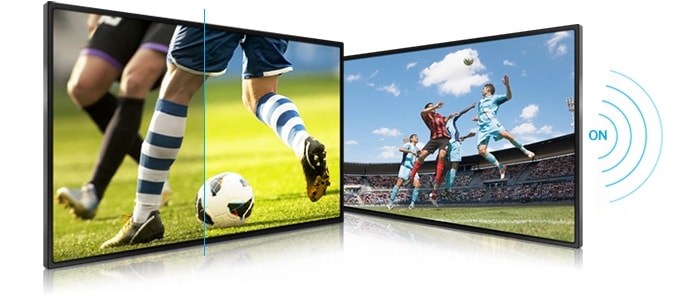 The images and the audio of the games you watch are optimised, delivering an amazingly immersive experience. Stadium View recreates the vivid grass of the pitch and all the other colours of the stadium in such a lifelike way it's as if you're right there on the pitch yourself, while Stadium Sound delivers powerful multi-surround sound that lets you hear all of the excitement of the crowd. And the Zoom feature divides the screen into 9 areas, allowing you to get a closer view of a selected area. So when you disagree with the referee's whistle, you can always zoom in and make your own call.

And for Smart DTV models, it will automatically start recording all the action on the TV, either through a USB or an external HDD, the moment you turn Soccer Mode on. Not only that, when there's a change in sound, like the roar of the crowd, or when someone scores a goal, it will know to automatically save the highlights for you to watch later. You can even watch recorded clips and live games simultaneously on the same screen with Replay PIP. With Picture-in-Picture replay capabilities, you can watch those key moments again without having to miss anything new happening in the game. That's how Soccer Mode recreates the excitement and the thrill of the game for the best soccer viewing experience, right in the comfort of your living room.

*PVR function is only available only for smart DTV model (except for the H4303, H5303, H6203)
*HDD is required to activate PVR