Explore Features
The RS5000 range keeps an evenly cool environment from corner to corner, so your food stays fresher for longer, also equipped with eco-friendly LED lighting that not only illuminates the inside of your freezer, making your favourite foods easy to find, but it also helps you save energy.
More storage with style
Store more food with a very spacious 627 liter* interior. Its unique SpaceMaxTM technology enables the walls to be much thinner as it uses a minimal amount of high-efficiency insulation. So it creates more storage space without increasing the external dimension or compromising energy efficiency.
* The capacity is different for each model.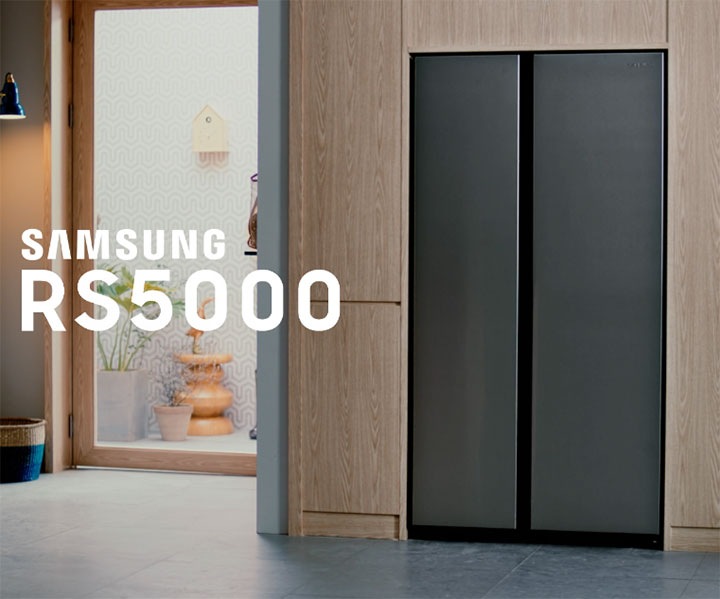 More freshness
Make sure that all your food is properly cooled - whenever it is in the fridge. An All-around Cooling system continually checks the temperature and blows out cold air. It cools the fridge evenly from corner to corner, so every item of food stays fresher for longer.
Digital Inverter
Samsung's Digital Inverter Compressor lasts longer while saving energy up to 50%. Unlike conventional compressors, it automatically adjusts its speed in response to cooling demand, reduces wear and tear.
More flexibility
Store different foods and drinks at the optimal temperature, so they stay fresh and tasty for longer. The FlexZoneTM is an independantly controlled compartment. Its four pre-set settings are ideal for preserving meats, cooling beverages. keeping fruit/vegetables fresh, or just storing more food.