To enable everyone to use our technology with wide accessibility, Samsung has developed and applied a variety of auxiliary technical solutions. With intuitive, easy-to-
operate design and accessibility, even people with disabilities can easily use our technology with its new and exciting features.
Samsung provides innovative features that enable you to read with ease and get the most from your device
in almost any situation - even if the screen cannot be seen clearly.
TalkBack
By reading aloud what is displayed on your screen, TalkBack gives you
much better accessibility to the content. When you select a feature on
the display, TalkBack will tell which one it is. And running TalkBack will
activate the motion controls so that you can use a gesture with your
fingers. Also, TalkBack's enhanced web accessibility will read the various
contents from web pages.
Font Size
You can choose from 7* sizes of font to suit your vision. By adjusting
the font size to your eyesight, you can read the content with ease.
* Some of the features support up to 6 font sizes in GALAXY Note 3.
* GALAXY S4 supports up to 5 font sizes.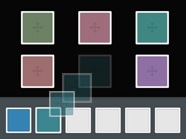 Colour Adjustment
If information displayed on the screen is hard to read, you
can use the colour adjustment feature to improve readability.
When the colour samples are displayed, you can adjust or
fine tune the colours that aren't seen clearly.
* The colour of images may vary depending on settings.
Negative Colours
The Negative Colours feature automatically finds and selects
an optimal display for your eyesight. Activating this feature
will reverse the black and the white to give you a better
readability.
Magnification Gesture
The Gesture feature lets you zoom in or out easily by simply tapping
three times on the display (applies to all areas except the keyboard
and the navigation bar). Once zoomed in, you can explore another
area of the display simply by dragging your two fingers on the area.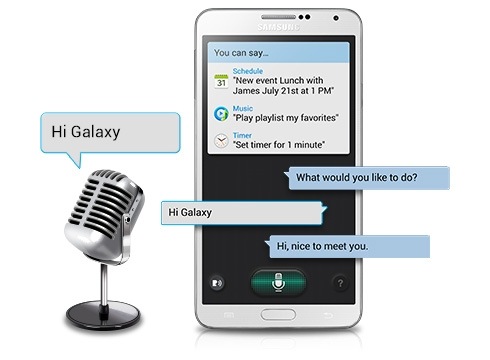 S Voice
S Voice is another option for easily using your device. Setting the
Hands-free mode will not only read to you a message that has arrived in
your device, but also enables you to reply to the message using a voice
command and to answer a call from your friend. And if you want to view
information or run applications, say "Hi, GALAXY!" when S Voice is
enabled and S Voice will be ready, listening out for your instruction.
* You can use this feature by launching S Voice application
Top of Page
There are many ways of providing 'visualized sound' to give a new experience to the users whose hearing is
weak or lost. While wearing your hearing aid, you can use features such as Sound Balance, Mono Audio,
Turn Off All Sounds, Flash Notification, Adapt Sound, and Create Vibration to help you check on incoming
messages and ensure you don't miss the phone ringing or other sound notifications.
Hearing Aid Compatibility
Our device has been certified as compatible with hearing aids, ensuring
you can use both your hearing aid and the device at the same time without
interference (they use different frequencies, so you can use the device
without any additional unit).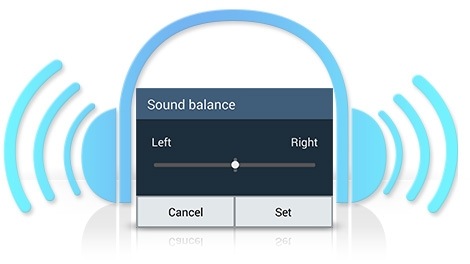 Sound Balance
Sound Balance is our initiative for people with different hearing abilities in
each ear. It enables you to adjust the volume of the earphones separately
in your left and right ears.
Sound Balance will help you use earphones to experience a sound
environment that is comfortable and optimised to you.
Flash Notification
You can check up on events with the flash light. If Flash Notification is
enabled, the flash lamp on the camera in the back of your device will
flicker to notify you that you have a phone call or a notification.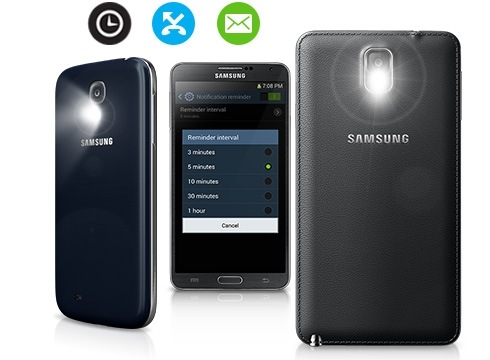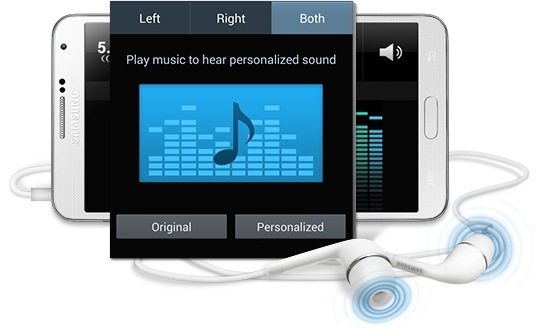 Adapt Sound
This feature lets you optimise the sound of your earphone to your
ears. Just connect the earphone to your device and put it on your
ears, then press Optimise. This will maintain a sound quality that is
optimised to phone calls or to music according to each person's
hearing - giving you an enhanced sound.
* You can use this feature at Settings → Sound
Mono Audio
For those who suffer from lateral hearing difficulties, we offer the
Mono Audio feature which converts stereo sound into mono
sound to make sure you catch all the sounds from two channels.
This will specifically help you if you have hearing in only one of
your ears.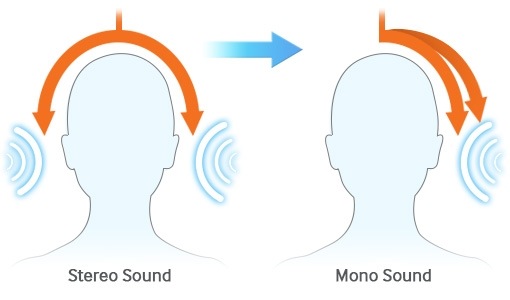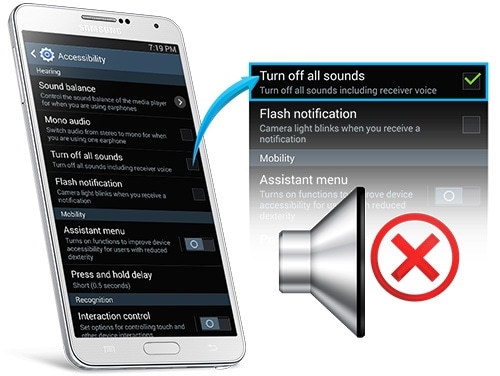 Turn Off All Sounds
If you have complete hearing loss you may not want other people
to hear audible notifications on your device. This menu enables
you to turn off all sounds and notifications so that you can prevent
unnecessary sounds and thus keep your privacy.
Create Vibration Patterns
For the users with severe hearing problems, we offer a feature to
create vibration patterns to replace your ringtone. Using the
Vibration menu in the Sound Settings you can personally create
various vibration patterns running for around 10 seconds. If you
create and save one for each of your friends in your phonebook,
you can tell who is calling just by feeling the vibration pattern
without having to view the display.
* You can use this feature at Settings → Sound
Top of Page
If you find it difficult to use various gestures required by your device, you can control them instead with
an intuitive interface. You can easily access the settings through the streamlined and convenient user
experience.
Assistant Menu
This menu makes features more accessible for users with difficulty
in using their body. Using touch operations, you can access the
features normally activated by pressing a hardware button or
making a gesture motion. Accessible features include Menu,
Open Notification Window, Home, Back, Volume Settings, Lock
Display, Restart, Shut Down Device, Open Device Option, Capture
Screen, Zoom In/Out, Settings, and others.
Press and Hold Delay
You can edit your home screen through the menu that is displayed
when you touch and hold any blank space of the home screen for a
certain length of time.
You can change the pressing time to Short (0.5sec), Medium (1sec),
Long (1.5sec) in Settings. Using this operation, you can change the
wallpaper, add apps or widgets, create folders and edit pages.
Easy Touch Mode
Easy Touch Mode enables you to stop or snooze alarm,
calendar events, and timer alerts and to accept or reject
incoming calls simply by touching it. So instead of
having to slide your finger across the screen, you can
interact with the device with minimal finger movement.
* This feature is available on GALAXY Note 3 and
GALAXY S4(Android 4.3).
Top of Page
If you often make unintended touches on your screen, you can control the touch response in a
specific area. This technology makes your touch control on your device more accurate and helps
you do more things with the device using just one touch.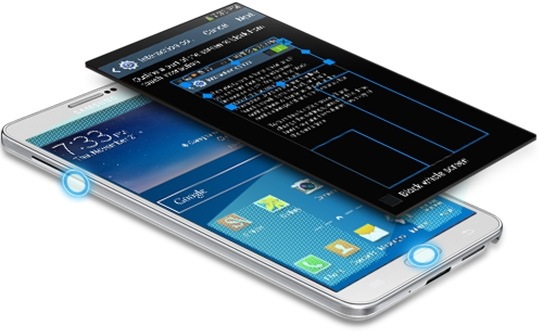 Interaction Control
You can reduce errors from accidental touches when running an
application. Pressing both Home and Volume Down at the same
time allows you to choose an area of the screen which will then
not respond to accidental touches. With this menu enabled, you
cannot use Auto Rotation and the buttons on your handset.
Apps notifications will be displayed only on the Notification page
and the Status bar.
Top of Page
You don't have to touch all the menus step by step in order to change the settings of your device.
Using the functions below from the Accessibility menu, you can easily answer or end a call, and display or
execute shortcuts by pressing the hardware button.
Answering/Ending Calls
You can answer your call using a hardware button or by voice
control, and end the call using a power button.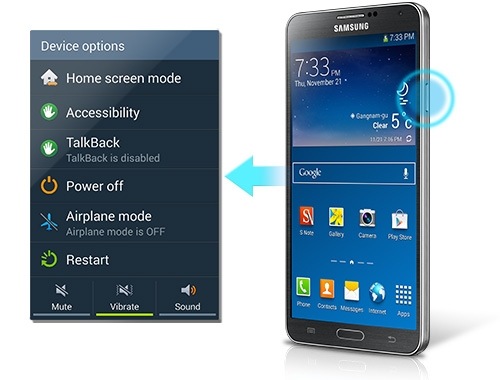 Show Shortcut
By pressing and holding the power button, you can access shortcuts to
the Accessibility settings and TalkBack.
When you select one from the 'Show Shortcut' menu, it will be displayed
in the Device Options list. This means you can drill down to the menu
without going through the menu settings, saving you time and improving
accessibility.
Manage Accessibility on multiple devices
You can save, update, or share your accessibility settings with
other devices via NFC, Bluetooth, Wi-Fi Direct, Cloud..etc. This
makes it possible to retain your existing user environment even
when you change your smartphone device.
Top of Page
※These features are supported by GALAXY S4 and GALAXY Note 3.
※Some functions may vary depend on the settings.