Viewing photos or videos on a TV Link-enabled TV
Last Update Date :
Apr 20. 2018
TV Link is a technology for sharing media files between a camera and TV connected to the same AP device. With this technology, you can view your photos or videos on a widescreen TV.
1. Rotate the mode dial to

2. Select

If the guide message appears, press
The camera will automatically attempt to connect to a WLAN via the most recently connected AP device.
If the camera has not previously been connected to a WLAN, it will search for available AP devices.
3. Connect your TV to a wireless network via an AP device.
Refer to your TV's user manual for more information.
4. On the TV, search for the camera and browse the shared photos or videos.
For information about searching for the camera and browsing the photos or videos on the TV, refer to the TV's user manual.
Videos may not play smoothly depending on the type of TV or network condition. If this happens, re-record the video in

or

quality and play it again. If videos do not play smoothly on your TV over the wireless connection, try connecting the camera to the TV with the HDMI cable.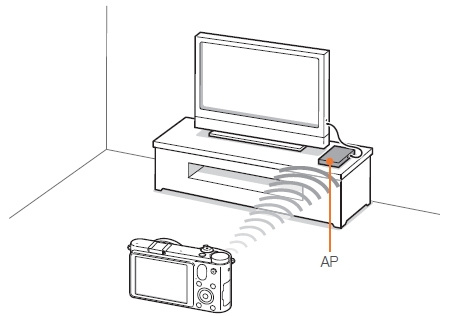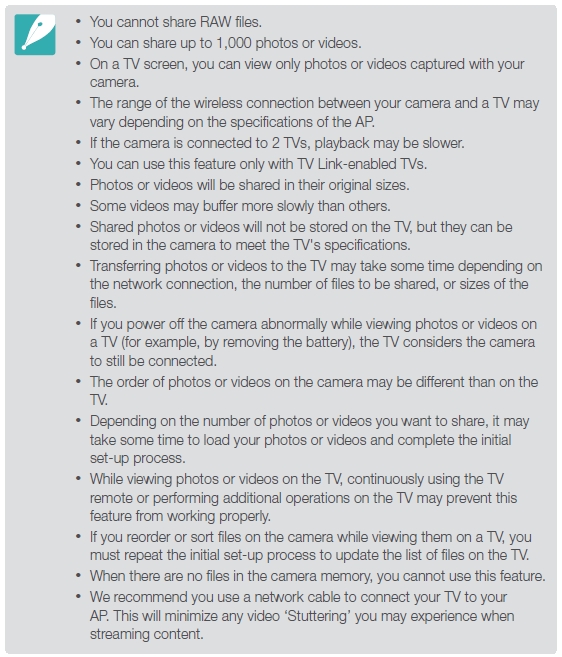 Not finding what you're looking for? We're here to help.
Phone
East Africa
Kenya 0800 545 545
Tanzania 0800 780089
Sudan 1969
Uganda 0800 300 300
DRC 499 999
Rwanda 9999
West Africa
Nigeria 0800 726 7864
Ghana 0800 100077
Senegal 80000-0077
Ivory Coast 8000-0077
Cameroon 67095 0077
South Africa
South Africa 0860 726 7864
Mozambique 847267864
Zambia 0211 350 370 / 3434
Namibia 08 197 267 864
Mauritius 800 2550
Reunion 02625088 80
Zimbabwe 0808 0204
* For any printer related enquiries please visit the HP website .
Contact Us