How much free space should I allow for, around my Refrigerator?
Last Update Date :
Apr 20. 2018
How much free space should I allow for, around my Refrigerator?
For your free-standing 'side-by-side' refrigerator, you should leave a minimum distance of 50 mm of space free around the sides and at the back of the unit, and then at least 25 mm space at the top.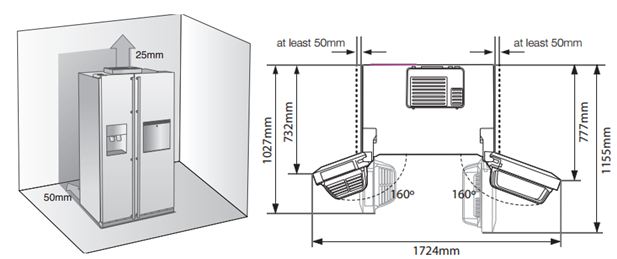 IMPORTANT: If the refrigerator is stored in too narrow a space, then the cool air required to replace the warm air expelled by the condenser will be unable to reach it, and the hotter air will build up causing the compressor to work harder.
This can result in unnecessary compressor 'noise', poor cooling and premature failure, due to the compressor not being able to cool down properly.


NOTE: Please also avoid installing your 'side-by-side' fridge under the following conditions, in order to prolong the life of the unit:

- In direct sunlight: This can result in discolouration of the refrigerator's surface.


- In locations where the temperature or humidity is too high: The refrigerator will not cool down properly if the temperature is too high. Also frost or dew may form as a result of too high humidity. Both conditions will affect the life and performance of the product.


- On an uneven floor surface: This may cause the fridge doors to open unevenly, and may also result in refrigerator 'noise' being produced.


- In a location where it is difficult to connect to a water pipe: This may result in the water connection to the fridge unit not functioning properly.
Not finding what you're looking for? We're here to help.
Phone
East Africa
Kenya 0800 545 545
Tanzania 0800 780089
Sudan 1969
Uganda 0800 300 300
DRC 499 999
Rwanda 9999
West Africa
Nigeria 0800 726 7864
Ghana 0800 100077
Senegal 80000-0077
Ivory Coast 8000-0077
Cameroon 67095 0077
South Africa
South Africa 0860 726 7864
Mozambique 847267864
Zambia 0211 350 370 / 3434
Namibia 08 197 267 864
Mauritius 800 2550
Reunion 02625088 80
Zimbabwe 0808 0204
* For any printer related enquiries please visit the HP website .
Contact Us