What is S Translator and how do I use it on my Samsung Galaxy Note3?
Last Update Date :
Apr 20. 2018
What is S Translator and how do I use it on my Samsung Galaxy Note 3?
Samsung S Translator gives you an easy way to quickly translate spoken words or entered text into several languages. S Translator supports Brazilian Portuguese, English (UK), English (US), French, German, Italian, Japanese, Korean, Simplified Chinese and Spanish.
To open S Translator touch Apps

> S Translator

.
Note: it is suggested you connect to a Wi-Fi network with internet access when using S Translator. The translation process occurs online and is a data-intensive process. If you are not connected to a Wi-Fi network you will be asked to allow S Translator to connect via the mobile network. Touch Connect to continue with the translation process.
1. Select a language in the bottom and top boxes. You can translate between the languages selected.
2. Touch either box to enter text to be translated using the keyboard. Or touch either speak button at the bottom to enter text using your voice. When entering text using the keyboard touch Enter on the keyboard when you have finished or touch

to translate.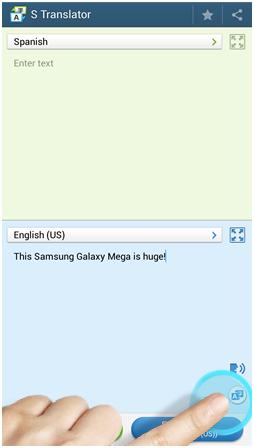 3. The text will be translated and displayed in both boxes. To hear the translation using text-to-speech touch

.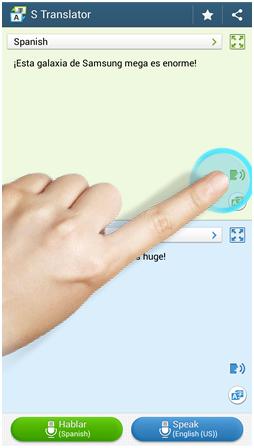 4. The first time you use the text-to-speech function for a language your device may ask you to download high-definition voice files.
Touch OK to continue. Mark the Do not show again checkbox to skip this request and download voice files for future requests. Voice files will be downloaded using Samsung Apps.
You will need to be signed in to your Samsung account before you will be able to download additional voice files.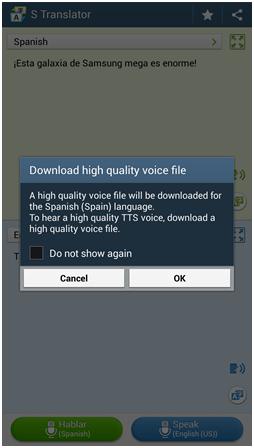 5. Touch Free to download the voice files to your device.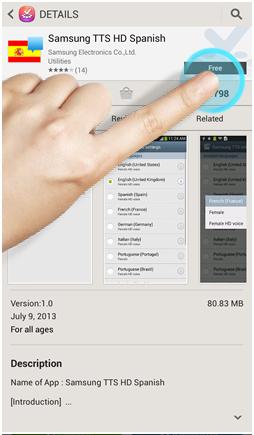 Save Translation as a Favourite
When you complete a translation touch

at the top of the screen to save the translation as a favourite.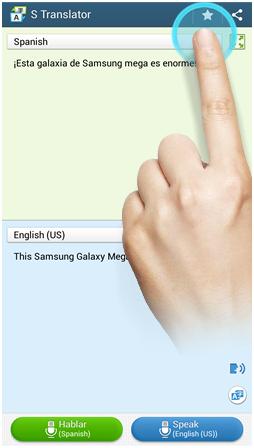 S Translator Settings
Touch Menu

to access these S Translator options:
History

: view your translation history. Touch to add a translation to your favourites. Touch

to view and play a translation. Touch and hold a translation to

Copy

,

Share

or

Delete from history

.

Favourites

: view translations you have saved as favourites.

Preset phrases

: view the preset phrases for the selected languages. Select a category and keyword to narrow the results.

TTS speech rate

: adjust the text-to-speech rate.
Not finding what you're looking for? We're here to help.
Phone
East Africa
Kenya 0800 545 545
Tanzania 0800 780089
Sudan 1969
Uganda 0800 300 300
DRC 499 999
Rwanda 9999
West Africa
Nigeria 0800 726 7864
Ghana 0800 100077
Senegal 80000-0077
Ivory Coast 8000-0077
Cameroon 67095 0077
South Africa
South Africa 0860 726 7864
Mozambique 847267864
Zambia 0211 350 370 / 3434
Namibia 08 197 267 864
Mauritius 800 2550
Reunion 02625088 80
Zimbabwe 0808 0204
* For any printer related enquiries please visit the HP website .
Contact Us