Disconnecting The USB Cable.
Last Update Date :
Apr 20. 2018
After completing the file transmission, you must disconnect the cable in the following way:
1. Double-click on the green arrow in the taskbar on the bottom right corner of the window.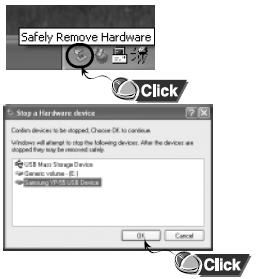 2. Select the USB device, and then press the [Stop] button.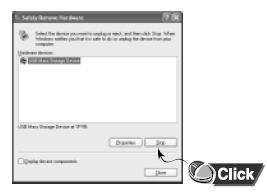 3. You will get a message indicating it is now safe to remove USB device. (Remove the USB cable)
Note: The green arrow is not displayed on the Task Bar in Windows 98 system. If "READY" message is shown in Display window, please disconnect the USB cable.
If your device is in MTP mode, there will be no green arrow in the Task Bar as it's not necessary to safely remove the device when in MTP Mode.
Warning: Removal of the USB device without following the above instructions will result in damage to the flash memory. Please follow these instructions every time you remove the device from your computer
Not finding what you're looking for? We're here to help.
Phone
East Africa
Kenya 0800 545 545
Tanzania 0800 780089
Sudan 1969
Uganda 0800 300 300
DRC 499 999
Rwanda 9999
West Africa
Nigeria 0800 726 7864
Ghana 0800 100077
Senegal 80000-0077
Ivory Coast 8000-0077
Cameroon 67095 0077
South Africa
South Africa 0860 726 7864
Mozambique 847267864
Zambia 0211 350 370 / 3434
Namibia 08 197 267 864
Mauritius 800 2550
Reunion 02625088 80
Zimbabwe 0808 0204
* For any printer related enquiries please visit the HP website .
Contact Us