How Does Screen Burn Reduction Work?
Last Update Date :
Apr 20. 2018
To reduce the possibility of screen burn in, current model Samsung Plasma TVs are equipped with a pixel shift function. This function lets you set pixel shift up and down (Vertical Line) and side to side (Horizontal Dot), and lets you set the time in minutes between shifts so that the image shifts slightly on the screen at specific time intervals. The regular, timed shifting of the image reduces the possibility of screen burn in. The image shift, because it is so slight, is virtually unnoticeable to most viewers.
Note: Pixel shift is available on Samsung Plasma TVs only.
To use the screen burn prevention function, follow these steps: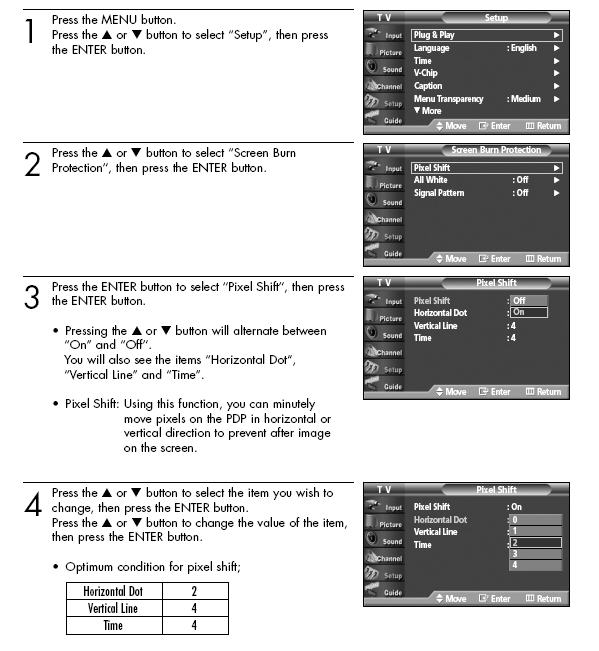 Important: The optimum pixel shift setting for the TV used in this example is displayed in the table immediately above this sentence. Other Samsung Plasma TVs will have other optimum pixel shift settings. When you set the optimum pixel shift for your TV, set the pixel shift to that listed in your user's manual.
Not finding what you're looking for? We're here to help.
Phone
East Africa
Kenya 0800 545 545
Tanzania 0800 780089
Sudan 1969
Uganda 0800 300 300
DRC 499 999
Rwanda 9999
West Africa
Burundi 200
Nigeria 0800 726 7864
Ghana 0800 100077
Senegal 80000-0077
Ivory Coast 8000-0077
Cameroon 67095 0077
South Africa
South Africa 0860 726 7864
Mozambique 847267864
Zambia 0211 350 370 / 3434
Namibia 08 197 267 864
Angola 917 267 864
Mauritius 800 2550
Reunion 02625088 80
Zimbabwe 0808 0204
* For any printer related enquiries please visit the HP website .
Contact Us