What Are The Supported File Types Of My TV?
Last Update Date :
Apr 20. 2018
Supported File Types
This is a general list of files supported. For an exact list of files supported please check your TVs user manual.
IMPORTANT:
Certain files, depending on how they were encoded, may not play on the TV.
Picture Files

Music Files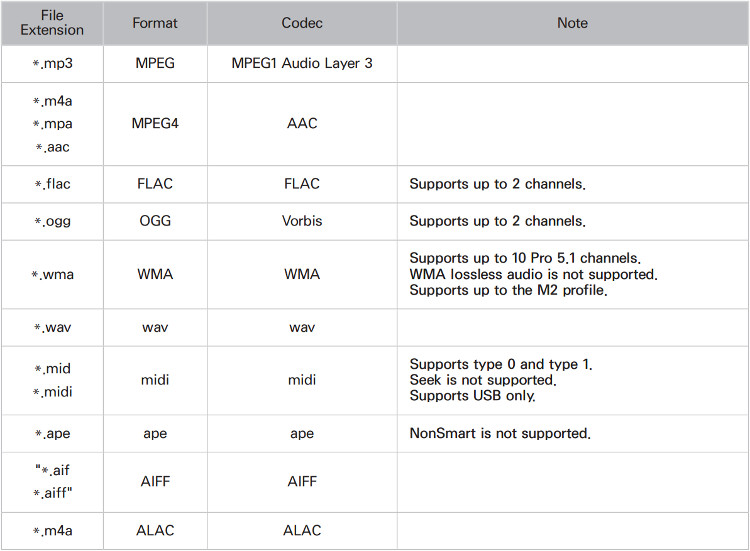 NOTE:
•If there are problems with the contents of a codec, the codec will not be supported.
•If the information for a Container is incorrect and the file is in error, the Container will not be able to play correctly.
•Sound or video may not work if the contents have a standard bitrate/frame rate above the compatible Frame/sec listed in the table above.
•If the Index Table is in error, the Seek (Jump) function is not supported.
•When playing video over a network connection, the video may not play smoothly because of data transmission speeds.
•Some USB/digital camera devices may not be compatible with the TV.
•HEVC codec is only available in MKV / MP4 / TS containers.
Not finding what you're looking for? We're here to help.
Phone
East Africa
Kenya 0800 545 545
Tanzania 0800 780089
Sudan 1969
Uganda 0800 300 300
DRC 499 999
Rwanda 9999
West Africa
Nigeria 0800 726 7864
Ghana 0800 100077
Senegal 80000-0077
Ivory Coast 8000-0077
Cameroon 67095 0077
South Africa
South Africa 0860 726 7864
Mozambique 847267864
Zambia 0211 350 370 / 3434
Namibia 08 197 267 864
Mauritius 800 2550
Reunion 02625088 80
Zimbabwe 0808 0204
* For any printer related enquiries please visit the HP website .
Contact Us