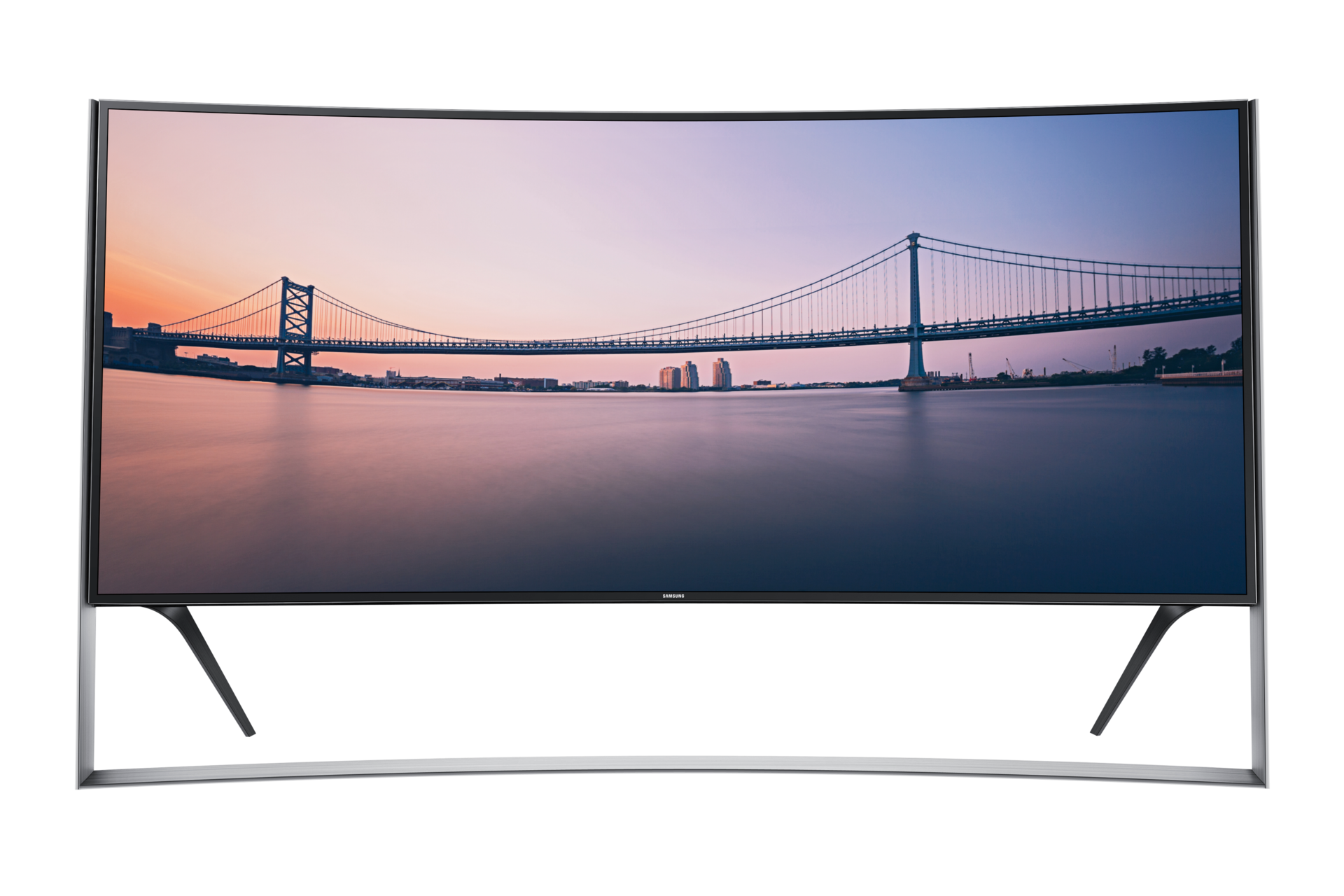 105" S9W Curved Smart 4K UHD TV
UA105S9WATXKE
Smart TV
Screen Curvature
Screen Curvature
Every colour and shade displayed in their natural state
The Samsung Timeless UHD TV displays the world's colours in their natural state through Purcolour. By expressing a wide range of colours and shades that are as close to real life as possible, Purcolour brings out the purest colours in front of your eyes. With 7 times more colour adjustment points than Full HD TV, you get more accurate colours that are truly worthy of being displayed on a UHD screen. Get closer to your curved UHD TV entertainment and truly see all the colours as nature intended in super accurate and fine detail.
Discover iconic design that's timeless
With a truly iconic design, the Samsung S9 has elevated the TV experience, making it as much about beautiful art as functionality. Featuring a minimal design that is utterly timeless, the S9's stunning frame crafted from precious metals would not look out of place in an art gallery, a luxurious apartment or a grand lobby. This masterpiece of technology, design and entertainment is certain to stand the test of time. So if you are looking to make the ultimate statement about your taste in art and your personal style, the S9 is the perfect piece to set you apart.
Unseen speakers deliver mesmerizing sounds
The Samsung S9 TV will leave viewers impressed by its powerful sounds booming from its hidden speakers. With four secret panel speakers, the experience is of the highest quality and simply unmatched by any of the competitors. The powerful 120 W speaker set-up brings the huge display to life and, being cleverly veiled within the framework, will have people curious as to how such splendid sound is possible. So if you are looking for a TV with audio that not only pleases the ear but also the eye, the S9 audio experience is what you're looking for.
UHD upscaling enhances the quality of all of your viewing
Thanks to the Samsung UHD Picture Engine, you can enjoy various kinds of content with near UHD-level picture quality, even if it's not from a UHD source. Samsung's innovative processing enhances broadcast TV shows and movies as well as video on demand and more. That means not only does it process UHD sources at crisp 4K resolution, it even converts lower-resolution content to a level of clarity that's almost like Ultra High Definition.
A more detailed picture made for UHD resolution
Samsung's advanced UHD dimming technology brings the ideal level of contrast and colour to your UHD viewing. The higher resolution of UHD also means that the picture requires more processing for a highly-detailed image. That's why Samsung UHD dimming technology has been developed to process black and white as optimally as possible and produce colours that are far more vivid.
4 times the Full HD resolution
Ultra HD viewing means you can see every intricate detail on the screen clearer than ever. Your Samsung UHD TV offers a resolution four times higher than Full HD, with accurate true-to-life colour. Enjoy a picture that's optimised for even greater clarity and detail than you've ever seen before.
Clear Motion Rate minimises motion blur
Thanks to Samsung's advanced Clear Motion Rate (CMR) technology, even fast moving scenes are delivered with clarity. A higher CMR means clearer viewing and less motion blur, so you can enjoy action films, sports and other entertainment at their very best. This technology is possible due to an enhanced panel refresh rate, image processor speed and backlight technology. That means viewing that's clearly better.
Easier motion control with finger and hand gestures
With Samsung's latest Motion Control, not only can you control your TV using hand movements, you can even use a range of simple finger gestures. Enhanced Motion Control recognises even finger movements, so a finger is all it takes to select the channel or volume level, load apps, scroll webpages and navigate Smart Hub. * Motion Control requires TV camera (sold separately) * Performance varies depending on surrounding environment brightness levels.
Future Ready
TV technology is always evolving and so does Samsung UHD TV. With UHD Evolution Kit*, your Samsung UHD TV can be updated to be compatible with future UHD standards without buying a new TV. Get ready for future UHD standards with Future Ready*. * UHD Evolution Kit sold separately. * This feature is based on current UHD connectivity, broadcasting standards and Blu-ray standardization initiatives.
Great multitasking with Multi-Link Screen
Samsung's Multi-Link Screen brings your entertainment experience to a whole new level by providing multiple-screen viewing. You can search for information on the internet about a TV show that you're watching on the same screen, or watch recommended video clips related to the live show you're watching simultaneously. * Multi-Link Screen experience may vary by region or territory. * Features may vary depending on TV model's specifications.
Be entertained quicker with faster startup
Now you can get straight to your entertainment quicker than ever. Instant On means your Samsung Smart TV boots up in less than 2 seconds. That's much faster than the 2013 Samsung Smart TV, so you can spend less time waiting and more time viewing than ever before. Think about it: all those saved seconds add up. You no longer have to waste time while your TV turns on.
Enjoy great gaming on your TV without a console
Now you don't need a game console to enjoy exciting gaming at home. You can play the latest exciting games right on your Samsung Smart TV. Explore games using the new Smart Hub Games Panel, with categories including racing, sports, action and family games. You can even use your Samsung Smart Control or a compatible mobile device as the game controller. Enjoy some more family time with the Games Panel. * Games panel is available in US, Korea, Australia, England, France, Germany, Italy, Spain.
All the excitement of the big match with Soccer Mode
Soccer Mode sharply and vividly brings out the green grass of the pitch and all the other colours of the stadium. A powerful multi-surround sound effect also lets you hear all the excitement. Once you turn on Soccer Mode, it will automatically start recording all action on the TV*. And when there's a change in sound, like the roar of the crowd's cheer, or a change in the score, it will know to automatically save the highlights for you to watch later. Play live and recorded matches simultaneously for the ultimate soccer experience at home. *PVR function and SNS sharing are available only for smart DTV model *External HDD drive is required to activate Auto Highlights
5120 x 2160

Resolution

Screen Curvature

Screen Curvature

9

Series

Wide Color Enhancer (Plus)

Wide Color Enhancer (Plus)

4

HDMI

4

USB
Please note that features & specifications may vary per country and are subject to change without prior notification

Product Images Gallery of PDP: Images are for illustration purposes only and the accessories are sold separately. Features and Specifications are accurate as of commercial launch but may be subject to change without prior notification.